Last week, Pioneer Natural Resources (NYSE:PXD) released its full-year 2016 EPS and proved reserves report. Both were bullish and the stock popped another leg higher. However, there appear to be risks looming on the horizon.
Pioneer is arguably the "King of The Permian" -- the hottest shale oil play in the United States. While Occidental Petroleum (NYSE:OXY) produces more oil & gas in the Permian Basin (estimated at 268,000 boe/d -- see "Occidental Petroleum: Pumpin' The Permian In 2017") than does Pioneer, the majority of OXY's Permian production (~144,000 boe/d) comes from enhanced oil recovery (EOR) such as CO2 flooding as opposed to unconventional production from Hz drilling. In unconventional production during Q4, PXD leads with production of 187,679 boe/d as compared to OXY's 124,000 boe/d.
While both the earnings and reserves reports last week were bullish, the shares appear to be running too high too fast. Despite revenue being up 50% yoy, and average realized prices for oil, gas, and NGLs being up 32% yoy (see below), the company still managed to lose $0.26/share for the quarter -- and the loss/share would have been even higher had the number of outstanding shares not been up 14% yoy.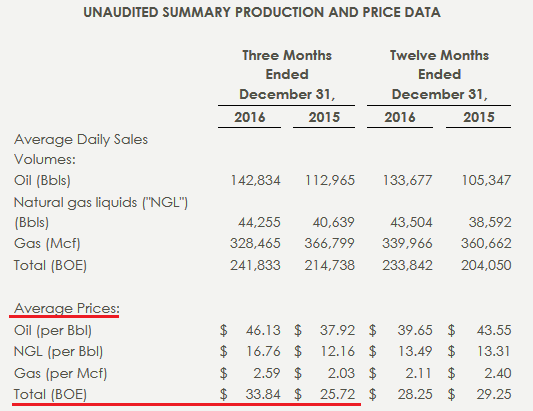 Source: Q4 EPS Report
So what's the problem? How come arguably the leading shale producer in the leading lower-48 shale play can't post a profit on a consistent basis while growing oil production (+15% yoy) and realizing substantially higher prices than the company's stated finding and development costs?
Part of the problem is that Pioneer is still spending lots of cash to substantially hedge its production and therefore protect cash flow. Derivative losses in Q4 were $66 million while non-cash MTM derivative losses totaled $222 million (before tax). DD&A was $357 million. Adjusted income excluding MTM derivative losses and unusual items (non-GAAP) was a positive $0.49/share.
The company continues to generate impressive cash flow. Cash on hand increased $227 million during the quarter to $1.1 billion. As a result, the company maintained its excellent investment grade balance sheet with net-debt to cap at 2%.
The proved reserves report was very impressive: the company added 205 million boe of proved reserves as compared to full-year 2016 production of 88 million boe. That yields a reserves replacement ratio (RRR) of 232%. The company's drill bit finding and development (F&D) cost was also very impressive ($9.59/boe) and reflects the low F&D costs associated with the Spraberry/Wolfcamp Hz drilling campaign. That compares very well to PXD's $33.84/boe averaged realized price in Q4. Yet one would think with a F&D costs of only 28% of the realized price generated, PXD would have been able to achieve much more on the bottom line.
Emerging Risks
The first risk I see is simply the stock's valuation. It jumped about $15/share after the Q4 and full-year reports were released: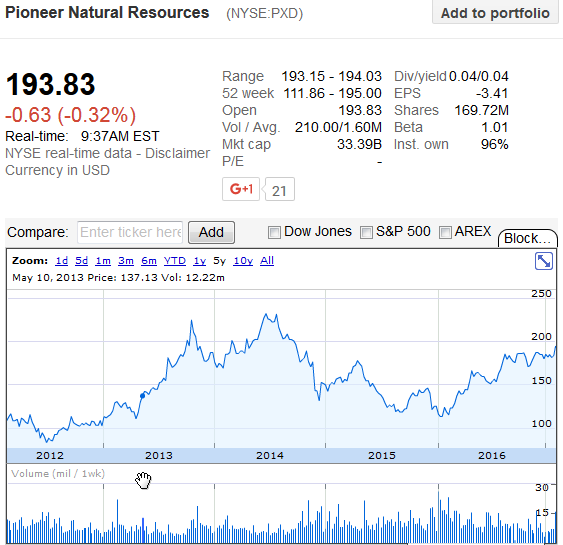 The stock now has a market cap of $33.3 billion and pays only a token dividend. That is roughly half the market cap of ConocoPhillips (NYSE:COP), a company that has ~6x the production and has more production from "0" depletion rate sources like LNG and oil sands than PXD's total production. COP's $27.3 billion in debt -- largely a result of cap-ex commitments to build those LNG and oil sands assets -- is a primary difference considering PXD's low net-debt profile. Still, from an enterprise value standpoint, PXD appears priced to perfection -- especially considering that COP is also no slouch when it comes to lower-48 unconventional exploitation (see "Has The Pendulum Swung Back From Phillips 66 To ConocoPhillips?"). Estimated EVs are as follows: PXD = $34 billion, COP = $85.7 billion.
Another seldom discussed risk in the Permian that is proving to be a substantial challenge: water. In the Q4 release, the company reported signing an agreement with the City of Midland to upgrade the city's wastewater treatment plant in return for a dedicated long-term supply of water from the plant. Of the $2.8 billion 2017 capex plan, $275 million was allocated for "water infrastructure, vertical integration and field facilities." That includes $160 million for expansion of the mainline water system, subsystems, and frac ponds serving the company's crown-jewel asset: the Spraberry/Wolfcamp field. That's a relatively large expense simply to adequate secure water supplies in arid west Texas.
PXD's 2017 capex plan assumes ~5% service cost inflation for the year, at the rate the rig count is growing in the lower 48, and after a couple years of cost cutting by squeezed oil service companies, odds are they will likely increase costs more than 5% this year. In addition, note that despite the much stronger realized price environment forecast for 2017, PXD does not expect to be cash-flow positive until 2018.
Lastly, a fairly rapid production response by lower-48 shale producers to higher prices, as well as expected environmental and regulatory relief by the Trump administration, is likely to keep a "lower-for-much-longer" oil price scenario in place. WTI is likely to average below $55/bbl in 2017. Also note that despite the Permian's well-deserved reputation as a predominately oil oriented play, dry gas and NGLs still represent ~40% of PXD's production profile.
Bottom line: While PXD appears to be performing well operationally and financially, the stock appears priced-to-perfection given the company's continuing inability to deliver bottom-line earnings and pay a decent dividend to shareholders. And, despite the much higher price environment expected in 2017, the company says it will likely not spend within its cash flow this year.
As a result, PXD investors may want advantage of the recent pop to the upside in shares, take some profits, and move a portion of their investment dollars into beaten down ConocoPhillips. Note that COP is guiding for $5 billion cap-ex plan in 2017 to keep production of 1.5 million boe/d relatively flat. Meanwhile, PXD expects to spend more than half that ($2.6 billion) to grow production by an estimated 15-18% (~275,000 boe/d at the upper end). In addition to that big advantage, COP's 2018 cap-ex plus dividend expense will be well within annual cash-flow. As a result, and with some asset sales thrown in, the company expects to make progress in reducing its debt load.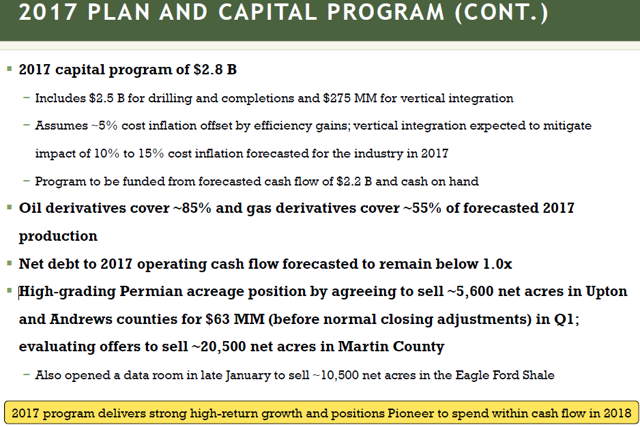 Source: Q4 presentation (available here).
Disclaimer: I am an engineer, not a CFA. The information and data presented in this article were obtained from company documents and/or sources believed to be reliable, but have not been independently verified. Therefore, the author cannot guarantee their accuracy. Please do your own research and contact a qualified investment advisor. I am not responsible for investment decisions you make.
Disclosure: I am/we are long COP.
I wrote this article myself, and it expresses my own opinions. I am not receiving compensation for it (other than from Seeking Alpha). I have no business relationship with any company whose stock is mentioned in this article.