Wayside Technology Group Inc (NASDAQ:WSTG) describes itself as an information technology channel company that distributes software through resellers and also resells computer software and hardware. The company was incorporated in 1982 and has an enviable record of consistent growth, profitability and dividend payments. Their record is particularly impressive for a micro-cap (market cap $78MM) company. WSTG reported earnings on February 2, 2017, showing a 9% increase in sales and diluted EPS of $1.31 vs $1.25, resulting in a current PE of 13.7x, and EV/FCF of 7.3x, and a dividend yield of 3.8%. So why did I sell the stock this morning (Monday, February 13, 2017)?
First, I will admit that I'm not a fan of the whole middleman/distributor/reseller model. WSTG's operating margins are grocery-store thin and have been declining for the past several years, but I knew that when I bought the stock, so it really wasn't an impetus to sell out now.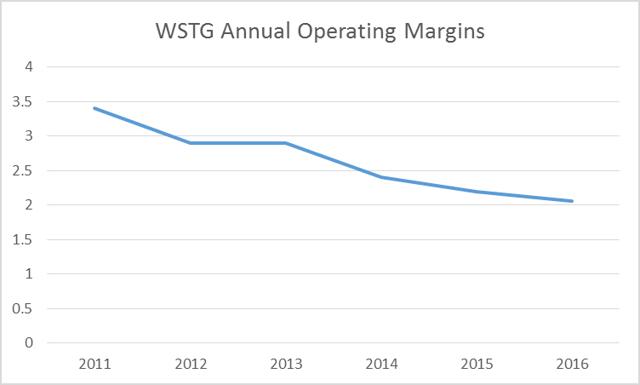 Source: Author chart based on data from Morningstar.com
One of the things I always try to focus on when evaluating a business is its ability to generate free cash flow, which I define as cash from operating activities less capital expenditures. WSTG's February 2, 2017, earnings release did not include a statement of cash flows, but the company's balance sheet and income statement were included, and are consistent with prior years, so we can attempt to construct our own estimate of the company's 2016 cash flow statement. WSTG's cash from operating activities is typically a simple sum of its net income, depreciation and amortization, share-based compensation and change in working capital. By comparing the year-end balance sheets, one can calculate the change in working capital and construct an estimated statement of cash flows for the year end.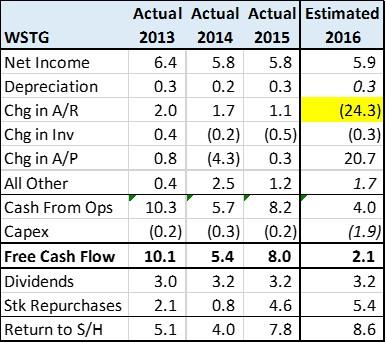 Source: Author chart based on WSTG public filings. Italicized items author estimates.
Despite the increase in sales and reported profits, WSTG's cash from operations dropped to $4 million (compared to reported earnings of just under $6 million). WSTG's cash balances declined from $23.8 million at 12/31/15 to $13.5 million at 12/31/16. Where did the cash go?
| | | | | |
| --- | --- | --- | --- | --- |
| Cash from Ops | $ 4.0 | | Capex | $ 1.9 |
| Decrease Cash | 10.3 | | Dividends | 3.2 |
| | | | Share Repurchases | 5.4 |
| | | | Incr in LT A/R | 3.8 |
| Total Sources | $14.3 | | Total Uses | $14.3 |
Source: Author chart based on WSTG public filings
The company relocated during 2016, resulting in a higher than normal level of capital expenditures, so a portion of the decline is readily excused. WSTG continued its regular cash dividends of about $3.2 million. The company also repurchased $5.4 million worth of its stock, returning a total of $8.6 million to shareholders. If you have a slow growth, low margin, low capex business, there is little reason to hold large cash balances, and returning the cash to shareholders is often the best use of the excess cash. But is that what's going on at WSTG?
Note the large increase in A/R in the cash flow table above, which is partially offset by the large increase in A/P. Also note the increase in long-term accounts receivable in the uses of cash. WSTG's total A/R (current and long term) was $94.4 million at 12/31/16, up from $66.4 million at 12/31/15, an increase of $28MM or 42.2%.
Year over year sales were up $36 million, or 9.4%. WSTG's fourth quarter sales were up $20 million, or 20.2%. Bill Botti, WSTG's EVP, stated that "the increase in TechXtend sales was primarily driven by large extended payment term sales." WSTG's days sales outstanding, using total A/R, increased from 63.4 days in 2015 to 82.4 days in 2016.
During the company's February 3, 2017 conference call (here), WSTG's CEO Simon Nynens was asked about the extended terms offered to clients in the fourth quarter. Nynens response is concerning:
"Yes. So these relate to multi-year licenses. If you buy a license that is valid for three years, but your IT budget for a given year is set to a certain amount, what we are able to do is sell you the software for the full amount that you can pay us in three equal terms, the software, It's an irrevocable purchase order. You cannot return the software, but you can spread the payments according to a plan that is more viable for you in terms to cope with IT expenses within your budget. It compares a lot to software-as-a-service in terms of spreading out those payments equally over the time that you are using the software. We are using that, our excess cash, in order to facilitate those payments, make it really easy for vendors and customers to work with us to facilitate those transactions." (emphasis added)
It is one thing to provide financing to facilitate sales if you are manufacturing a product with a large gross margin, but WSTG is a distributor/reseller with a 2% operating margin. It is apparent that the 4Q16 were results were inflated by WSTG's decision to utilize its cash to provide financing to its customers, but why? Would these clients have gone someplace else absent the financing incentive? Were these sales pulled forward from 2017, enticed by extended payment terms? Is management going to continue to deplete cash balance by "playing bank" to its clients?
I don't know the answers to these questions, but as they say on Shark Tank, "I'm out."
Note: I am not recommending that any readers try to short WSTG stock, as the stock is very thinly traded, with wide bid-ask quotes.
Disclosure: I/we have no positions in any stocks mentioned, and no plans to initiate any positions within the next 72 hours.
I wrote this article myself, and it expresses my own opinions. I am not receiving compensation for it (other than from Seeking Alpha). I have no business relationship with any company whose stock is mentioned in this article.
Additional disclosure: I sold WSTG earlier today and have no remaining holdings in WSTG.
Editor's Note: This article covers one or more stocks trading at less than $1 per share and/or with less than a $100 million market cap. Please be aware of the risks associated with these stocks.