SandRidge Energy (NYSE:SD) has updated investors that it has refinanced its existing reserve-based revolving credit facility [i.e. "1L"] into a new facility with substantially better terms. This 1L refinancing is yet another in a series of positive steps taken by SandRidge since entering Chapter 11 bankruptcy, restructuring, and exiting bankruptcy. This step, refinancing its 1L, has positive implications for SandRidge on all durations - immediate term, mid term, and long term; and should be viewed positively by capital structure participants of all seniority levels.
First, SandRidge secured a larger facility by principal amount of commitments - seeing its total credit facility increase from $425 million to $600 million. It should be noted, however, that the initial conforming borrowing base under the new 1L is $425 million; with the next scheduled borrowing base redetermination to be in October. Still, the fact that SandRidge's 1L increased in size (i.e. total commitment capacity - even if not yet perfectly secured) is meaningful.
I believe two of the largest reasons for SandRidge equity buying reluctance, post-bankruptcy exit, are the questions surrounding its (full-year 2017) CapEx program and (full-year 2017) production growth; both of which effectively are parallel to each other in risk and remediation. SandRidge, having secured additional funding, which presumably can be deployed immediately into CapEx (immediately upon perfectly securing) should go a long way into addressing both concerns. SandRidge currently intends to run just a ~$200 million CapEx program for full-year 2017, which would call for a one-rig program to be executed in parallel.
To be clear, it's also substantially unknown what SandRidge's maintenance - CapEx demands are - which is adding additional risk to both outlined questions. The lack of clarity, it should be noted, is a result of 1) an unclear decline rate of total production, given a mix of aging wells and new[er] wells having been completed with advanced, evolved completion techniques (i.e. these wells have not yet had adequate data collection for reliable modeling) and 2) OldCo SandRidge (i.e. pre-bankruptcy SandRidge) management failing to ever clearly address the OldCo maintenance CapEx. Again, this magnifies the risk of the CapEx program (and production tethered data collection) and execution and, I believe, has created an environment of equity buying reluctance. I reiterate, SandRidge's 1L expansion will go a long way into addressing both concerns. For the record, recent SandRidge well data - while early - looks fantastic.
But it wasn't just additional size which SandRidge secured; it also lowered the cost of its 1L as well as secured greater optionality for 1L deployment and maintenance. Importantly, SandRidge reduced its 1L interest rate from a flat base rate of L+475BPS to a pricing grid tied to borrowing base utilization of [A] L+300-400BPS or [B] the base rate plus 200-300BPS. Obviously, this was a coup. This 1L cost reduction is also the clearest indication yet - by a third party no less - that SandRidge has moved beyond its OldCo stress. SandRidge being able to competitively refinance its 1L (to lower costs) speaks of its access to the credit markets, which in itself is an indication of greater credit quality. It should be noted, SandRidge was able to reduce its LIBOR floor from 100BPS to 0BPS.
Further, speaking to the greater optionality for 1L deployment and maintenance alluded to above, SandRidge:
eliminated the minimum proved developing producing reserves asset coverage ratio;
removed the requirement to maintain $50 million in a cash collateral account controlled by the Administrative Agent;
eliminated the holiday from borrowing base determinations and the maximum consolidated total net leverage ratio and the minimum consolidated interest coverage ratio covenants;
and eliminated certain negative covenants, such as the $20 million liquidity requirement and the limitation on CapEx
All of them deserve individual breakout, at least in summary, but particularly notable is the removal of the limitation on CapEx - contextualized in the introduction of this note.
Finally, SandRidge was able to keep its new 1L covenant light as well as covenant loose - both equally important. For all that it took in its 1L refinance, SandRidge only allowed negative covenants of: commencing with the first full quarter ending after the effective date of the refinancing, maintain [i] a maximum consolidated total net leverage ratio, measured as of the end of any fiscal quarter, of no greater than 3.5X to 1.0X and [ii] a minimum consolidated interest coverage ratio, measured as of the end of any fiscal quarter, of no less than 2.25X to 1.0X. Again, SandRidge's 1L should be extremely manageable and should allow for maximized utility from an optionality standpoint.
Everything told, SandRidge's 1L refinance sets the table for an extended CapEx program, for production visibility, and for a very low cost junior debt stack - should the company decide to add leverage in the immediate and/or mid term. I personally believe that SandRidge will in fact come to the market for junior debt in that I don't believe it the intention of the company to operate at substantially zero leverage, but of course I don't know this. If SandRidge does, however, this too will act as a meaningful equity pricing catalyst; as my assumption is the junior debt proceeds will be deployed immediately to CapEx. Again, CapEx and production are the largest risks (with any degree of visibility) facing a SandRidge investment.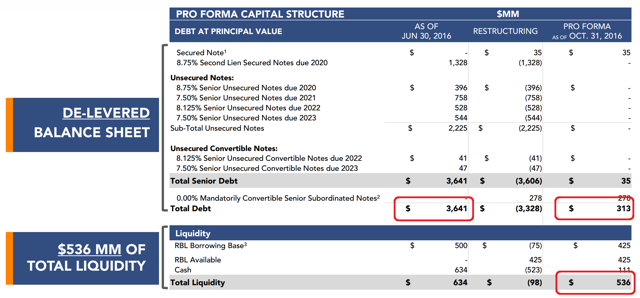 When coupled with what will be additional new well data points - substantially de-risking production risks, substantially improving visibility into forward-looking decline rates as well as maintenance CapEx, and substantially proving out what are appearing to be much improved IRR schedules - I believe the 1L refinance should provide ample interest in SandRidge equity investment. I, however, remain uninvested and waiting on the sidelines. I personally believe that oil is at the top of its immediate-term pricing range and that SandRidge equity can be purchased at lower pricing (given its beta to oil). I will be watching, however, and will initiate an investment at the appropriate time (if such a time presents itself).
Good luck everybody.
Disclosure: I/we have no positions in any stocks mentioned, and no plans to initiate any positions within the next 72 hours.
I wrote this article myself, and it expresses my own opinions. I am not receiving compensation for it (other than from Seeking Alpha). I have no business relationship with any company whose stock is mentioned in this article.