There is one segment of Amazon (NASDAQ:AMZN) that deserves some attention. That is the Amazon Prime segment. Specifically, the amount of money it is spending on original content is worrisome if one assumes that Amazon wants to dominate the original content market. Note that Amazon does not break down its Prime Video segment in any detail. It is part of the media segment that currently generates about $24 billion in revenue. So the media segment overall is approximately 20 percent of the business, a pretty sizable chunk.

(Source: 10-K)
According to a 2010 8-K, the media segment "consists of amounts earned from retail sales from all sellers in categories such as books, movies, music, digital downloads, software and video games (including game consoles)." This is still relevant as Amazon Prime Video was launched in 2006 as Amazon unboxed.
In the cost of sales description, Prime video is mentioned as a primary expense due to cost of content creation.
Cost of sales primarily consists of the purchase price of consumer products, digital media content costs where we record revenue gross, including Prime Video and Prime Music
However, we do not know the actual breakdown of the Amazon Prime Video segment. We can make some simplifying assumptions to have an idea of the revenues.
Let's assume that Amazon did not offer the video-only monthly subscription. Let's also assume that Amazon Prime is only a video service just like Netflix (NASDAQ:NFLX) and is comprised of nothing else. Since Amazon charges $100 annually, the estimated 63 million customers bring in approximately $6.3 billion. This is about 25% of the overall media revenue.
Now, it is unclear how much Amazon truly spends on content. However, the latest figure we have in terms of spending is estimated around $3.2 billion for 2016. However, Amazon claimed that it wanted to double the spending in 2017. That puts it around $6.4 billion, a slightly higher amount compared to Netflix's projected spending this year.
Netflix's spending on content will continue to increase even though the hard number is unknown.
Sarandos declined to provide a specific budgetary forecast but confirmed it's increasing
It is safe to assume Amazon will continue to increase its aggressive spending as it vies for the top spot in the content wars.
Growth Rate
If we look at the growth rate for Amazon Prime, we know that the trend is likely decreasing. According to Recode, the growth rate in 2014 was 53% and in 2015 was 51%. The 2016 growth rate was not mentioned most likely due to the deceleration. Based on our initial assumption of Amazon Prime only offering video, we can conclude that the subscriber base is decreasing. If we think about it, no company wants to admit a slowdown since investors will penalize the company by selling shares. However, Amazon has indirectly acknowledged the slowdown by not mentioning the growth. This could signal further cash burn if the aggressive spending of content continues while the growth of Amazon Prime decelerates.
If we assume that all the Prime members watch video and Amazon continues to spend money on content at aggressive rate, it will eventually take its toll on profitability. The reoccurring revenue from Prime members will not be able to keep up with aggressive content spending.
Household Spending
What is more troubling is the forecast of the US households spending on the streaming content Amazon and the rest of its competitors provide. The chart below is showing the dollar amount of change in spending. Although 2017 has just begun, it is the projected start of the decline. The reason is that 60% of US households have streaming services and the market saturation rate is at 85%. On top of that, 40% of households have two services. This means that growth is not organic but comes from cannibalization.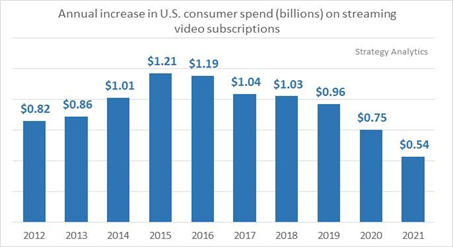 (Source: Strategy Analytics)
Shipping and Prime Video
Relaxing all assumptions, I see Prime Video as a way to attract customers even though it will probably be a revenue losing segment such as shipping. There might be a reason for that.
Below is an excerpt from the shipping segment:
We expect our cost of shipping to continue to increase to the extent our customers accept and use our shipping offers at an increasing rate, our product mix shifts to the electronics and other general merchandise category, we reduce shipping rates, we use more expensive shipping methods, and we offer additional services. We seek to mitigate costs of shipping over time in part through achieving higher sales volumes, optimizing our fulfillment network, negotiating better terms with our suppliers, and achieving better operating efficiencies.
The trend is loss has been consistently increasing. If Amazon ever breaks out the Prime Video segment, I suspect a similar trend will ensue.

(Source: 10-K)
Conclusion
Investors need to pay attention to the rate of increase in expenditures for content in comparison to Netflix. If Amazon attempts to become the number one, I believe it will try to spend more than Netflix in the content wars. Unless the rate of growth in the Prime members increases at a faster rate than the rate of expenditures, expect Prime Video to be another losing segment in Amazon. In addition, pay attention to the forecast on household spending to see if it actually plays out. If it does, then the loss on the segment will increase at a faster rate. Since Prime Video is most likely to be the biggest part of the media segment, it will most likely be a huge influence on Amazon's bottom line going forward. Investors cannot solely depend on the AWS segment to carry the stock higher.
Disclosure: I/we have no positions in any stocks mentioned, and no plans to initiate any positions within the next 72 hours.
I wrote this article myself, and it expresses my own opinions. I am not receiving compensation for it (other than from Seeking Alpha). I have no business relationship with any company whose stock is mentioned in this article.