On Friday, February 10, 2017, Immunomedics (NASDAQ:IMMU) and Seattle Genetics (NASDAQ:SGEN) signed a development and licensing agreement which called for an upfront payment to IMMU in the amount of $250 million for a global license of IMMU-132. The total value of the deal is worth $2.0 billion, with up to $1.7 billion to be paid by SGEN on behalf of IMMU in the form of clinical development, manufacturing, sales with the addition of a double digit royalty. IMMU will retain the right to entertain other offers before closing, but SGEN will have the first right of refusal to match the offers. In the event that SGEN is not chosen, then IMMU will need to pay a termination fee. While the deal between IMMU and SGEN sounds great at first glance, it doesn't balance on paper. Did IMMU forget to ask SGEN to "show them the money?" There are some key holes in this deal and money is only part of it. What is the rationale for the deal and how does it help both franchises? If you are an IMMU shareholder, you are feeling good because you got $250 million and SGEN to pay all your development costs. As a bonus, you get to continue to shop the deal with existing players and a $15 million equity investment regardless of closing, not to mention the increase in shareholder value. If you are SGEN shareholder, it doesn't feel so good, because you drained your cash coffers, you are still losing money, and now you have the additional overhead of another offering. This deal doesn't look that good if you are in SGEN, so what is the true driver of the deal? According to Clay Segal of SGEN, it gives them the ability to "gain access to a compelling program." There are a lot of compelling programs that would cost less than $2.0 billion, and I will do a comparison with one at the end of the article. This seems like a very lopsided deal in IMMU's favor.
Funding Gap
The market capitalization of SGEN is $8.5 billion, and assuming the company has the right amount of operating capital on hand, the company will need to do a $2.0 billion money raise at some time in the future to maintain their credibility that they have a plan to move forward with the deal. Using round numbers and current market valuation, you are looking at 24% dilution. A lot of time will pass before the next milestone, so let's view the numbers in a less draconian fashion. If they take a half now and a half later approach, they could get away with $500 million, given the $500 million sitting in US Treasuries right now. Then you are looking at about 6% dilution. SGEN fell about 4% on the news suggesting a money raise of around $300 million is baked into the price. The issue for SGEN shareholders to consider is the constant overhang that could result, putting serious pressure on the stock and hedge fund managers who short the stock planning to cover on the announcement of the money raise.
In this next section, we are going to analyze some key metrics, liquid assets, licensing revenues, and earnings. As of December 31, 2016, SGEN had $619 million in cash, cash equivalents and investments.
| | | | | |
| --- | --- | --- | --- | --- |
| In thousands (000)'s | 2017 | 2016 | 2015 | 2014 |
| ADCETRIS Sales | 300,000 | 265,800 | 226,100 | 178,198 |
| Collaboration | 90,000 | 67,500 | 41,000 | 68,556 |
| Royalty | 55,000 | 84,900 | 69,800 | 40,004 |
| Total | 445,000 | 418,200 | 336,900 | 286,758 |
| | | | | |
| Expenses | 706,000 | 560,900 | 457,800 | 364,121 |
| Earnings | (261,000) | (140,100) | (120,500) | (77,363) |
Source: Author using data from corporate filings
From this summary chart, you will see some troubling trends. Sales are increasing, but not at a rate that would support this licensing deal. Collaborations and royalty income have been inconsistent. Total sales are trending higher, but that is it. The most troubling metric is that losses from operations have almost doubled. As a standalone operating company, these losses are not sustainable. There is clearly a funding gap that the company needs to find a solution. Waiting to address this could result in the deterioration of shareholder value.
Existing Technology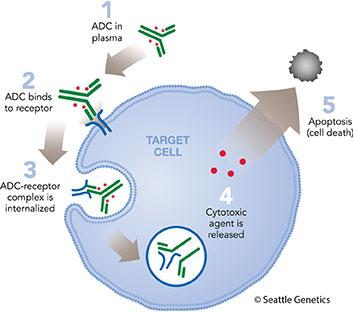 Source: SGEN Website
SGEN is known for their Antibody-drug conjugate (ADC), and it has shown some great progress in targeting. They also have developed another targeting platform called sugar-engineered antibody (SEA). Almost all their clinical trials revolve around targeting specific receptors in oncology. They have eight collaborations with Celldex (NASDAQ:CLDX), Genentech (OTCQX:RHHBY), AbbVie (NYSE:ABBV), Progenics (NASDAQ:PGNX), Astellas, Bayer (OTCPK:BAYRY), GlaxoSmithKline (NYSE:GSK), and Genmab. All of these collaborations are in a phase II status with the idea that they are going to get some sort of licensing revenue. So a deal that makes more sense is for them to spend money on another technology platform. TROP-2 is the target of IMMU-132 and TROP-2 is overexpressed on a lot of solid cancers including gastric, colorectal, lung, and breast, but this is not really a platform. It's a pretty solid targeting vehicle, and in vivo studies had shown a 136-fold increase in the cancer versus irinotecan. The issue isn't the efficacy of the target, but that this platform is limited to one receptor that might work on multiple indications of cancer. It feels like they are getting off their core competency and out of desperation trying to force something happen. According to Clay Segal of SGEN "we have been involved in and interested in this program for over 6 months, we think that this deal is favorable and favorable for both parties." He also added that they were "working on this deal before any of the talk of proxies came up," which hints at their motivation to close a deal right before the shareholder meeting, although they claim it didn't influence their decision. Look at 2 other targeting platforms that I have identified at the end of the article before you formulate your opinion on whether or not this was the best deal for them.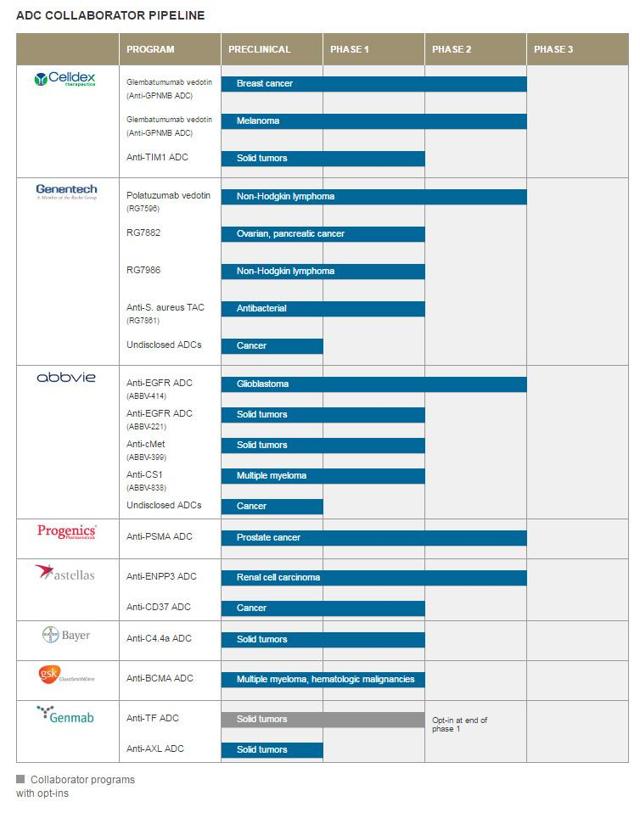 Source: SGEN Website
The true diamond in the rough is their SEA platform technology. Their lead compound is SEA-CD40 and it is designed to target the OX40 receptor on the T-cell. Quite a few companies are targeting this receptor such as Genentech with MOXR0916, Pfizer (NYSE:PFE) with PF-04518600, and AstraZeneca (NYSE:AZN) with MEDI6469. Recent preclinical studies showed that Genentec's drug MOXR0916 in combination with GR-MD-02 showed that galectin inhibition was at the core of the immunotherapy cycle. The highlights of the study showed that the combination therapy improved survival in mice as high as 55% in combination and reduced spontaneous lung metastasis. There was also a noticeable increase in CD8+ Cell proliferation and trafficking which drove up CD8+ T-Cell recruitment and maturation. Activating this receptor promotes a co-stimulatory signal that completes the T-cell activation process. The most important thing to note is that this galectin inhibitor technology doesn't seem to produce any side effects and has one of the safest if not the safest profiles in oncology.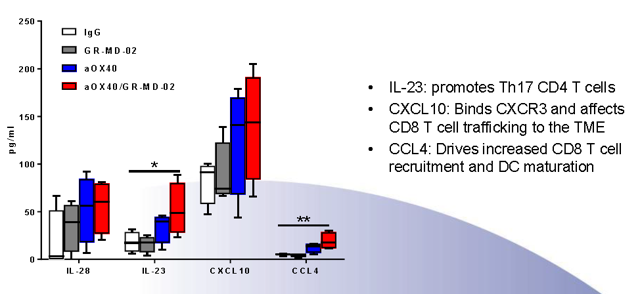 Source: Earl A Chiles Research Institute Poster Presentation 2-7-17
SGEN's SEA-CD40 has different mechanism of action over the other anti-OX40 drugs. What research has showed, is that by tweaking the antibody and removing the fucose, it attracts the NK cells, enhancing the therapeutic effect or it allows you to reduce the dosage of antibodies allowing one to degrease the toxicity. This pathway stimulates the innate immune system. ProBiogen is a competitor in this field and has a technology called GlymaxX that may use a different process to cleave the fucose, but basically achieve the same result. Later on in the article, you will see an even simpler way to achieve the same effect using DAVANAT.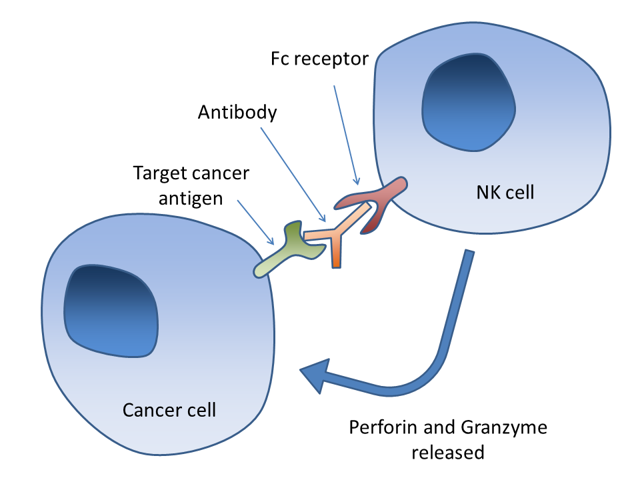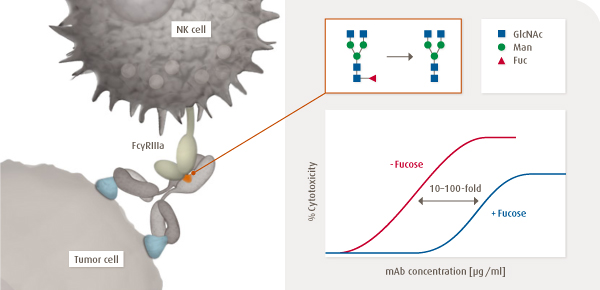 Source: Dynavax website
Solid Drug Performance IMMU-132
The TROP-2 is a very important target and IMMU-132 has pretty impressive results, especially in the Metastatic Triple Negative Breast Cancer (TNBC). These patients are basically fifth line patients, and to push any response at all is positive news. Elevated levels of TROP-2 are expressing in gastric, colorectal, lung and breast cancer, which means the drug is likely to do well in the other indications. No diagnostics of markers need to be done to decide treatment which is a positive. The main side effects are diarrhea, neutropenia, anemia, and fatigue. The objective response is 33% with a durability of 10.9 months. The drug is a monoclonal antibody designed to target the TROP-2 receptor that is overexpressed on the cancer cells. Attached to the antibody is the irinotecan, and it gets released when at the target site. This targeting reduces the side effects and get the cancer to where it needs to go.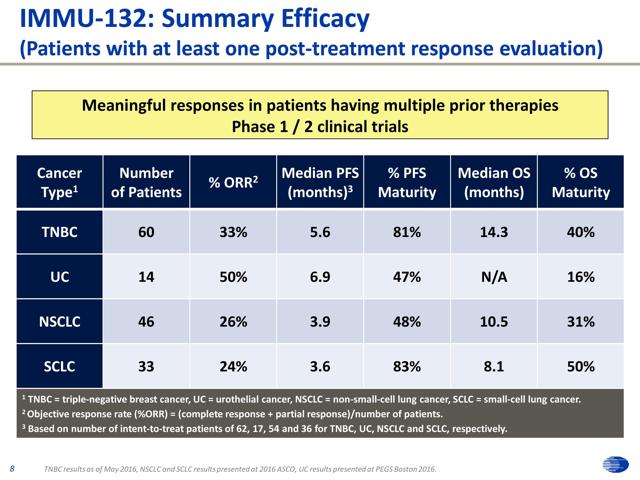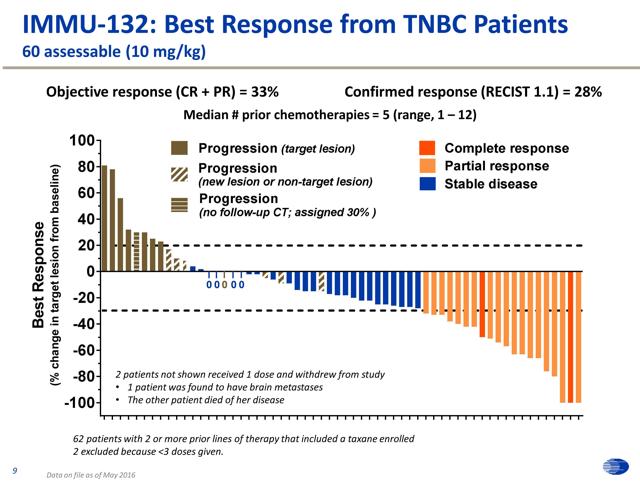 Source: Immunomedics Investor Presentation 2017
Next Generation Targeting Platforms
Spherical Nucleic Acid
Exicure is a private company but has developed a spherical nucleic acid (SNA) that encapsulated the therapeutic agent into its delivery vehicle. The design takes the nanoparticle as the scaffolding, then plugs piece of DNA around the outside of it, and then the delivery vehicle reaches its target, and then gets taken into the cell via Class A scavenger receptors. They target localized areas like the skin, eye, lungs, brain, GI tract and even cancer. It goes after the underlying cause of the diseases. The nanoparticles, by their nature, do not have the same side effect associated with the monoclonal antibodies. The company's pipeline is mostly in the preclinical and phase I development with a partnership with Purdue for the mild to moderate psoriasis indication. On December 12, 2016, they announced a strategic research collaboration to develop a treatment for psoriasis and other diseases amenable to gene regulation using the SNA technology. The lead compound is called AST-005 and finished a 15-patient phase I trial that met its endpoints of safety and tolerability. Under the terms of the agreement, Exicure received an upfront payment, will receive an equity investment, and could potentially receive development, regulatory and commercial milestone compensation, which could total $790 million if all programs are fully developed, as well as royalties on potential sales of products. This company also has a strong patent portfolio with 75 pending patents and 35 allowed or issued patents.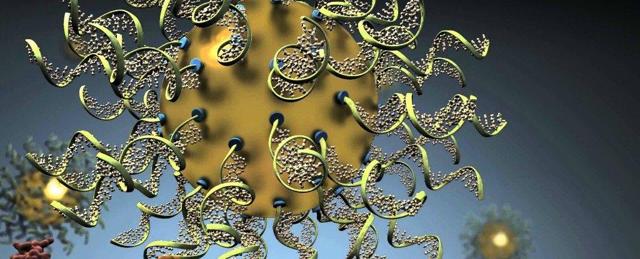 Source: Exicure website
Now a comparison of TROP-2 to the SNA platform. SNA can be formulated to encapsulate any therapeutic agent including RNA interference (RNAI) that destroys the genes in the cell causing disease. TROP-2 just gets you in the vicinity of the target. SNA is quite surgical in nature. Psoriasis is an autoimmune disease. Tumor necrosis factor alpha (TNF-alpha) levels correlate to the level of disease in patients and is implicated in the disease. The immune system attacks this protein, and in doing so causes the thickening of the skin and scales. Therapeutic approaches currently target the T-cells, but Exicure is able to target the underlying cause of the disease. The idea is that by targeting the gene, they reduce the amount of TNF-alpha produced and ultimately quell the patient's immune reaction. Although it is too early to tell the efficacy, there was a dose-dependent response to the drug in the Phase I trial, so there is clearly a promising future of drug delivery. This type of platform seems like a more obvious choice and the purchase price is a lot less than what they paid for IMMU, granted they are a couple stages behind in clinical trials.
Galectin Inhibitors
Galectin Inhibitors are gaining considerable traction as a technology platform, and given the recent success of 3 small pilot trials in Immuno-Oncology (I-O), psoriasis, and atopic dermatitis, it is clear that developing a galectin inhibitor will work across many indications. All three trials had meaningful clinical activity. Here is an example of some meaningful clinical activity in psoriasis after 24 weeks of treatment.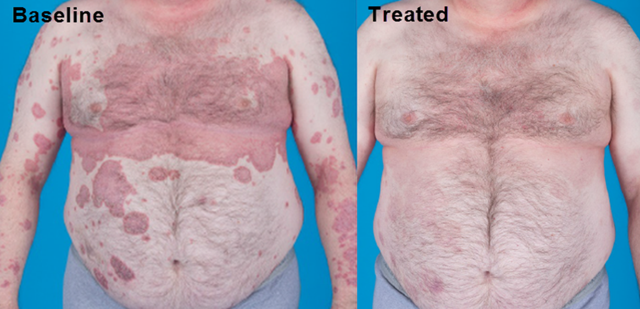 Galectin Therapeutics Shareholder Meeting 2016
If SGEN is to maintain its focus on oncology, then is should dust off and consider purchasing the Carbosome technology DAVANAT, which is really just a fancy name for galectin inhibitor. As early as 2002, DAVANAT was considered the first galectin inhibitor that basically bonded with a chemotherapeutic agent, then wrapped around the molecule with its galectin receptors searching for a target that was overexpressed on certain cancers by a factor of 100:1. DAVANAT has a high affinity for the Gal-1 and Gal-3. Almost $20 million was invested in clinical trials and over 100 patients were dosed for cancer related indication before funding ran low. In 2009, the company was unable to fund a Phase III trial for colorectal cancer using DAVANAT + 5FU and AVASTIN because the price of AVASTIN was so high. What's interesting to note is that the Phase II studies revealed that DAVANAT in combination with 5FU and AVASTIN virtually eliminated the Severe Adverse Events (SAEs) associated with AVASTIN.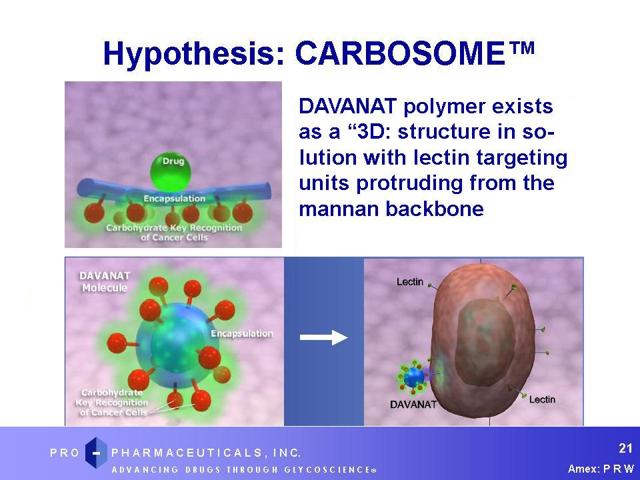 Source: Author compilation from Investor Presentation 2008
The theoretical Mechanism of Action (MOA) behind this reduction of side effects was the targeting nature of DAVANAT. DAVANAT would bind with the 5-FU and AVASTIN on one end of the long carbohydrate chain and then transport it to a Galectin-3 receptor, which is overexpressed on the tumors and bind to, with the therapeutic payload in tow. It's quite sad that Genentech didn't bite off on partnering to make their drug safer because the clinical trial results were robust and warranted a Phase III trial. Even to this day, 40% of patients that take 5-FU get mucositis, but out of 100+ patients there wasn't one instance of it. Another side effect that was witnessed in this group was that patient's hair didn't fall out. In 2009, CEO David Platt commented "In a Phase II trial for end-stage colorectal patients, DAVANAT extended median survival to 6.7 months with significantly reduced side effects, as compared with 4.6 months for the best standard of care." Putting this in perspective, survival increased by 46% over the best standard of care.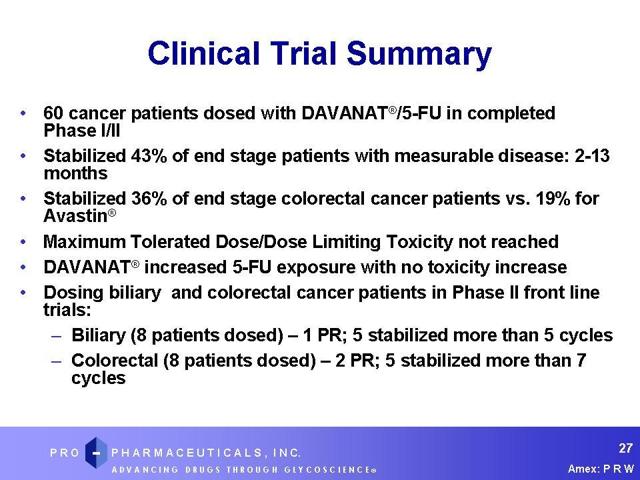 Source: Russo Trading Investor Meeting 2008
As we fast forward to today. The galectin inhibitor technology is still as robust as ever in 2014. Another preclinical study was done showing the reactivation of T-cells. The first slide shows that as you increase the concentration or dose of the galectin inhibitor DAVANAT, you increase the number of CD8+ cells. In the final slide section A, you will see that CD8+ cells increase and kill cancer cells at an increasing rate.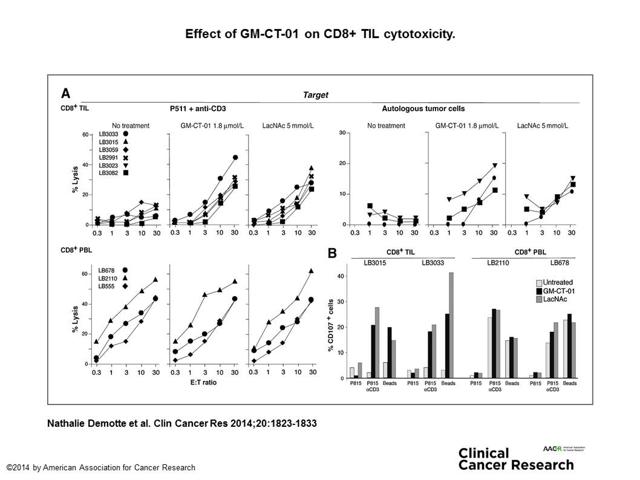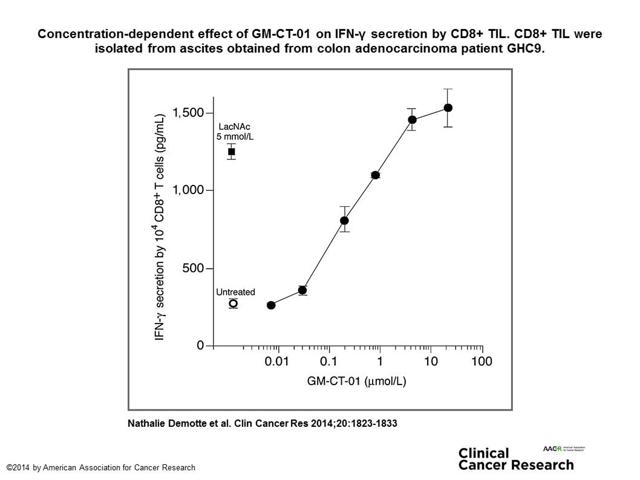 IMMU-132 Vs. DAVANAT
We cannot do a head-to-head comparison because we would be comparing different indications, but given both are "delivery platforms," it is actually fair to compare the two drugs. Let's compare the ORR, median survival, and safety. Some key things stick out on with this DAVANAT trial because no one died while taking DAVANAT. The ORR of IMMU-32 is about the same, but there were side effects and a lower median survival. In the Phase II clinical trial for end stage colorectal cancer patients, 30% (6 of 20) were stabilized from 2 to 8 months and 1 patient experienced a partial tumor response, as determined by an independent lab. When taking DAVANAT, 70% had stable disease at highest dose indicating the dosage should have been progressed.
| | | |
| --- | --- | --- |
| | IMMU -132 (60 patients) | DAVANAT (20 patients) |
| ORR | 33% | 35% - 1 partial response |
| Median Survival | 5.6 mo | 6.7 mo NO DEATHS |
| Safety | Diarrhea, Neutropenia, Anemia, Fatigue | 41% reduction in SAE's |
Source: Author using data from Press Release
Summary
Overall, this transaction is very favorable to IMMU, and there could be near-term catalysts driving this higher as other suitors might want to get their hands on the technology. In light of the existing platforms that I mentioned, SGEN seems to be paying a premium price for this technology and not getting the true benefit of being able to leverage it against a much wider range of diseases and indications. As you can see that there is really nothing new about this technology when compared to DAVANAT, which has trial data from 2008 that is in line with TNBC trial data. Both mechanisms use a vehicle to target a specific receptor. The TROP-2 receptor is not universal to all cancers whereas the Gal-1 and Gal-3 is. The galectin inhibitors also show indications of efficacy in organ fibrosis, skin diseases, and diabetes. So if you were looking for a platform, this is clearly a better choice. The SNA platform is arguably a better deal because its price was only $790 million vs. the $2.0 billion price tag for IMMU. The best deal, however, for SGEN is to walk away and simply purchase Galectin Therapeutics (NASDAQ:GALT) with a market capitalization of $35 million; it's a much better deal because you get a delivery platform, multiple billion dollar indications, and don't have to worry about safety. Over 3000 doses without an SAE.
Disclosure: I am/we are long GALT, IMMU.
I wrote this article myself, and it expresses my own opinions. I am not receiving compensation for it (other than from Seeking Alpha). I have no business relationship with any company whose stock is mentioned in this article.