Company Overview
iRadimed Corporation (NASDAQ: IRMD) develops, manufactures, markets and distributes magnetic resonance imaging (MRI)-compatible products. It sells its products primarily to hospitals, acute care facilities and outpatient imaging centers in over 30 countries.
MRI uses magnetic fields and radio waves to give images of the internal structures of the body. Powerful magnets used by MRI scanners can interfere with nearby electronic devices. Thus, MRI facilities must use specially designed, non-magnetic equipment that can operate safely within a harsh magnetic environment. iRadimed's IV pumps are the only FDA-approved MRI pumps to operate safely and reliably near a patient during an MRI procedure. All other IV pumps currently on the market must be placed at a distance from the MRI scanner, and in some cases, outside the scanner room entirely. This results in a monopolistic industry until other products receive FDA approval, which could take up to 2 years.
Roger Susi, iRadimed's founder and inventor of the MRidium suite of MRI-compatible IV pumps, previously was the founder and president of Invivo Research, the leading manufacturer of monitors for MRI. He, along with the other staff, have a combined 60+ years' experience developing innovative MRI patient care products.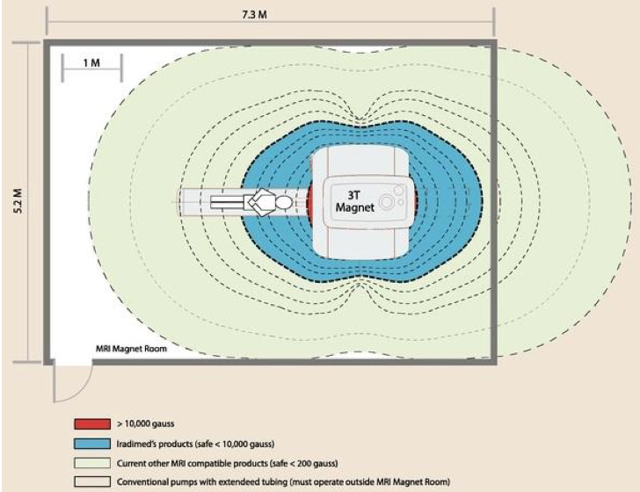 (Source: iRadimed Investor Presentation)
Argument I: Large Market Opportunity
The addressable global market of iRadimed's MRI-compatible IV pump is approximately $400-450 million. This opportunity represents approximately 8,000 acute care and critical care hospitals with a minimum of 50 beds within the United States and other developed countries. This equates to a current global market opportunity of approximately 15,000-18,000 MRI-compatible IV infusion pump systems, of which approximately 55% are located in the United States. The company's sales guidance for 2016 is $39-40 million, which further illustrates the potential untapped market.
Moreover, the disposable IV tubes used by the pump are a recurring revenue stream, as these must be replaced after each MRI scan. Therefore, the more IV pumps iRadimed sells, the larger its recurring revenue stream will get. Recurring revenues from pump sales comprise approximately 20% of sales.
MRIs Performed per 1000 People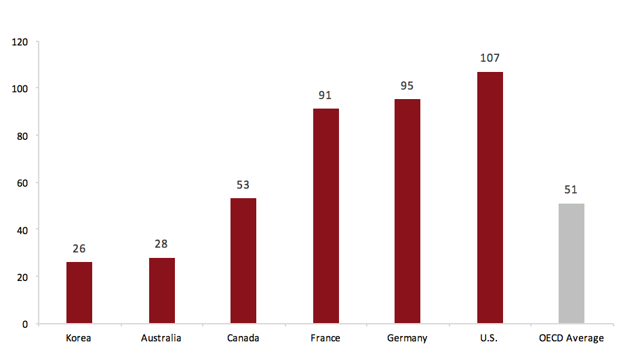 (Source: Original Content, data from OECD)
Argument II: Strong and Stable Monopolistic Position
Currently, the company has one main competitor, Medrad. Due to regulatory issues, Medrad was forced to remove its pumps in mid-2015. This resulted in iRadimed's current legal monopoly in the MRI-compatible IV pump market. This is a rare opportunity within the medical device market, which is usually saturated with competitors.
Over the last several years, the MRI market has grown in the mid-single digits. MRI is a stable scan technology for diagnosis of many different pathologies and poses no risk for the patient as long as safety measures are taken. As a result, there is no evidence showing the possible obsolescence of the technology. Furthermore, there have been recent medical research indicating that MRI technology could replace various radiation-heavy cancer diagnosis and treatment techniques.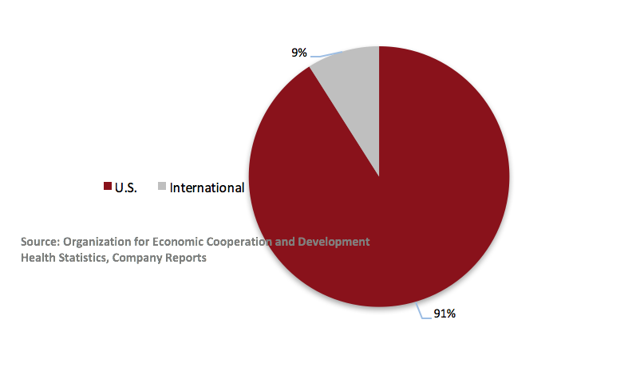 Argument III: Continual Product Leadership and Innovation
In addition to the core IV pump + IV tube product line, iRadimed has spent the last few years developing a vital signs monitor, which is expected to gain full FDA approval before year's end. Management estimates the global market to be worth approximately $100 million. Even if iRadimed's monitor is able to capture a small fraction of this market, it will help diversify its current revenue stream and fuel sustainable growth. As a result of this introduction, the company has predicted long-term revenue growth that averages 30-35% year over year.
Industry Overview
iRadimed operates in the healthcare equipment industry, which is set for consistent growth due to increasing total healthcare expenditures spurred by the demographic trend of an aging population.
Medical devices are essential healthcare products. Therefore, their producers are generally protected from significant revenue volatility and cyclicality. Technological advances, the legislative expansion of healthcare access and the improving economy have stimulated demand for medical devices in the past five years, and the aging US population has further contributed to revenue growth, due to the high incidence of health issues requiring medical devices within the elderly population. Overall, technology is changing rapidly, spurring the introduction of new product lines, while demographic trends are expected to support rising demand for medical devices over the next five years
iRadimed has the best product on the market, and, with the exception of a small number of conventional IV pump manufacturers, has no serious competition. This is unlikely to change anytime soon, because the medical device industry is highly regulated. The 510(k) FDA clearance process for new IV pumps, especially those deemed "MRI-safe," is long and requires significant testing and documentation. This creates an enormous barrier to entry, discouraging new entrants from building and selling a competing product.
Median Age in the US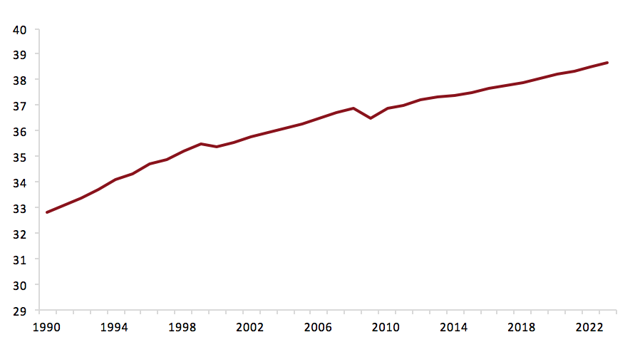 (Original Content, data from IBIS World)
Risks
Revenue Dependability
Revenue is dependent on a single product - something that won't change until the vital signs monitor gains full FDA approval and begins commercialization. Unlike iRadimed's IV pump, this monitor will face direct competition, mainly from Philips-owned Invivo.
Industry Regulatory Pressures
The IV pump market is highly regulated. iRadimed's only direct competitor, former non-magnetic IV pump maker Medrad, was forced to exit the market as a result of repeated FDA warnings and recalls. Even iRadimed has received warning letters from the FDA in the past.
Federal Funding for Medicare
Trump has promised to protect benefits of Medicare, but has offered no real ideas for curbing the growth of costs other than allowing the program to negotiate with pharmaceutical companies, which Republicans have traditionally opposed. The outcomes of Trump's policies are yet to be seen.
Catalysts
Demographic Changes
As the world ages, healthcare providers get a boost. Hospitals are among the major purchasers and users of iRadimed's devices. The need to purchase or replace equipment directly correlates with the total number of physician visits in a year; therefore, the increase in physician visits will bolster demand for medical devices.
Increased Levels of Healthcare Expenditure
Increased level of capital expenditure (both public and private) on equipment in the healthcare sector. Spending by hospitals and other markets is strongly affected by capital expenditure on health services. The age of capital equipment will determine demand for products, as the life span of equipment averages three to five years and can also be as little as 18 months.
Valuation
The company currently trades at 6.2x on an EV/EBITDA median in comparison to 14.7x peer median, as well as discounts in the price-to-earnings multiples (14.4x vs. 22.0x peer median) and others.
This severe lack of coverage is probably why IRMD stock undeservedly trades at a huge discount to its medical device peers.
The company has market capitalization of $98.6 million, 33.48% revenue growth, 37.24% EBITDA margin and 24.27% net income margin for the last twelve months. It is very well capitalized and has no debt.
Revenues for last twelve months were $35 million, and the company saw $8.5 million in net income.
From a purely fundamentals standpoint, iRadimed is a financially strong business with double-digit revenue growth, double-digit EBIT margins and a balance sheet with no debt and over $20 million in cash. On top of all that, the company enjoys a monopoly over the non-magnetic IV pump market, and, as mentioned above, is diversifying its revenue stream with a new MRI safe vital signs monitor.
Conclusion
We believe this company is highly undervalued due to a lack of coverage. With its strong financial performance, supporting industry trends and lack of competition in a highly regulated market, the stock should be considered by investors as a long-term value hold.
Our rating: Strong Buy
If you enjoyed my opinions, insights and analysis, please hit the Follow button and check out my other articles and analyses. Thanks for reading! Please leave a comment below, as I am anxious to know your thoughts on this matter.
Disclosure: I/we have no positions in any stocks mentioned, and no plans to initiate any positions within the next 72 hours.
I wrote this article myself, and it expresses my own opinions. I am not receiving compensation for it (other than from Seeking Alpha). I have no business relationship with any company whose stock is mentioned in this article.
Additional disclosure: This is intended for education purposes only and does not constitute investment advice. The analysis in this article is the opinion of the author.
Editor's Note: This article covers one or more stocks trading at less than $1 per share and/or with less than a $100 million market cap. Please be aware of the risks associated with these stocks.