You possess all the attributes of a demagogue; a screeching, horrible voice, a perverse, crossgrained nature and the language of the market-place. In you all is united which is needful for governing." ― Aristophanes, The Knights


The main biotech indices threaded water most of last week, but still were slightly up. For February, the biotech is up over five percent and the sector started the week off right with a nice rally on Monday.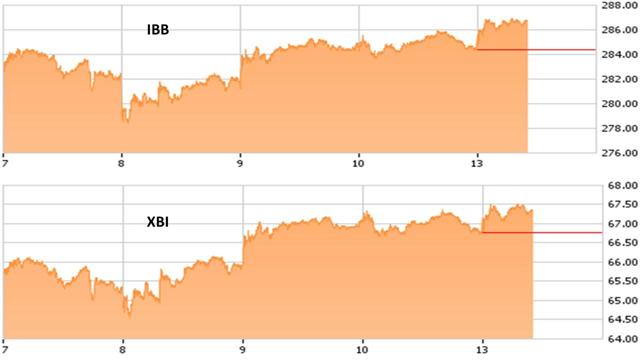 Continuing to help the recent little rally is a noticeable uptick in the M&A market with another small cap being bought out by a larger player today (below). In addition, a beaten down large-cap concern is being buoyed by rumors that a noted activist investor might be eyeing its shares (also below).
Note: To get these Biotech Forum Daily Digests as soon as they are published, just click on my profile, hit the big, orange "Follow" button, and choose the real-time alerts option.

ZELTIQ Aesthetics (NASDAQ:ZLTQ), as noted above, was acquired by Allergan (NYSE:AGN), which has made several small acquisitions of late. The purchase price was just under $2.5 billion or $56.50 a share. This is a far cry from when I first purchased ZELTIQ and did a positive piece on it in the third quarter of 2012 entitled "Why I Bought This $5 Busted IPO That Cramer Is No Longer Touting."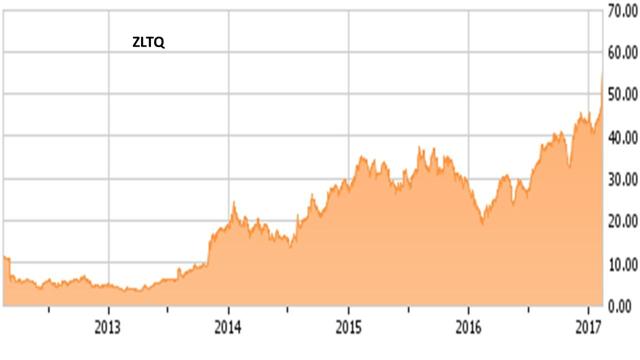 This is why I also am adamant about culling profits only via the "Jensen Rules" when you are lucky enough to get one of these rockets to ensure you don't entirely cash out of what turns out to be an eventual 10-bagger like ZELTIQ. These are one of my "Five Golden Rules of Better Biotech Investing" that I try to emphasize whenever possible based on my own painful lessons learned over a quarter century of investing in this lucrative but very volatile part of the market.
Beaten down Gilead Sciences (NASDAQ:GILD), which declined some 10% late last week after sharply reducing hepatitis C product revenue projections for 2017 within its earnings report, is getting a boost today. The trigger for two percent gain so far in trading today are rumors that activist investor Carl Icahn may be mulling an investment.
This activist pressure would be welcomed by frustrated shareholders who have wanted the company to get engaged in the M&A market. It is quite obvious now that Gilead should have been much more active on this front over the past two years to maintain its growth prospects.
Putting a reasonable valuation on the company's non-Hep C business (which is now the majority of overall sales and growing in the mid-teens) and accounting for cash, the stock is selling at around three times earnings on its future hepatitis C revenues over the next few years according to one analyst firm. However, until the company makes a decent-sized acquisition, the stock could be "dead money" despite an almost three percent dividend yield in my opinion. I am hoping Mr. Icahn does become involved to push the company in this direction.
Sage Therapeutics (NASDAQ:SAGE) is getting a ~15% pop in trading today after announcing Phase II trial results for its compound SAGE-217 for the treatment of major depressive disorder, which showed it to be well tolerated with no serious adverse events or discontinuations reported. I have a small stake in this biotech concern due to a plethora of upcoming catalysts, which I noted when I did a positive Biotech Forum Daily Digest piece on it last September.

Speaking of Sage Therapeutics, today's trial disclosure definitely has analyst firms singing its tune this Monday. So far in the day, BMO Capital, Canaccord Genuity and Cowen & Co. have all reiterated Buy ratings. Price targets proffered today have ranged from $68 to $110 a share. The stock with today's rise trades right at $55 a share.
Analysts also continue to warm up to Allergan. We noted in our last Biotech Forum Daily Digest the Irish drug giant saw reissued Buy ratings at four different analyst firm late last week. Today, Cowen & Co reiterates their own Buy rating and whopping $400 price target on AGN, $100 more than any analyst firm over the past few months. Its analyst calls the company's pipeline very "underappreciated."
Speaking of underappreciated, this is what Stifel Nicolaus is calling Gilead Sciences' bictegravir/F/TAF treatment for HIV. Its analysts believes bictegravir could become "the new gold standard for HIV treatment" in reiterating her Buy rating and $87 a share price target on GILD today.
Note: New analyst ratings are a great place to begin your due diligence, but nothing substitutes for deeper individual research in this very volatile sector of the market. Many of the small-cap names highlighted in "Analyst Insight" will eventually appear in the "Spotlight" section, where we do deeper dives on this type of promising but speculative small-cap concerns.

Today's Spotlight feature is on a small and relatively uncovered biopharma concern called Pieris Pharmaceuticals (PIRS). So, does this ~$2 stock merit consideration as a small holding within a well diversified and managed biotech portfolio? We take a quick look at that below today.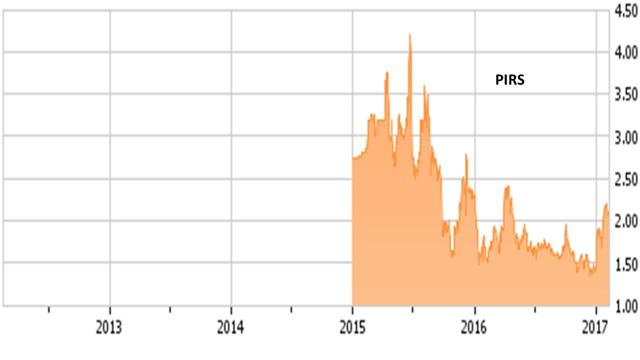 Company Overview:
Pieris Pharmaceuticals is now a Boston-based clinical stage biopharmaceutical company. It is focused on discovering and developing Anticalin-based drugs. These compounds are low molecular-weight therapeutic proteins derived from lipocalins, which are naturally occurring low-molecular weight human proteins found in blood plasma and other bodily fluids. Anticalin proteins share features in common with monoclonal antibodies, particularly good drug like properties, yet anticalins can be deployed in ways that antibodies cannot due to inherent differences between these classes of molecules.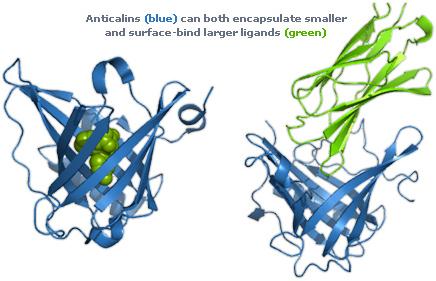 The company has been public for just over two years and has a market capitalization of approximately $90 million. The shares trade at just over $2.00 a share and have been trading in relatively narrow range for over a year now.
Pipeline:
The company has myriad compounds in discovery & pre-clinical phases as can be seen by clicking here. However, this is a very early stage developmental pipeline. The company does have a couple of compounds that have advanced into Phase I development:
PRS - 080:
This wholly-owned drug is targeted against hepcidin, which can restore iron utilization and erythropoiesis for the treatment of anemia. This compound has successfully shown a favorable safety profile in healthy volunteers and is expected to complete a multi-dose trial by the middle of 2017.
DS - 9001:
Pieris announced the initiation of a therapeutic discovery and development partnership with Daiichi Sankyo (OTCPK:DSKYF) in which the company will produce novel Anticalin proteins against two Daiichi Sankyo targets. One of those compounds (DS - 9001) is in Phase I development targeting PCKS9 to treat Dyslipidemia.
Pieris is collaborating with Sanofi (NYSE:SNY) and Zydus Cadila to develop other anticalin molecule but none of those jointly developed compounds have got into Phase I testing yet. They also have a collaboration deal with Roche (OTCQX:RHHBY) that they entered into late in 2015 for developing compounds in cancer immunotherapy.
Analyst Commentary & Balance Sheet:
Given the small size of the company and its very early stage pipeline, Pieris gets scant analyst coverage. Over the past year, four analyst firms (Roth Capital, Oppenheimer, Cantor Fitzgerald, and JMP Securities) have weighed in to reiterate Buy ratings on the stock. Price targets proffered have ranged from $6.00 a share at Roth to $10.00 a share at Oppenheimer, which was the last analyst firm to comment on Pieris in August.
The company ended the last completed quarter with just over $36 million in cash on hand. Management guided this was enough to get the company "well into" 2018 without needing additional funding. Since the last quarter ended, the company has signed a collaboration deal with French-based Servier, which brought in an upfront payment of just over $30 million, so the company is even better funded than when management issued its previous guidance.
Outlook
Pieris certainly has myriad "shots on goal," albeit it is very early stage. I also like it has some developmental partnerships with much larger players and has funding in place for a couple of years of development it appears, as well as some analyst support.
However, this company is many, many years away from any commercialization success. The company does have an interesting focus area and merits inclusion on an early stage "watch list," but I am going to have to pass on in investing in this name until a compound or two get into at least Phase II development. Drug discovery is a very complex endeavor and only approximately one out of every 8 drugs that make it past Phase I development ever make it all the way to approval. I will be watching Pieris to see when it advances some of its pipeline into Phase II, and quite possibly, will make a small investment then.

Disclosure: I am/we are long AGN, GILD, SAGE.
I wrote this article myself, and it expresses my own opinions. I am not receiving compensation for it (other than from Seeking Alpha). I have no business relationship with any company whose stock is mentioned in this article.
Editor's Note: This article covers one or more stocks trading at less than $1 per share and/or with less than a $100 million market cap. Please be aware of the risks associated with these stocks.