Vale S.A. (NYSE:VALE) has had a rough time up until 2016 due to declining iron ore prices since most of Vale's revenue is derived from this commodity. While the iron ore prices and Vale's share price have made a huge rally since the start of 2016, I believe there is still more upside for Vale.
Adapting to lower prices
The decline in iron ore prices that Vale has had to face obviously made a serious impact on its earnings. Management knew they had to do something to cut their costs in order to survive these hard market conditions. They worked hard on this. One of the things they did was close certain iron ore producing facilities. During the first three quarters of the current fiscal year, Vale saw around $2 bln less in expenses and costs than the year before. EBITDA margin increased from 28.8% a year ago, to 41.3% in the most recent quarter. Also the iron ore cash cost has dropped to $13/t compared to $13.2/t in the previous quarter, with a further expected reduction $10/t when the S11D mine is fully up and running.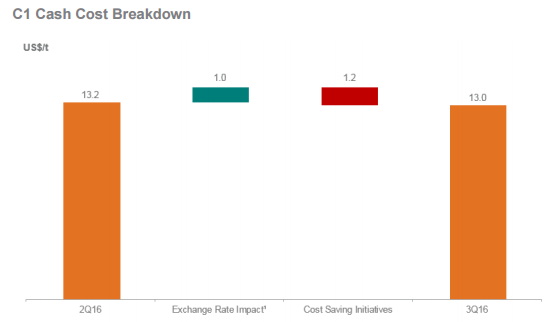 Source: Vale S.A.
Iron Ore prices
The low iron ore prices were a cause for concern for Vale. But the lowering of costs and expenses limited the damage. But now iron ore prices have rallied over 100% since their lowest point that was reached over a year ago. For the most part this was thanks to developments in China such as fiscal and credit support to keep the economy growing at healthy levels and a big increase (25%) in property sales, thus supporting new construction and the demand for steel.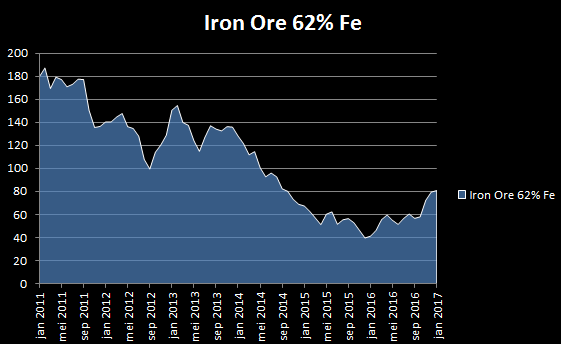 Source: www.marketindex.com.au/iron-ore
So far, the demand for iron ore in China is not showing any sign of slowing down. Just last week a near record jump in iron ore imports was announced in China. With Barclays saying they expect the strength in China's steel sector to continue. Besides China, the steel industry in the US is also expected to strengthen further due to President Trump's huge infrastructure plans. Because he plans on only using American made steel, the American companies would see a large increase in their need for iron ore, which would also help to support global prices.
Growth
The time of surviving the difficult environment is gone. Vale now has to make the right moves to profit from the shifted sentiment. Thus far, it looks like management is taking all the right steps with the company finally seeing yoy sales growth for the first time in a couple of years. As discussed earlier the lowering of costs has resulted in higher margins. The next step would be to make sure it profits as much as possible from the improved iron ore prices and lowered margins.
The company is already stepping up production: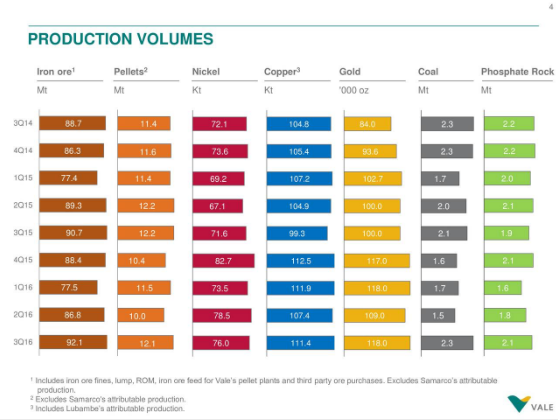 Source: Vale
While Vale is already profitable and finally seeing sales growth at current production levels, it will see a huge production increase in 2017. The S11D project, which is expected to be up and running at the start of 2017, is expected to add an additional 90 Mt/y on top of the ttm production of 344.8 Mt, thus increasing total production by a staggering 26%. The great thing here is that this increased production will be combined with lowered costs. As mentioned earlier the S11D project will reduce the iron ore cash cost to $10/t.
We must also keep in mind that the average iron ore price during Vale's most recent quarter was around $59/ton. At the time of writing this article, it has already surged to over $84/ton, implying that margins will increase even more.
Debt
The high debt on Vale's balance sheet has been a cause for concern among a lot of investors. The total debt currently stands at about $31.45 bln, with net debt at $25.97 bln. Considering that stockholders' equity stands at $39.72 bln with the amount of cash on the balance sheet standing at $5.84 bln, the total debt seems to be a big risk to the company's future.
Of course this has not gone unnoticed by Vale's management either, who is planning on working hard to reduce the total net debt on its balance sheet. The target is to reduce net debt to around $15 bln in 2017. Management expects that they will reach this target as a result of better free cash flow and the sale of certain assets. So in 2017 alone, net debt is already expected to decline by over 40%.
Valuation
The difficult industry environment has kept Vale's valuation under pressure. And although we have already seen a huge upside movement in this stock, I still see a lot more upside for the future. When we look at Vale's average P/B ratio since 2008 for example, this stands at 1.86. Currently the stock is seeing a P/B of 1.3, up from 0.9 at the most difficult times. This implies that there is still some pessimism present among investors, which I think does not make any sense considering the recent developments in the industry and Vale itself. A return to the average would imply an upside potential of 30% if the book value would remain the same. But this upside potential estimate is conservative considering that Vale is just recovering from the low iron ore prices and is actually expected to see additional improvements in terms of its balance sheet, margins, production volumes and thus earnings.
Conclusion
The iron ore prices have turned around and are making a strong return. Since Vale's most recent quarter, prices have surged even higher. On top of this Vale is expected to see a huge production volume increase in 2017 while lowering its prices even more. I believe that the pessimism surrounding this stock is no longer necessary. Therefore I believe that despite already having seen a huge rally, Vale still has at least 30% upside potential.
Disclosure: I/we have no positions in any stocks mentioned, but may initiate a long position in VALE over the next 72 hours.
I wrote this article myself, and it expresses my own opinions. I am not receiving compensation for it (other than from Seeking Alpha). I have no business relationship with any company whose stock is mentioned in this article.