Given the company's status as a perennial loss maker in the mobile game market that's grown from zero to $40 billion over the past decade, new Glu Mobile (NASDAQ:GLUU) CEO Nick Earl has made a bold decision.
With the exception of a new Taylor Swift game due sometime in 2017, Glu Mobile has ditched its celebrity-focused approach, pivoting to what Earl describes as a creativity-first strategy.
"Glu's talent model is to attract the industry's finest and arm them with world-class infrastructure, tools, funding and the support to creative innovative and polished products," he commented during the company's FY16 Q4 earnings call.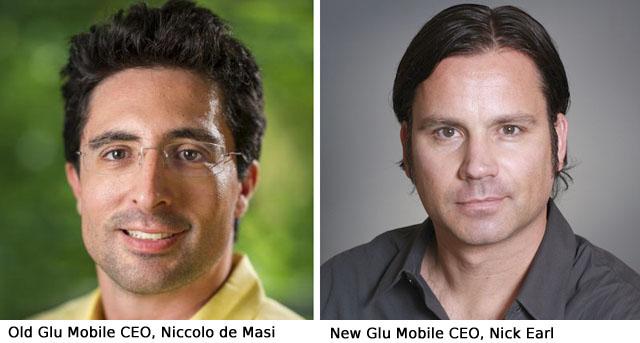 The first fruits of this strategy have seen Mike Olsen hired as SVP of Studios. Like Earl, Olsen is a veteran from Electronic Arts (NASDAQ:EA), where he, most recently, ran the team working on Star Wars: Galaxy of Heroes, EA's top-grossing mobile game.
More hiring of "creative leaders" is expected, and the company will be moving into a new "mega studio" in San Francisco in late 2017.
Hard times
The reason for this shift is clear from the numbers. Glu Mobile saw annual GAAP revenues drop 20 percent year-on-year to $201 million, while losses widened to $87 million, compared to $7 million for FY15.
$30 million of this was down to a prepaid royalty impairment in Q3 - write-offs due to the failure of games made with Katy Perry, Britney Spears and Nicki Minaj.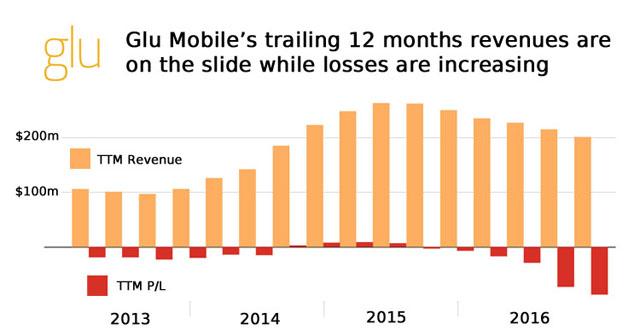 (Source: Chart created by author based on data supplied by company 10-Q filings)
Similarly, Glu's big hit, Kim Kardashian: Hollywood, is in decline. It generated $33 million in 2016, down from almost $72 million in 2015 and $74 million in 2014.
In this sense, the period during which Glu focused on celebrity games - which, let's not forget, helped the company double turnover from 2013 to 2014 - has come to a natural end. The departure of its instigator, previous long-term CEO Niccolo de Masi to the role of executive chairman, has also provided Earl with space to maneuver.
Considering the strong start of games from new acquisition CrowdStar, it is worth considering if Glu Mobile actually needs such a new, radical strategy.
State of play
The simplest way to consider this is to look at where Glu's money has come from so far. Thankfully, the company always breaks out its annual and quarterly bookings (GAAP revenue plus deferred revenue) on a per game basis, so this is straightforward.
For example, in 2015, its celebrity games (Kim Kardashian: Hollywood) generated $72 million, with Racing Rivals doing $40 million and the three Hunter games (Deer Hunters 2014 and 2016, and Dino Hunter) adding $39 million.
In 2016, the revenue generated by all these franchises (including new launches in the celebrity space) declined. The increases from Glu's new successes weren't enough to plug the gap, hence the poor FY16 financials.
Meanwhile, the company itself has predicted FY17 bookings in the range $215-225 million, marginally up on FY16's total of $214 million.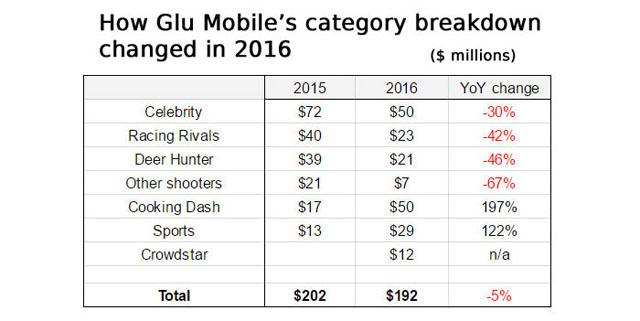 (Source: Table created by author based on data supplied by company 10-Q filings. Note: The year totals are for categories in the table, not Glu's booking figures.)
With total costs in the order of $65 million a quarter in 2016 and $20 million of cash flow used by operations in the same year, Glu needs annual sales of around $230 million to stop eating into its cash reserves.
So unless the Taylor Swift game is the second surprise Kim Kardashian: Hollywood (Glu is assuming it won't be), Nick Earl does have to make some changes.
High-risk stakes
The second question to ask, therefore, is does Nick Earl need to take this high-risk, high-reward approach?
Clearly, the answer is "No." For one thing, he could focus much harder on driving operational efficiencies, ensuring that Glu's cost base is reduced as much as possible.
Even with its recent restructuring, which saw the loss of at least 107 (and maybe 140) jobs, Glu Mobile expects to end 2017 with the same headcount and same R&D costs. It's hiring in San Francisco and for a live operations base in Hyderabad, India.
Indeed, the biggest criticism of this new approach is it will be expensive - creativity always is - and no one will know if it will work for at least a year. The resulting first games won't be released until 2018. On that basis, it's going to be a cost as well as a prolonged opportunity cost. It's not clear Glu Mobile can afford both.
"2017 is a transition and investment year, and we believe the moves we are making will pay off in 2018," Earl explained.
In the meantime, the company is going to have to tread carefully in terms of sustaining its cash reserves. It ended FY16 with $102 million in cash and equivalents, but has to pay $26 million during 2017 in royalty advances for licenses already signed.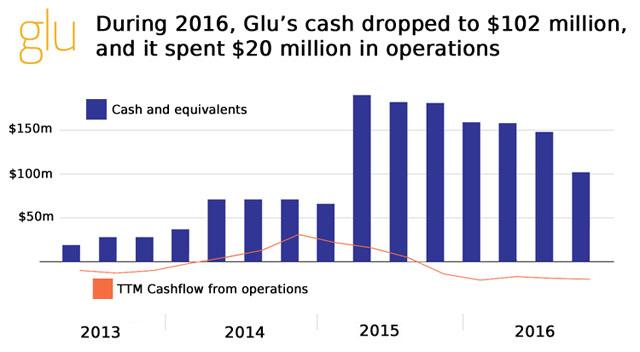 (Source: Chart created by author based on data supplied by company 10-Q filings)
Other new costs in 2017 compared to 2016 include up to $5.4 million from the previously announced restructuring, $2.7 million from integrating CrowdStar, up to $4.2 million in performance bonuses for CrowdStar staff, as well as $30 million in annual operational costs for CrowdStar and $5.3 million of fixed asset purchases, including the new mega studio.
Given sales will be static, it's little wonder CFO Eric Ludwig said he expects 2017 to see increases in losses compared to 2016's loss of $87 million. How "modest" they will be (his words) remains to be seen.
Equally, how this all squares with the prediction that Glu will end 2017 with at least $60 million in cash and short-term investments is unclear.
Full steam ahead
Yet, this isn't to say Nick Earl's decision is the wrong one. For one thing, it's a very positive move. Shaking up Glu's stagnated game development teams is long overdue. Hiring in proven leaders with a mandate to quickly prototype new ideas in small teams has the potential to reinvigorate the entire company in exciting new ways.
Nevertheless, this sort of high-concept strategy can also go horribly wrong, both in terms of internal misalignment and the wider market conditions.
Indeed, the western mobile game market is maturing fast. With a couple of notable exceptions, the current top-grossing games were released in the period 2012-2014, and it's not certain players (and payers) are demanding new, innovative experiences.
So, it might work. But it probably won't.
What we do know, however, is that if 2017 meanders along generating more than modest increases in losses for Glu Mobile, the start of 2018 will require a turnaround of Tom Brady proportions.
Disclosure: I/we have no positions in any stocks mentioned, and no plans to initiate any positions within the next 72 hours.
I wrote this article myself, and it expresses my own opinions. I am not receiving compensation for it (other than from Seeking Alpha). I have no business relationship with any company whose stock is mentioned in this article.