Note: This article was originally published January 30th on Value Investor's Edge, a Seeking Alpha subscription service.
Overview
There is little doubt that free trade has brought greater volumes to the global maritime industry, specifically the container segment. This is due to liberal trade policies which significantly dismantled tariff, restricted domestic subsidies, and curtailed quotas. The 1990's provided proof positive of this development as several free trade agreements were in full swing or came into effect and global trade grew over twice as fast as the global economy.
The World Maritime News reports:
With regards to the containerised trade, the GATT and WTO trade deals and the entry of China into the WTO are widely credited as having accelerated international trade in general and ocean-borne trade in particular.
The concept is simple. Less expensive goods sourced from overseas were increasingly likely to penetrate developed economies, but often at the expense of domestic producers.
But protectionist policies which are taking hold could adversely impact the container shipping segment. Some of the containership companies traded in the U.S. market include Seaspan Corporation (NYSE:SSW), Costamare, Inc. (NYSE:CMRE), Diana Containerships, Inc. (NASDAQ:DCIX), Global Ship Lease, Inc. (NYSE:GSL), Danaos Corporation (NYSE:DAC), Ship Finance International Limited (NYSE:SFL), and Navios Maritime Partners L.P. (NYSE:NMM).
End Of A Trend
But recently that trend has slowed. A recent I.M.F. study calculated that a 1 percent increase in global growth increased trade volumes by 2.5 percent in the 1990s, while in recent years, the same growth has increased trade by just 0.7 percent.
The New York Times elaborated on this shift:
Europe is fraying around the edges; low tariffs and transportation costs cannot get much lower. And China's role in the global economy is changing. The country is making more of what it consumes, and consuming more of what it makes. In addition, China's maturing industrial sector increasingly makes its own parts. The International Monetary Fund reported last year that the share of imported components in products "Made in China" has fallen to 35 percent from 60 percent in the 1990s.
This trend comes as global growth continues to be lackluster placing another burden on the container shipping trade.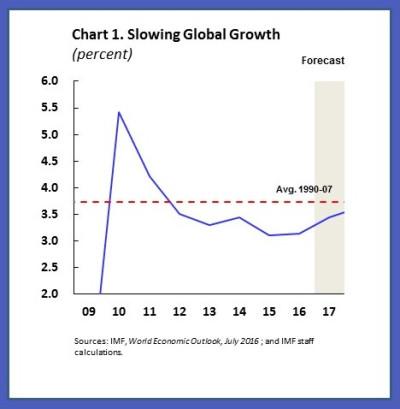 Source: IMF
IMF's Managing Director, Christine Lagarde warns:
"Curbing free trade would be stalling an engine that has brought unprecedented welfare gains around the world over many decades."
Protectionism On The Rise
But that might be a hard sell to many middle class workers in developed nations who view free trade as disproportionately benefiting the wealthy and foreign workers, while the burden has been largely placed upon them, and governments have failed to address the issue.
A popular chart, known as the elephant chart, appears to support this view.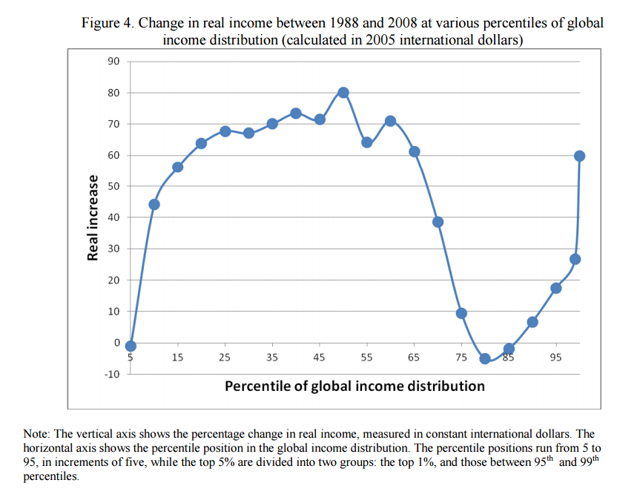 Source: Bloomberg
Made by Branko Milanovic, an economics professor at the City University of New York, it shows real incomes rose significantly for most of the world's population between 1988 and 2008. But that doesn't hold for most residents of the United States and other developed countries. The chart is often presented as a depiction of the consequences of globalization and confirms what many, mostly middle class workers in developed nations, have long felt was happening. These workers, who are also voters, view themselves as the victims of free trade with the developing world and a political backlash has been brewing.
The end result is a rising sentiment toward protectionism. Lately, Donald Trump has been the poster boy for the rise of protectionism, but this trend has been gaining momentum well before he came into power.
It is noteworthy that Hillary Clinton also maintained an increasingly tough stance regarding globalization , and criticized the latest free trade agreement, the Trans-Pacific Partnership, for failing to do enough to support American jobs.
But preceding Trump's victory came Britain's surprise vote last year to leave the European Union. In fact, George Osborne, the former Chancellor of the Exchequer, has labelled the Brexit as the "greatest act of protectionism" in Britain's history.
Other nations such as Germany, France, and Italy have also been experiencing a political uprising based on protectionism to varying degrees. Some of this can be traced as far back as the 2008 crash.
In fact, Bloomberg came out with a very telling graph illustrating what they termed the Politics of Rage.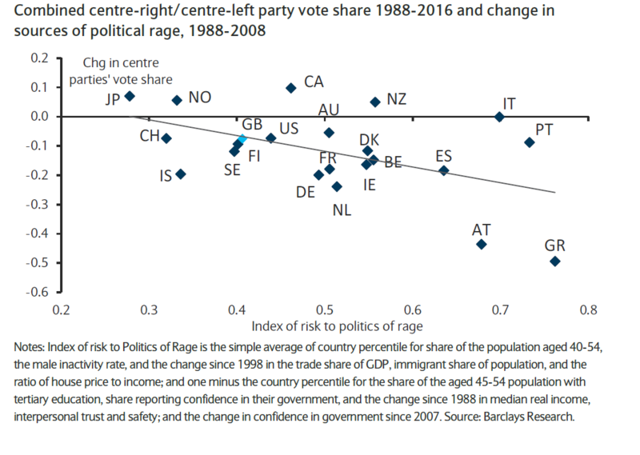 Source: Bloomberg
Bloomberg reports:
Trade volumes have stalled while the "politics of rage" has taken root in advanced economies, driven by a collapse in the perceived legitimacy of political and economic institutions, a new report from Barclays Plc warns. The result, the bank says, is an oncoming protectionist lurch-restrictions on the free movement of goods, services, labor, and capital-combined with an erosion of support for supranational bodies, from the European Union to the World Trade Organization.
This growing trend of protectionism which when coupled with lackluster global growth and slowing trade presents a series of challenges to an already struggling container shipping segment.
In a January 27th report, Bimco stated:
If the growth and embracing of protectionist policies throughout 2016 becomes a reality, it may pose a huge threat to the shipping industry and could disrupt trade flows and limit economic growth.
Impact on Shipping
There are several ways to promote protectionist policies but the one being discussed by the Trump administration is the use of Tariffs. Let's take a look at two main targets; Mexico and China. Both of which also happen to be large trading partners with the USA.
In 2015 Mexico ranked third in terms of trade with the USA with a total of $531 billion in goods exchanged. With Mexico next door to the USA some of that comes by rail or truck. But the ocean still plays a large part in the relationship and Mexico remains a top five maritime trading partner with the USA for both imports and exports.
Therefore, the currently proposed 20% tax on Mexican imports (earlier as high as 35%) would have a significant impact on a multi-billion dollar relationship. While this tariff would impact imports into the USA it should be noted that historically countries have retaliated by instituting their own tariffs as a response. The growing tensions and increasingly inhospitable rhetoric could lead to an all out trade war with container shippers serving this route being one of the major losers.
In 2015, China was our largest goods trading partner with $598 billion in total (two way) trade. The vast majority of that is facilitated by maritime trade. The Trump administration has threatened China with a 45% tariff. The high tariff coupled with the fact that China ranks number one with the USA for both imports and exports utilizing maritime trade has many container shipping companies on edge.
The reasons for the proposed tariff include how China itself limits imports with high tariffs and discriminatory regulations, subsidizes exports with an inexpensive currency and generous credit through state controlled banks, bullies foreign investors, pirates western intellectual property, engages in dumping practices to secure market share, continues to utilize military action or threats to encroach on neutral territory, and much more to gain advantages in trade.
Together, USA trade with these two countries accounts for over $1 trillion annually.
The prospect of the world's largest economy placing high tariffs on key trading partners is the last thing the container shipping segment needs right now.
Low charter rates have plagued the segment and losses continue to pile up.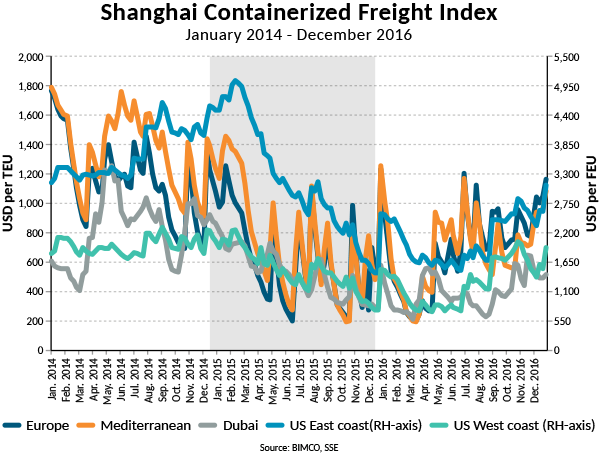 Source: BIMCO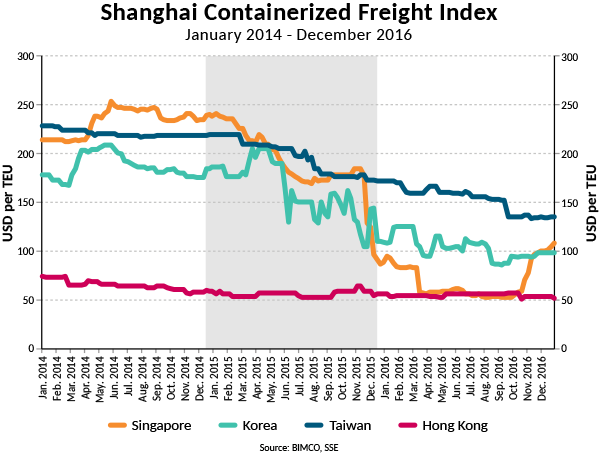 Source: BIMCO
The recent upturn in rates isn't a result of an improving environment but more likely a result of the Hanjin bankruptcy, declared August 31st, which sent shock waves through the segment and raised rates for a temporary period as markets adjusted to the largest container shipping bankruptcy in history.
The outlook for the container segment actually remains quite grim with large amounts of TEU capacity sitting idle, unable to find work due to a massive oversupply of vessels.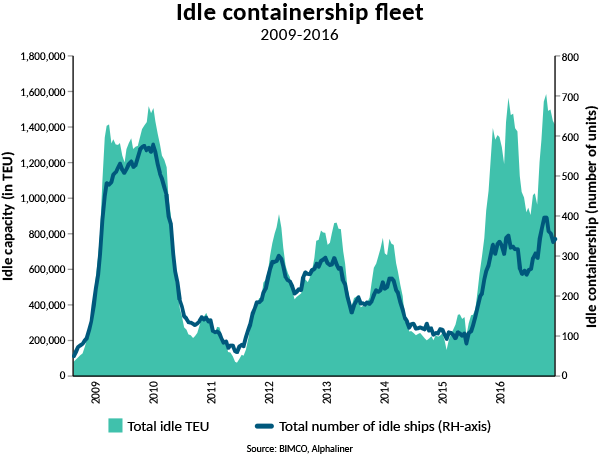 Source: BIMCO
Alphaliner said that as of January 9th, the total number of ships sitting idle was 351 representing 1.4 million TEU or 7% of the total fleet.
This situation isn't going to improve anytime soon as net fleet growth (difference between newbuilds hitting the water and vessels sent for demolition) continues to challenge overall projected demand growth.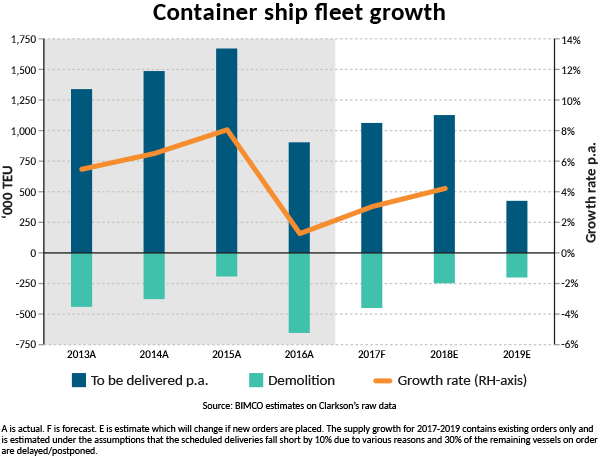 Source: BIMCO
Let's also not forget about the idle fleet which will come back to the market at the first sign of recovery maintaining the pressure on charter rates.
Conclusion
Free trade has been beneficial to the container shipping segment. But the reversal of that policy, protectionism, will have the opposite effect.
The sentiment appears to be on the rise as middle class workers in developed markets, who are also voters, perceive themselves as bearing the costs of free trade.
The result is a political shift ushering in bureaucrats who pledge to focus inward. This will be achieved through restricting trade in an effort to promote domestic production which often does not utilize containerized shipping for final goods.
An already struggling container shipping segment which is plagued with overcapacity could see more vessel supply freed up if these protectionist policies take hold. Combine this with forecasts of lackluster global growth and shippers are headed for a perfect storm.
Thank you for reading and I welcome all questions/comments.
If you would like to stay up to date on my latest analysis, I invite you to follow me on Seeking Alpha (click the "Follow" button next to my profile picture at the top) as I continue to cover all aspects of maritime trade.
Value Investor's Edge
Value Investor's Edge is a top-rated Seeking Alpha research service which focuses primarily on the volatile and therefore potentially very profitable, shipping industry. Members receive a two-week lead time on all reports by James Catlin alongside exclusive content by J Mintzmyer, a top tier deep value analyst. This platform offers actionable trades and strategic income opportunities through Mr. Catlin's data driven macro analysis which often complements Mr. Mintzmyer's company-specific analysis. This winning team has developed a dedicated following of highly knowledgeable investors and industry professionals who also share their own thoughts and ideas on Value Investor's Edge.
Disclosure: I/we have no positions in any stocks mentioned, and no plans to initiate any positions within the next 72 hours. I wrote this article myself, and it expresses my own opinions. I am not receiving compensation for it (other than from Seeking Alpha). I have no business relationship with any company whose stock is mentioned in this article.
Editor's Note: This article covers one or more microcap stocks. Please be aware of the risks associated with these stocks.