Russia was among the top-performing emerging markets in 2016. Its stock market gained 47.44% in USD based on the MVISTM Russia Index (MVRSXTR). Russian small caps were even more impressive, having gained 103.8% in USD based on the MVISTM Russia Small-Cap Index (MVRSXJTR).
Investors may not have been aware of this market surge given news headlines dominated by claims of Russia's interference in the U.S. election. But behind the bluster is an economy that has undergone some notable transformations in the past five years. As shown in the chart below, the country's economy appears to be righting towards a return to growth, albeit uneven and gradual. What has been most critical to Russia's improving economic health is much-needed fiscal and monetary policy reforms and the tailwinds of the early-stages commodities rally.
Commodities Provided a Boost
At the end of 2015, we predicted that the end of the commodities bear market might occur in early 2016, and given last year's commodities rally, we appear to be well into a new recovery cycle. This was particularly good for Russia given its economy's heavy reliance on energy resources.
The company is expected to see positive growth in 2017-2018, given that headline financial and economic indicators and trends are now picking up, according to the Brookings Institute. Even with sanctions still in place, conditions have improved to the point that in September 2016, Standard & Poor's upgraded its outlook on Russian credit from negative to stable, citing the easing of external risks.
Russia GDP Annual Growth Rate % is Moving Positive (2008-2016)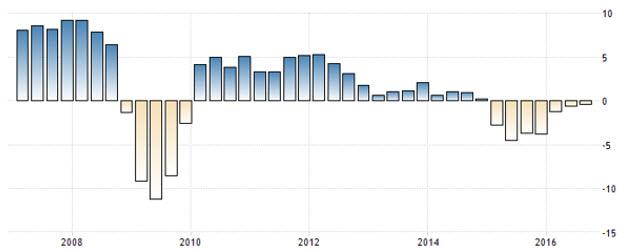 Source: www.tradingeconomics.com, Federal State Statistics Service. Not intended to be a forecast of future events, a guarantee of future results or investment advice. Current market conditions may not continue.
Stability Reinforced by Russia's Conservative Monetary Policy...
In our view, the country's "moderately tight monetary policy" has been, and remains, excellent. While focused on bringing inflation down, the Central Bank of Russia has let the ruble currency float freely. In addition to further evidence (for example, in the latest purchasing managers' indices) that Russia's growth outlook is gradually improving, the country's medium-term fiscal policy framework continues to look conservative.
Elvira Nabiullina, the bank's head, was named the best Central Bank Governor in Europe in 2016 by international financial magazine, The Banker. We believe this shows that the efforts of the Central Bank have been recognized by its peers.
At VanEck, we continue to believe in the need to take a long-term investment view. The fact that the stabilization of Russia's economy has been in the works for some time perhaps emphasizes this. After taking decisive action by tightening rates in 2014 to stem a rapid devaluation of the ruble, the Central Bank was able to ease interest rates significantly in 2015 to give the economy breathing room to grow. 2016 was quite a stable year, as the Central Bank eased interest rates only twice.
Russia Interest Rates: One-Week Repo Rates % (2012-2016)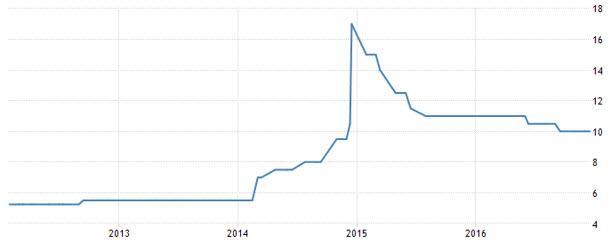 Source: www.tradingeconomics.com, Central Bank of Russia. Not intended to be a forecast of future events, a guarantee of future results or investment advice. Current market conditions may not continue.
... And its Measured Approach to the Fiscal Budget
Along with central banking policy, the country has also become more conservative with its fiscal budget. As recently as 2014, Russia's government had forecast oil at $100/barrel for its 2015-2017 budget. This was obviously not the case, as oil prices tumbled from above $100/barrel in 2014 to below $40/barrel at the end of 2015, before rebounding to above $50 at the end of 2016. In contrast, the revised budget for 2017 assumes a much more conservative $40/barrel price for oil until 2019.
Is Russia the "Trump Trade" for Emerging Markets?
In addition to these very encouraging developments, President Trump's presence in the White House suggests at least an end to the escalation of sanctions. This would be a particularly good prospect for Russia, not least because it has simply paid down its debt and de-levered during the sanctions period.
Some are saying it is the one country that is likely to benefit from the changing administration in Washington. Given Trump's election, there is optimism that further sanctions are unlikely, at least from the U.S. This may not be the case for Europe, but overall markets are anticipating an easing bias in sanctions against Russia.
Russians may someday proclaim that Communism failed, Western sanctions failed, but Russian markets did not fail. VanEck gives investors access to the country's equity markets through two ETFs: the VanEck Vectors Russia ETF (NYSEARCA:RSX) and the VanEck Vectors Russia Small-Cap ETF (NYSEARCA:RSXJ). Also, our actively managed VanEck Emerging Markets Fund A (MUTF:GBFAX) held a 3.5% exposure to Russia as of 12/31/16.
- - - - - - - - - -
IMPORTANT DISCLOSURE
The information herein represents the opinion of the author(s), but not necessarily those of VanEck, and these opinions may change at any time and from time to time. Non-VanEck proprietary information contained herein has been obtained from sources believed to be reliable, but not guaranteed. Not intended to be a forecast of future events, a guarantee of future results or investment advice. Historical performance is not indicative of future results. Current data may differ from data quoted. Any graphs shown herein are for illustrative purposes only. No part of this material may be reproduced in any form, or referred to in any other publication, without express written permission of VanEck.
An investment in the Funds may be subject to risks which include, among others, expropriation and/or nationalization of assets, restrictions on international trade, confiscatory or punitive taxation, regional conflict, political instability, armed conflict, underdeveloped securities markets, inflation, governmental control of economic activity, suspension of redemptions of creation units, and currency fluctuations, all of which may adversely affect the Fund. Foreign and emerging markets investments are subject to risks, which include changes in economic and political conditions, changes in foreign regulations, changes in currency exchange rates, unstable governments, and limited trading capacity which may make these investments volatile in price or difficult to trade. Small- and medium-capitalization companies may be subject to elevated risks. A Fund's assets may be concentrated in a particular sector and may be subject to more risk than investments in a diverse group of sectors.
MVIS Russia Index and the MVIS Russia Small-Cap Index are the exclusive property of MV Index Solutions GmbH (a wholly-owned subsidiary of Van Eck Associates Corporation), which has contracted with Solactive AG to maintain and calculate the Indices. Solactive AG uses its best efforts to ensure that the Indices are calculated correctly. Irrespective of its obligations towards MV Index Solutions GmbH, Solactive AG has no obligation to point out errors in the Indices to third parties. VanEck Vectors Russia ETF (RSX) and VanEck Vectors Russia Small-Cap ETF (RSXJ) are not sponsored, endorsed, sold or promoted by MV Index Solutions GmbH and MV Index Solutions GmbH makes no representation regarding the advisability of investing in the Funds.
Index returns are not Fund returns and do not reflect any management fees or brokerage expenses. Investors cannot invest directly in the Index. Returns for actual Fund investors may differ from what is shown because of differences in timing, the amount invested and fees and expenses. Index returns assume that dividends have been reinvested.
Fund shares are not individually redeemable and will be issued and redeemed at their Net Asset Value (NAV) only through certain authorized broker-dealers in large, specified blocks of shares called "creation units" and otherwise can be bought and sold only through exchange trading. Shares may trade at a premium or discount to their NAV in the secondary market. You will incur brokerage expenses when trading Fund shares in the secondary market. Past performance is no guarantee of future results. Returns for actual Fund investments may differ from what is shown because of differences in timing, the amount invested, and fees and expenses.
Investing involves substantial risk and high volatility, including possible loss of principal. An investor should consider the investment objective, risks, charges and expenses of a Fund carefully before investing.