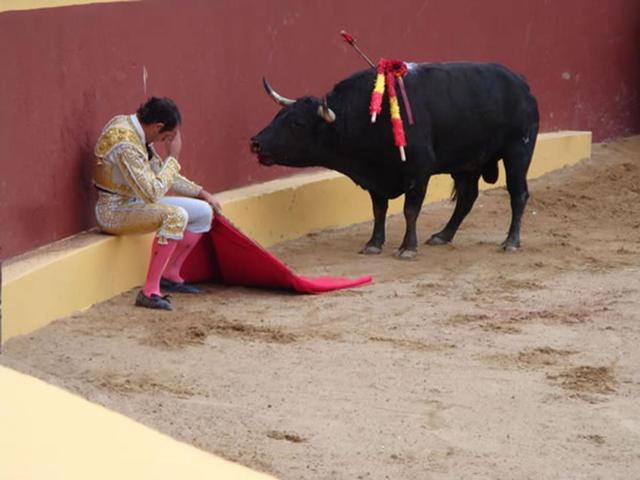 Introduction
Welcome to my Gold Weekly report. In this report, I wish to discuss my short-term views about the gold market. To do so, I will analyse closely the recent changes in net speculative positions on the Comex (based on the CFTC statistics) and ETF holdings (based on FastMarkets' estimates) and draw some interpretations about investor and speculator behavior. Then, I will share outlook for gold from a technical and a global macro view. Finally, I will disclose my trading strategy on GLD and other market instruments and discuss possible trade ideas.
Speculative positioning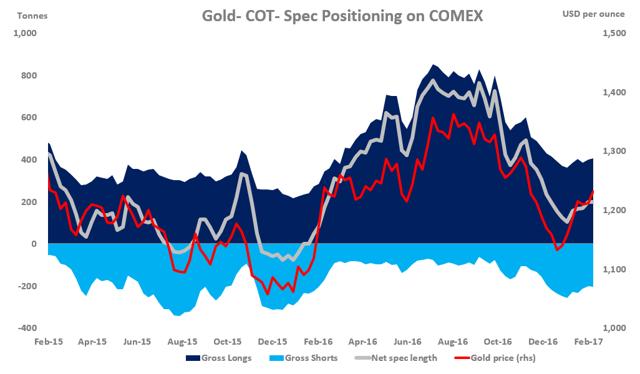 Source: CFTC.
Gold. According to the latest Commitment of Traders report (COTR) provided by the CFTC, money managers maintained their net long position broadly unchanged over the reporting period (January 31-February 24) while spot gold prices climbed by 1.7%.
The net long fund position edged up just 0.88 tonne week-on-week (w/w) to 198.87 tonnes. That said, the net long fund position is significantly up by 75.93 tonnes or 62% in the year to date after climbing 200 tonnes in the whole of 2016.
Taking a closer look, the marginal increase in the net long fund position over the reporting period reflects a re-engagement from both sides, with longs and shorts lifting their respective exposures by 5.33 tonnes w/w and 4.44 tonnes w/w.
My view:
The unwillingness from speculative funds to expand significantly their net long positioning in gold over the reporting period is a bit of a surprise considering that the macro backdrop was much friendlier for the precious metals complex.
The less hawkish than expected stance adopted by the Fed at its latest FOMC meeting on February 3 and the rather mixed US jobs report for January prompted macro investors to expect a much flatter path of the Fed funds rate, with an estimative probability of a March hike tumbling below 15%, which in turn exerted substantial downward pressure on the dollar and US real rates.
Given that gold's speculative positioning tends to be influenced heavily by those two key parameters, it is indeed surprising to observe such a non-significant increase in net long speculative positions.
Having said that, I maintain my view that the dollar and US real rates may move still lower in coming days/weeks on the back of a resurgence of risk aversion, which should eventually induce speculators to lift their net long exposure in a more aggressive manner.
Investment positioning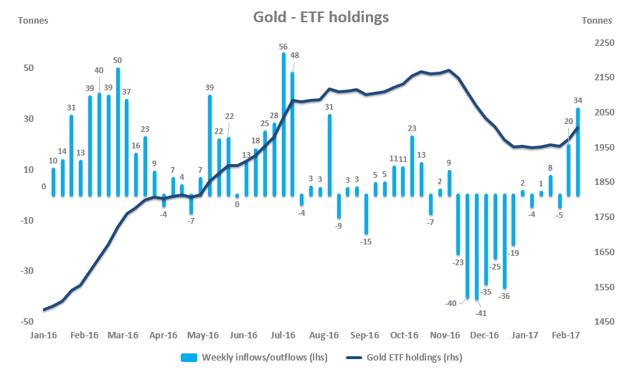 Source: FastMarkets.
Gold. ETF investors lifted significantly their gold holdings last week. According to FastMarkets' estimates, ETF holdings jumped by roughly 33 tonnes or 2% over February 3-10.
As of February 10, total gold ETF holdings amounted to 2,008 tonnes, marking their highest level since December 7, 2016. They have increased by nearly 57 tonnes so far in February after edging just 1.24 tonnes higher in January.
Gold ETF buying has accelerated in recent days/weeks amid a weaker dollar, lower US real rates, and higher political risk emanating principally from the US and EU.
My view:
ETF investors have been relatively quicker than speculators to react to the recent changes in macro forces over the past week or so.
This is surprising in so far as ETF investors tend to adopt a long-term philosophy, resulting in rather "sticky" ETF holdings whereas speculators are more short-term oriented, leading to sharp swings in speculative positions that are exacerbated by the use of leverage.
Given the strong pace at which ETF investors are re-building their long positions, it seems to me that investors are reassessing more negatively their views about the implications of Trump's policies on the US economy and the Fed's removal of policy accommodation.
The unexpected victory of Trump in the US elections in November triggered significant reflationary pressure in the following weeks, as evidenced by the rally in the dollar and the surge in US rates, which in turn prompted investors to seek risky assets like equities at the expense of safe-havens like gold.
But more recently, it seems that those overhyped expectations about Trump's capability to reflate the economy have faded, leading to renewed downward pressure on the dollar and US real rates, thereby prompting investors to jump back in gold. This weakening sentiment over Trump's capability to deliver on his promises (e.g. tax reform, infrastructure spending, etc. …) reflects the fact that investors are starting to lose patience and progressively realising that Trump's fiscal boost, will take probably a much longer time than initially suggested. This is in line with the recent surge in the policy uncertainty in the US, as seen below.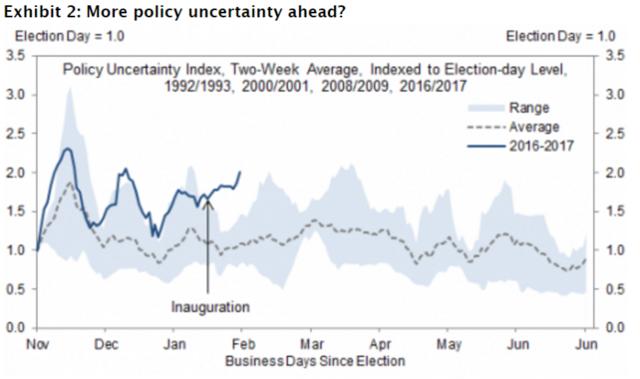 Source: Goldman Sachs, Economic Policy Uncertainty.
Given my view that US policy uncertainty in the US is like to grow in coming days/weeks and the complacency across risk assets is unsustainable, I expect ETF investors to boost further their long exposure to gold to protect their portfolios against a possible pronounced sell-off in the risky part of their portfolios.
Spec positioning vs. investment positioning

Source: MikzEconomics.
SPDR Gold Trust ETF (NYSEARCA:GLD) positioning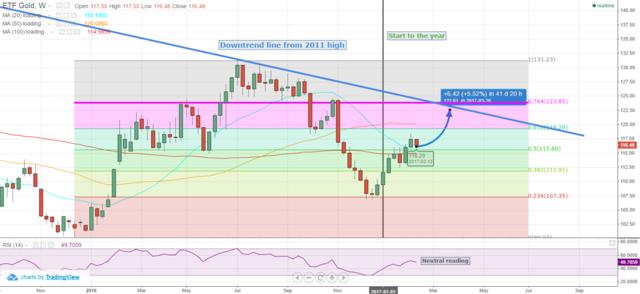 Source: TradingView.
Technical view
SPDR Gold Trust ETF (GLD) opens the week on a weaker foot after enjoying strong upward pressure last week. It seems that there is a strong resistance at the 61.8% Fibo of the 2016 uptrend. That said, GLD remains above its 20 weekly moving average (WMA), indicative of a bright sentiment. Despite the recent selling pressure, my momentum-based indicators (the momentum index and the ADX) point to further strength in the coming days/weeks. My forecast for GLD is at around $122.50 per share by the end of the first quarter of 2017.
Global macro view
SPDR Gold Trust ETF is under slight downward pressure so far this week, in part because investors are inclined to seek riskier assets to play the current wave of risk-on, triggered by the release of healthy Chinese macro data (e.g. trade balance for January) at the end of last week.
This week, investors will pay a close attention to Fed Chair Yellen's testimony to Congress on February 14 (Senate) and February 15 (HOUSE) as well as the release of US inflation data on February 15. Any deviation from the consensus may impact significantly GLD.
Although I recognize that investors are currently underestimating the tightening cycle projected by the Fed, I expect Fed Chair Yellen to maintain her rhetoric unchanged during her testimony unless inflation were to move substantially higher and above the Fed's target, which is rather unlikely.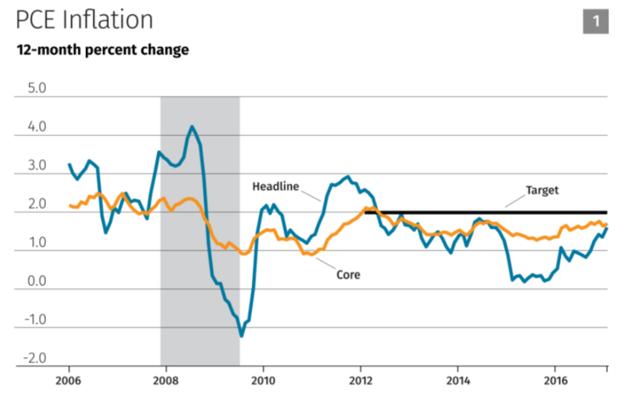 Source: Minneapolis Fed.
Against this, I expect gold bulls to remain at an advantage, which should result in a further appreciation in GLD in coming days/weeks.
Trading strategy
While I'm inclined to think that there is some upside potential in GLD from current price levels from a technical and a global macro perspective, I prefer to say on the sidelines because my level of bullish conviction is rather low and I don't think that the reward to risk profile of a long position is great at the present time. As a result, I prefer to stay prudent and thus restrain myself from taking a tactical long bet in GLD.
Apart from GLD, I monitor closely the S&P 500 and the VIX because the current level of complacency across risky assets leads me to think that a reversal of trends is around the corner. I may be tempted to take a position this month to play the coming wave of risk aversion (e.g. as short SPX and/or long VIX).
For the sake of transparency, I will publish my open and closed trades on my Twitter account and at the end of my Gold Weekly reports. So far this year, I have not implemented any positions in GLD and other instruments.
Good trading to the Seeking Alpha community.

About: SPDR Gold Trust ETF, Includes: PowerShares DB Gold ETF (NYSEARCA:DGL),VelocityShares 3x Inverse Gold ETN (NASDAQ: DGLD), DB Gold Double Long ETN (NYSEARCA: DGP), DB Gold Short ETN (NYSEARCA: DGZ) SPDR S&P 500 Trust ETF (NYSEARCA:SPY)
Disclosure: I/we have no positions in any stocks mentioned, and no plans to initiate any positions within the next 72 hours.
I wrote this article myself, and it expresses my own opinions. I am not receiving compensation for it (other than from Seeking Alpha). I have no business relationship with any company whose stock is mentioned in this article.