By Raul de Frutos
Last year, investors were wondering whether copper was worth more than $6,000 per metric ton or not.
Late in 2016, prices were struggling to overcome this psychological level, but things are shaping up for 2017 to be a hot year for copper production, which could translate into a hot year for the copper price.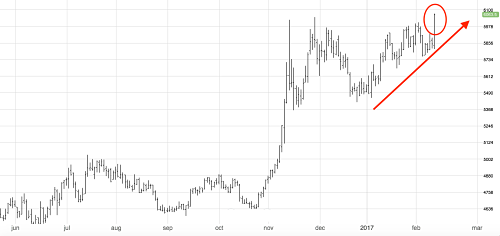 Upside momentum for copper prices picked up on supply disruptions. Copper rises above $6,000 per metric ton. Source: MetalMiner analysis of FastMarkets.com data.
Escondida Stops Production
Chile's massive Escondida mine's processing plants completely stopped supplying refined copper to markets on Thursday as no miners arrived for morning work. The mine produced around 1 million mt of copper last year, or 5% of global production.
Estimates point to a loss of around 20,000-25,000 mt of metal for each week the strike goes on. In 2006 and 2011, strikes at Escondida lasted 25 and 15 days respectively.
Grasberg Mine
Meanwhile, Freeport-McMoran (NYSE:FCX) might suspend some of its operations at its Grasberg mine because the company has been unable to obtain an export permit. Having limited storage capacity, the company will be forced to drastically cut output if Indonesia doesn't give the company an export license to send material to its local smelter for processing. A similar dispute with the government in 2014 translated into 125,000 mt of lost output.
Combining Escondida and Grasberg production, there are 1.7 million mt of supply at risk, or 8% of global output.
Potential For More Disruptions
Escondida's strike is potentially setting the case for wage negotiations across the industry since almost a fifth of global mine capacity is facing contract renewals. Glencore Plc (OTCPK:GLCNF) and Anglo American's (OTCPK:AAUKF) Collahuasi are two of several copper mines in Chile due for contract negotiations this year.
Another big operator to pay attention to is the Las Bambas mine in Peru, which produced 330,000 mt of copper last year. The mine is currently facing renewed protests from local residents, who have blocked access to the mine. This could potentially translate into lower shipments this year and even a temporary suspension.
In addition, we need to remember that copper is a very slow business in terms of new project development. Over the past two-to-three years, miners haven't committed to new developments. Consequently, even if prices continue to rise enough to incentivize new developments, it will take a long time for that new supply to hit the market.
What This Means For Metal Buyers
The lack of supply developments over the past few years, combined with the ongoing supply disruptions, is creating the perfect conditions for a price squeeze. In addition, the ongoing bullish sentiment across the industrial metals complex will give a tailwind to copper prices.
The conclusion? Copper will trade above $7,000/mt by year's end.