Luby's, Inc. (NYSE:LUB) operates and franchises restaurants and contract food services. Its brands include Luby's Cafeteria, Fuddruckers, Luby's Culinary Contract Services and Cheeseburger in Paradise.
Founded in 1947, the company has 7,988 employees and is headquartered in Houston, Texas. As of December 21, 2016, it has 173 owned and operated restaurants, 91 traditional cafeterias, 73 gourmet hamburger restaurants, eight casual dining restaurants and one primarily seafood. Further, the company has 23 Culinary Contract Services locations and 48 franchisees operating 113 Fuddruckers restaurants.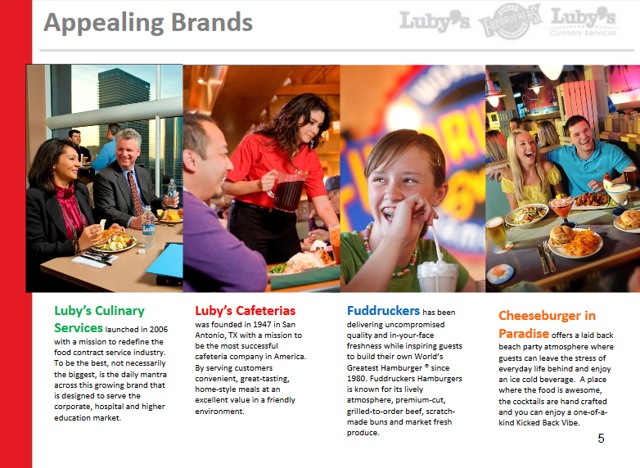 Investment Thesis Summary
Mean-reverting unreasonably cheap valuation (historical and industry relative discounted valuation).
Skin in the game with management's material 33% insider ownership. Founders/family C. Pappas owns 14.6% and H. Pappas owns 13.28%. Outside institutional ownership with long-time holder Hodges Capital is at 15.87% of the float, or 10.20% shares outstanding.
Margin of Safety supported by meaningful real estate ownership below fair market value. Real estate ownership: 69 Luby's, 22 Fuddruckers, Non-operating properties with a carrying value of $7.1 million listed on the recent balance sheet as held for sale for discontinued operations. In addition, one owned property with a carrying value of approximately $1.9 million and one owned other-use property which is used as a bake shop supporting restaurants. Think of the future impact of these rent-free locations or sale leaseback.
Significant insider buying over the prior two years. 802,549 shares purchased during 2015 for $4.99 per share or $2,699,257. During 2016, 73,777 shares were purchased for $4.63 per share, or $342,001. Indirect buys for 2017 were 19,587 shares for $4.25 per share.
Mean-reverting price performance, 60% off the 5-year high and a -20% 52 week return.
Clean capital structure with a stable share count since 2010. Non-current liabilities were reduced from $50.44M for the fiscal year ending 2014 to $44.48M, or a 12% reduction, in the most recent quarter. Sale of balance sheet-listed properties will further benefit.
Valuation
Market Cap: $104.55 million, Enterprise Value: $139.31 millon; Price is $3.61 near its 10-year low.
Price/Tangible Book (mrq) = 0.63 versus an average P/TB value of 1.12 from 2010 to 2013. Industry Median P/TB is 2.91 versus .63 for LUB or its historical low of .56.
EV/Revenue = .33 versus and average EV/Revenue of .55 from 2010 to 2013. Industry Median P/S= 1.05 vs. LUB: 0.27
EV/EBITDA = 9.52, Revenue (ttm) = $396.3M
EBITDA as measured in their bank covenants is $17.50M on a trailing 4-quarter basis, $18.20M removing underperforming closed stores.
Revenue Per Share (ttm) $13.54 versus an average revenue per share of $11.67 from 2010 to 2013. Industry Median P/S is 1.05 vs. LUB's P/S of 0.27
Quarterly Revenue Growth (yoy) -5.20%, EBITDA (ttm) $14.63M
Gross Profit (ttm) 256.45M versus an MC of only $104.54M and EV $139.39M
EV/Gross Profit = 2.54 versus average EV/Gross Profit of 3.26 from 2010 to 2013
Operating Cash Flow (ttm) 10.76M ,52-Week Change -19.77%
52-week High:$5.10, 52-week Low: $3.45
Shares Outstanding 28.96M, Float 17.34M (note small float balance making a going private transaction a possibility and beneficial to owners at the current valuation)
% Held by Insider: 33.51%, % Held by Institutions: 38.70%
Short % of Float: 1.20% (shorts declining over the past 6 months)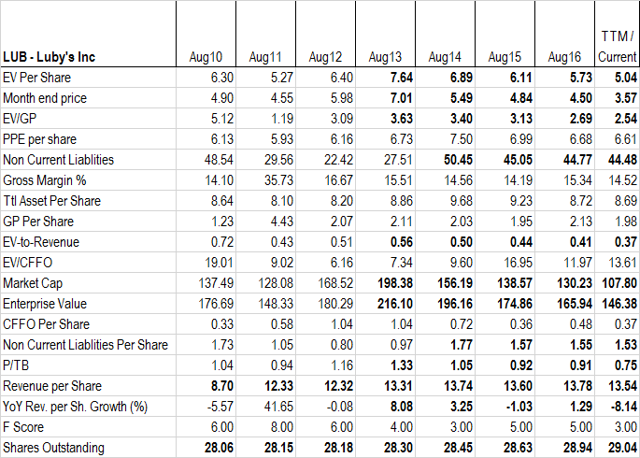 Negatives
CEO C. Pappas, age 70, owns 14.60%, and executive director H. Pappas, age 72, owns 13.28%. They are apparently satisfied with their salary - time to run other investments. Additionally, unfriendly shareholder ownership evidenced by not one analyst on the most recent earnings call.
Conclusion
Great valuation metrics based on sales, EBITDA, Book Value, coupled with other substantial benefits over competitors. A healthy, growing stream of franchise income from Fuddruckers. Expanding partnerships to share Luby's food in grocery stores such as the H-E-B 270 grocery locations, expanding franchise partnerships such as Fuddruckers and TravelCenters of America. Four new franchised Fuddruckers already opened in 2017. Profitable Culinary Contract Services. Valuable real estate portfolio likely worth more than current enterprise value. Ability to initiate a sale leaseback on close to 100 locations. Going private.
Additional information can be found in the company's January 25, 2017 investor presentation.
Disclosure: Long LUB.