With the exception of BBVA Banco Frances (NYSE:BFR), Argentine banking ADRs have brought a great performance over the past year. Grupo Supervielle (NYSE:SUPV) in particular is up more than 30% since its IPO on May 20th last year, but Banco Macro (NYSE:BMA) and Grupo Financiero Galicia (NASDAQ:GGAL) are not that far behind, with a 20% and 24% 1y-return each.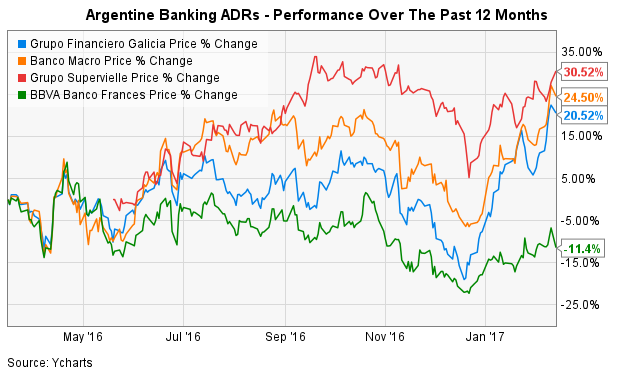 Many reasons are behind this fantastic performance, but the main explanation is that these banks were able to make tremendous profits out of the normalization of the economy that Argentina went through last year.
These institutions were big holders of Argentine sovereigns and USDARS futures contracts, among other assets, that saw phenomenal price hikes after Argentina re-entered the international financial markets and eliminated FX restrictions, pushing a 30%+ devaluation of the peso. These large profits are hard to avoid, and there's more.
Right after the devaluation, the Argentine Central Bank began a strategy to mop up liquidity in the system issuing 35-day peso-denominated LEBAC notes, which yield an outstanding 38% annualized rate. These instruments, which are virtually risk-free since the BCRA can always print more pesos to cancel them, were providing great profits in real terms for the banking sector, as inflation was always below this rate and cooling down.
Subsequently, thanks to Central Bank's deregulations, local banks accessed cheaper funding while lending rates remained high and unchanged, boosting intermediation profits. But most of these gains are part of the past, now the Argentine banking system is entering a new era.
The new phase of growth
Despite the fact that most of the fantastic trades that we just discussed are no longer possible, it still makes sense to believe that the Argentine banking system is more than ready to kick off a new phase of growth. And most of it has to do with banks going back to their basic original business model.
In order for banks to start making money in the good old-fashioned way, we need one specific catalyst: The reactivation of peso credit. And, if we analyze the encouraging lending figures from December, credit expansion has started to take flight. In fact, peso loans grew at 47% annualized pace in the last four months of 2016.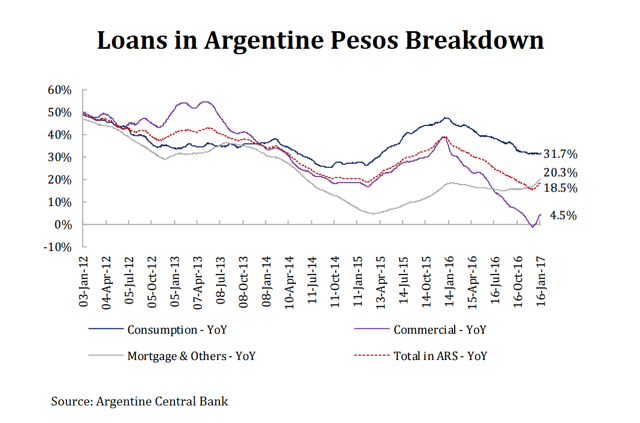 The growth of lending in pesos is a critical driver to watch for Argentina, not only for its impact on GDP growth and consumption, but also for the enhanced velocity of money that will enable the Central Bank to unwind the enormous stock of LEBACs that it built during its 2016 monetary policy campaign.
Since the central bank has began to reduce the banking system's appetite for LEBACs, then the big players should slowly but steadily redeploy this liquidity into increased credit to the private sector.
Subsequently, local mutual funds and insurance companies will be forced to diversify into other forms of peso-denominated debt like inflation-indexed CER bonds, BADLAR + securities and fixed rate bonds. These dynamics are already taking place.
2017 drivers
Going deeper, the drivers behind credit go beyond the decreasing rate scenario. One big driver will certainly be the lines of credit for project finance or infrastructure. And considering the recent government-approved wind power and thermal plants projects, it will become a reality.
Winning bidders of these huge infrastructure projects are looking for financing, and big international banks are swarming all over them to offer credit. Now Argentina is back on the map for cross-border lending from global banks and this is extremely good news.
Additionally, the ratios are on Argentina's side. Loans to GDP remain extremely low in the country, sitting at 14% VS 35%-40% in the region, which allows the banking sector to pursue elevated expansion rates. And this could happen organically, without really risking an non-performing loan crisis. How could this work? Simple.
The first year or two of dynamic credit creation would capitalize first on under-leveraged corporate and retail customers. In other words, credit penetration is so low in the country that the Argentine banks can pick the cream of the crop among available borrowers, minimizing risks.
On the other hand, most of the country's companies and big family businesses are completely unleveraged, and willing to invest in the real economy as Argentina's GDP starts to grow back again.
Well-funded
Considering the scenario ahead, it helps to know that Argentina's top private banks are particularly well-funded and highly capitalized as we embark on a new credit cycle in the country. For example, Banco Macro closed the third quarter with a loan-to-deposit ratio of 75.4% after a deposit growth of +33.2% in the first nine months. For this bank, full year loan growth approximated 35% while its funding ratio remained in the high 70s.
Despite its bad performance in Wall Street, Banco Frances registered a 3Q16 LDR of 77.5% that followed 9M deposit growth of 19.6% and loan growth 26.1%. Although the fourth quarter results are not out there yet, preliminary figures indicate that both loans and deposits grew at a healthy pace, maintaining the bank's high level of funding liquidity.
Final words
To sum up, the Argentine banking sector is transitioning from being a big margin business to a bigger, more depth-seeking one.
A context of macro stability and reasonable inflation is a necessary condition for an increase in bancarization and a growth in loans. One example can be found in the use of credit cards, as Argentines spend half using cards as their Brazilian counterparts, and this is considering that both countries hold similar number of cards per capita. And we have not even mentioned that Argentina holds practically no mortgage market.
Local financial institutions hold very healthy balance sheets. The more optimistic you are about the normalization in Argentina, the bigger the space for growth for the country's banks.
If you're interested in learning more, make sure to "Follow" me and you'll receive all my future articles.
Disclosure: I/we have no positions in any stocks mentioned, and no plans to initiate any positions within the next 72 hours.
I wrote this article myself, and it expresses my own opinions. I am not receiving compensation for it (other than from Seeking Alpha). I have no business relationship with any company whose stock is mentioned in this article.