On Monday, the iPath S&P 500 VIX Short-Term Futures ETN (NYSEARCA:VXX) just hit a new all-time low of $17.56, closing at $17.64. It was a spectacular performance amid widespread cries that short VIX futures positions had reached multi-year highs.
Market timer Scott McClellan has declared a market top amid declining volume, yet prices shot higher on Monday, and traders who were positioned long volatility got crushed.
Last week, tired of the human forecasting mania, we started a first ever live stream on SeekingAlpha of our ZOMMA Directional Algo for VXX. We are streaming it every day during market hours until the end of February. Here is a screen shot: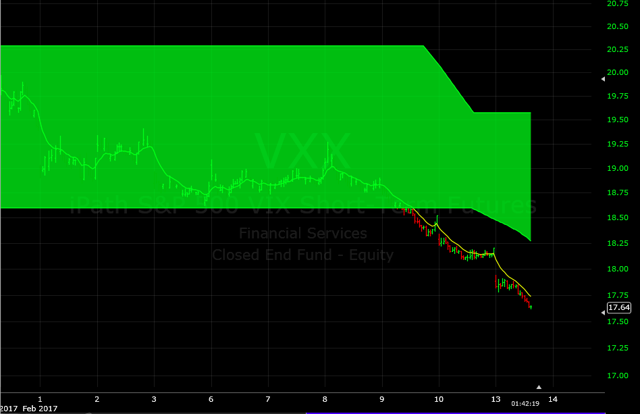 The rules are simple. Signals are generated when the yellow line and the raw price crosses above or below the green cloud. The breakout below the green cloud initiated a short signal, which is still open, until price and the yellow line cross back into the green cloud.
Clearly, VXX prices broke quickly to the downside out of a short-term range. The fundamental reason is clear. Even if the risk of a market drop is high, futures markets are a pari-mutual game. Futures have more than priced in the high likelihood of such a drop.
And if you're holding VXX, who cares what happens in the long term, if you're getting hacked away day after day with 1% to 3% losses? In an algo driven market, medium to long term forecasting is useless at best, and dangerous at worst, as the short-term momentum crushes you if you don't get on the right side of it.
But the pari-mutual pricing of the futures market does not explain everything. There is some outright bullishness. Our ZOMMA Directional Algo generated a buy signal for the entire S&P 500 (NYSEARCA:SPY) on February 9th as well. The breakout above the green cloud initiated a long signal, which is still open.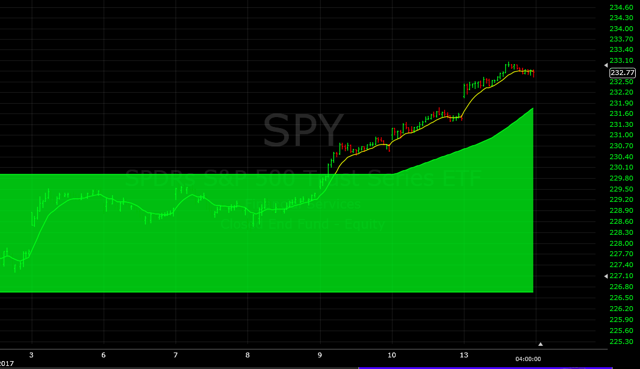 Even stranger things have been happening in a supposedly risk averse environment. The China iShares Large-Cap ETF (NYSEARCA:FXI) hit the low $70s in 2007, and has not recovered in the intervening 10 years, sitting at $38.25 at the close on Monday. Out of nowhere, it has appeared to awaken from the dead, which is quite strange amid all the talk of an economy-shattering trade war.
Our ZOMMA Directional Algo generated a buy signal for FXI on February 8th. The breakout above the green cloud initiated a long signal, which is still open. Literally, Chinese equity prices have broken out of a long-term range to the upside.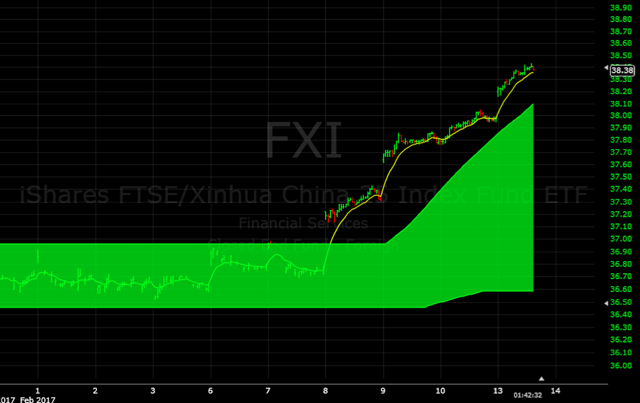 Even more curiously, our ZOMMA Directional Algo generated a long signal for emerging markets (NYSEARCA:EEM) as a whole on the 9th. The breakout above the green cloud initiated a long signal, which is still open.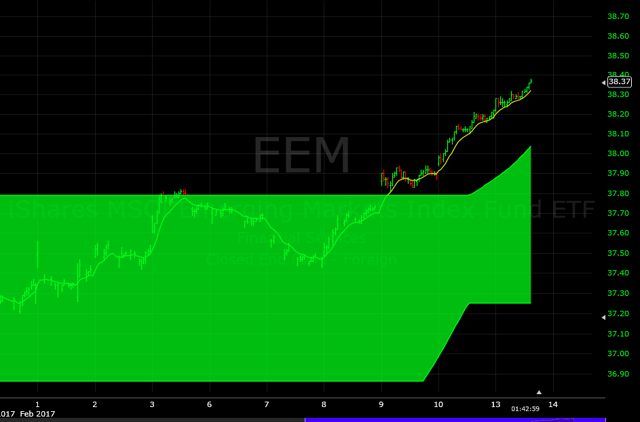 In the very short term, the markets are bullish on the S&P 500, bullish on China, and bullish on emerging markets as a whole. Quite different from the media buzz about a "trade war."
Anything can happen in the long term, which is why forecasters love to make long-term forecasts. Investors should either focus on actionable technology which makes dynamic tactical forecasting possible, or abandon forecasting all together in favor of low risk ultra-long term investing.
Few commentators would have predicted rising emerging markets and a resurgent Chinese stock market in the face of a potential trade war. Don't make the mistake of relying on human forecasting. Markets are telling a very different story than the forecasters. Dynamic, technology-driven forecasting is the future, not grand human prognostications designed to generate media buzz.
Hypothetical performance results have many inherent limitations, some of which are described below. No representation is being made that any account will or is likely to achieve profits or losses similar to those shown; in fact, there are frequently sharp differences between hypothetical performance results and the actual results subsequently achieved by any particular trading program. One of the limitations of hypothetical performance results is that they are generally prepared with the benefit of hindsight. In addition, hypothetical trading does not involve financial risk, and no hypothetical trading record can completely account for the impact of financial risk of actual trading. For example, the ability to withstand losses or to adhere to a particular trading program in spite of trading losses are material points which can also adversely affect actual trading results. There are numerous other factors related to the markets in general or to the implementation of any specific trading program which cannot be fully accounted for in the preparation of hypothetical performance results and all which can adversely affect trading results.
Disclosure: I/we have no positions in any stocks mentioned, and no plans to initiate any positions within the next 72 hours.
I wrote this article myself, and it expresses my own opinions. I am not receiving compensation for it (other than from Seeking Alpha). I have no business relationship with any company whose stock is mentioned in this article.