Qualcomm, Inc.'s (NASDAQ:QCOM) Q1 fiscal 2017 was pretty good. Its Qualcomm CDMA Technologies ("QCT") segment's pre-tax earnings grew 23% to $724 million, while its Qualcomm Technology Licensing ("QTL") segment's pre-tax earnings grew 14% to $1,532 million.

Yet, Qualcomm shares are about 17% lower year-to-date, as they have been plagued by negative sentiment from recent bad news, including lawsuits from Apple Inc. (NASDAQ:AAPL) and reduced targets from multiple firms.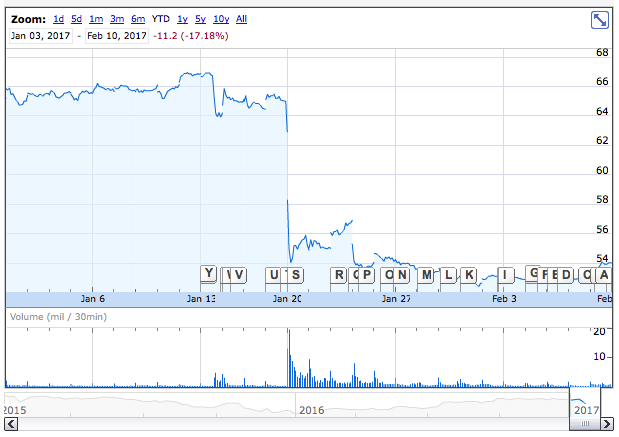 Source: Google Finance
More importantly, Qualcomm has shown that it is a good capital allocator and has proved its ability to generate profits from shareholders' equity. In 9 out of the last 10 fiscal years, it has achieved a return on equity ("ROE") of at least 14%. In 6 of those years, it achieved an ROE of at least 18%.
The business
Here's Morningstar's overview of the business:
Qualcomm develops and licenses wireless technology in addition to designing chips for mobile phones. The company's key patents revolve around CDMA and OFDMA technologies, which are standards in wireless communications that are the backbone of all 3G and 4G networks. In turn, Qualcomm's intellectual property is licensed by virtually all wireless device makers. The firm is also the world's largest wireless chip vendor, supplying many premier handset makers with leading-edge processors.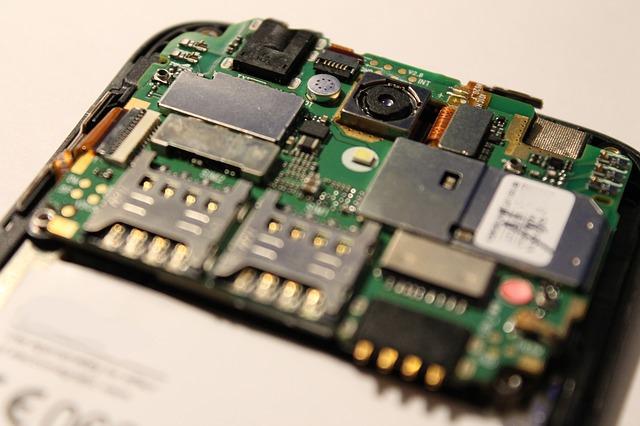 From Qualcomm's website:
We are leading the way to 5G and a new era of intelligent, connected devices. Our products are revolutionizing industries including automotive, computing, Internet of Things, and healthcare, and are allowing millions of devices to connect with each other in ways never before imagined.
Qualcomm has two main segments:
QCT develops and supplies integrated circuits and system software based on CDMA, OFDMA and other technologies for use in voice and data communications, networking, application processing, multimedia and GPS products.

QTL owns the vast majority of its patent portfolio.
In 2016, Qualcomm earned 12% of its pre-tax earnings from QCT and 85% from QTL.
Dividend growth and share buybacks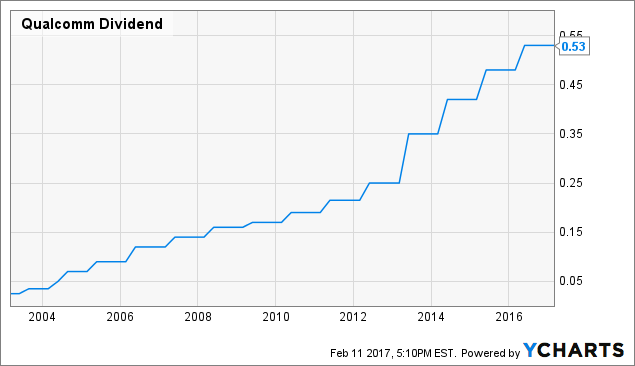 QCOM Dividend data by YCharts
Qualcomm has increased its dividend for 14 consecutive years. It compounded its dividend at an annual rate of 16.5% over the last 10 years. The company last hiked its dividend by 10.4% in Q2 2016.
Over time Qualcomm has been morphing into a more mature dividend company. Up to fiscal 2014, its average annual dividend yield was 2.1% or smaller and its payout ratio was 30% or lower.
Thanks to a combination of a drop in share price and an expanding payout ratio, at $54 per share, Qualcomm offers an above-average yield of 3.9%. And its annual payout of $2.12 per share is supported by a payout ratio of about 48%.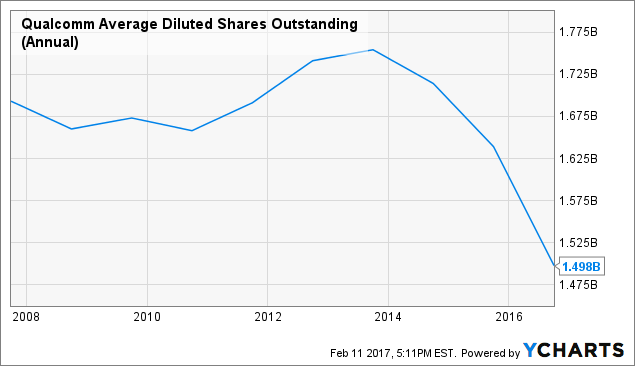 QCOM Average Diluted Shares Outstanding (Annual) data by YCharts
Since the end of fiscal 2014, Qualcomm has reduced its share count by almost 13%. It wasn't a bad use of capital as shares were either fairly valued or undervalued during most of that period.
Is Qualcomm a good buy today?
Here are some views from various analysts.
Morningstar rates Qualcomm as a narrow-moat company and rates it four stars for being undervalued. It gives it a fair value estimate of $68, which implies a margin of safety of about 20%.
In Value Line's December 16, 2016, report, it gave Qualcomm the highest safety of 1 (out of 5) and a company financial strength of A++.
Value Line's three- to five-year price projection of Qualcomm was $90-110, which implied a potential annualized return of 11-16%, as the shares traded at about $67.50 per share at the time with a yield of 3.3%.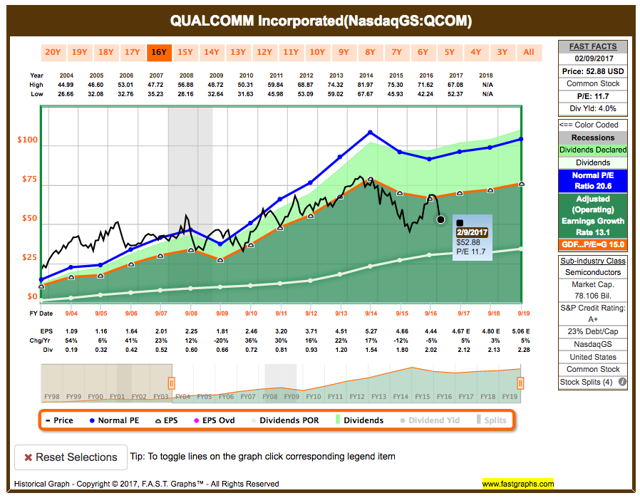 At $54, Qualcomm trades at a P/E of just under 12. If it reverts to the mean towards a P/E of 15, Qualcomm could trade at about $70 again. If so, that'd imply an upside potential of nearly 30%.
The analyst consensus (across 35 analysts) expects the company to grow its earnings per share ("EPS") by 9-10.5% per year for the next three to five years. If that materializes, a multiple of under 12 is a good value to pick up some Qualcomm shares.
The NXP Semiconductors acquisition
Qualcomm is working on acquiring NXP Semiconductors NV (NASDAQ:NXPI).
Qualcomm is extending the cash tender offer for all outstanding NXP shares to March 7, 2017. The completion of the offer remains subject to regulatory approvals and at least 80% of NXP's outstanding shares being validly tendered and not withdrawn before the expiration of the tender offer. As of February 3, 14.8% of NXP shares had been tendered.
NXP complements Qualcomm's existing business and will help boost growth.
On NXP's website, it states, "As the world leader in secure connectivity solutions for embedded applications, NXP is driving innovation in the secure connected vehicle, end-to-end security & privacy and smart connected solutions markets."
The analyst consensus (across 26 analysts) expects NXP to grow its EPS by 16-22% per year for the next three to five years. Based on Qualcomm's tender offer of $110 per share, it'd be paying a forward multiple of about 15.7.
One reason for NXP's seemingly attractive multiple relative to its growth potential is NXP's debt levels. NXP had $9.2 billion of gross debt at the end of Q4, but it had recently announced to reduce it to $6.5 billion, which should reduce its financial leverage defined by net debt/adjusted EBITDA from 2.45x to 1.5x.
Investor takeaway
Negative news has brought Qualcomm, which has a solid S&P credit rating of A+, down to an attractive multiple of under 12.
Thanks to the pullback, Qualcomm now yields 3.9%, which is attractive among its competitors and is 95% higher than SPDR S&P 500 ETF Trust's (NYSEARCA:SPY) 2% yield. Additionally, Qualcomm has room to grow its dividend in Q2 to mark the start of its 15th consecutive year of dividend growth.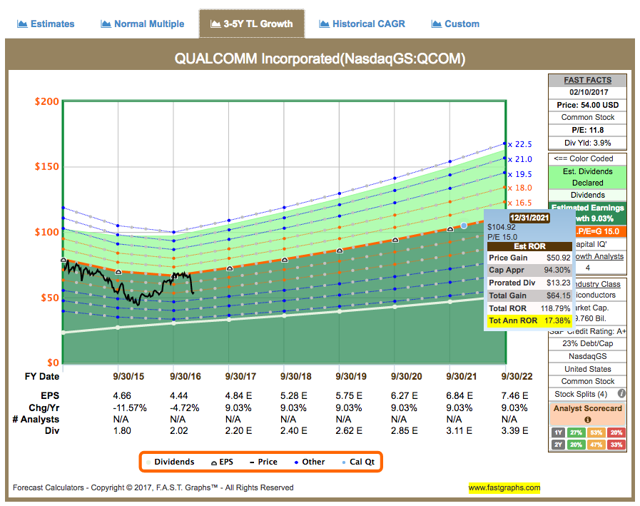 Assuming the company achieves EPS growth of about 9% for the next three to five years and a multiple of 15, an annualized return of 17-21% is possible.
NXP Semiconductors will be a great addition and a growth booster to Qualcomm's business if the acquisition is successful.
Share your thoughts in the comments below
What are your thoughts on Qualcomm?
Do you think it's a good buy at current levels?
Which companies in the Technology sector do you think are attractively priced today for income and income growth?
If you like what you've just read, consider following me. Simply click on the "Follow" link at the top of the page to receive an email notification when I publish a new article.
This article first appeared in my premium service, from which my subscribers get priority attention and gain access to my real-time buys and sales. Feel free to try the service for free for two weeks.
Disclaimer: This article is not financial advice but consists of my opinions and is for educational purposes only. Additionally, the information provided is believed to be accurate but is not guaranteed to be so. Please do your own research and due diligence and consult a financial advisor and or tax professional if necessary before making any investment decisions.
Disclosure: I am/we are long QCOM, AAPL.
I wrote this article myself, and it expresses my own opinions. I am not receiving compensation for it (other than from Seeking Alpha). I have no business relationship with any company whose stock is mentioned in this article.