By Gary Alexander
It is a paradoxical truth that tax rates are too high and tax revenues are too low and the soundest way to raise revenues in the long run is to cut rates now…to achieve a more prosperous, expanding economy….

- President John F. Kennedy at a news conference, November 20, 1962.
After two weeks of controversial Executive Orders and nocturnal tweets, Week #3 of the Trump era took a positive turn after the President mentioned his tax cut plans last Thursday, fueling a late-week market surge.
According to Bloomberg ("White House: Cohn-Led Tax Plan is Real and it's Phenomenal," February 10, 2017), Trump's tax plan, to be released in two or three weeks, will be "the most comprehensive business and individual tax overhaul since 1986." That's saying something, since the landmark 1986 tax bill cut many deductions and reduced the top rate to 28% for the rich, 15% for the middle class, and 0% for the poor.
The major historical tax cuts of the 1920s, 1960s, 1970s, and 2000s each fueled rapid economic and stock market gains. In three of those instances, Republicans were in the White House (Coolidge in the 1920s, Reagan in the 1980s, and George W. Bush in the 2000s), but the 1960s tax cuts came under the Democrats.
The Kennedy-Johnson tax cuts ("The Revenue Act of 1964"), signed into law February 26, 1964, cut the top rate from 91% to 70%, while all other rates fell and a standard deduction was added. Prosperity soon erupted: The jobless rate fell from 5.2% in 1964 to 3.8% in 1966 and 3.5% in 1969, the lowest rate in the last 50 years. Initial fears of a loss of revenue were forgotten when tax revenues increased each year.
The fastest-growing economy of the last 70 years came in the Kennedy-Johnson years of the 1960s: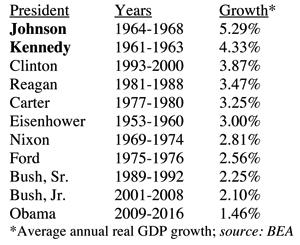 According to data from the Bureau of Economic Analysis, the average annual GDP growth in Obama's eight years was worse than all other postwar presidents. The average growth rate in Obama's tenure was 1.46%. Even worse, Obama is the only president since Hoover who did not have a single year when the economy grew at a 3% rate. By contrast, Clinton and Reagan each had six (of eight) years with growth over 3%. Even George W. Bush, whose years included the 2008 crash, had two years of over 3% growth.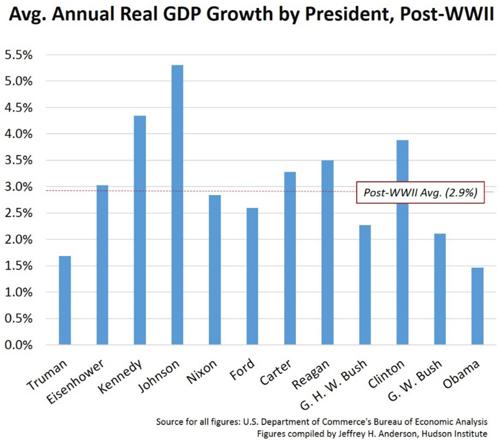 Obama's apologists say that he inherited the 2008 financial crisis, but Reagan inherited a double-dip recession (1979-80 and 1981-82), in which interest rates, inflation, and unemployment rates were all over 10% in his first years, yet his series of tax cuts still fueled the strongest recovery since the 1960s.
Lower Tax Rates Spur Market Growth
Now for the investment payoff: The stock market surged during each of these four tax-cutting decades:

We could do just as well in the next four to eight years if we see major corporate tax rate cuts, including a token (10%) tax on corporate cash repatriated from lower-tax nations abroad. Too much corporate money is sitting in overseas bank accounts, since corporate profits are punished here at home. The U.S. has the highest corporate income tax rate in the developed world, at 39%, well above the OECD overage of 25%.
Ireland has staged a near-miraculous economic recovery by lowering its corporate tax rate to 13%. The U.S. would be far more competitive if our top tax rate were cut to 15%, near the Irish magic formula.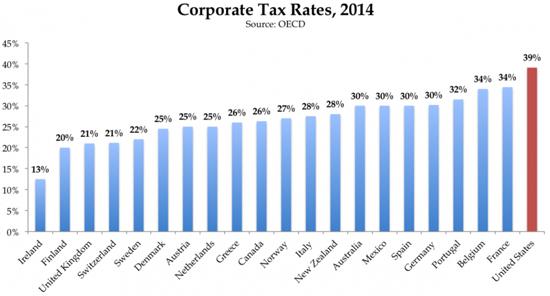 Corporate tax cuts are important for big business, but small businesses also need some relief on the regulatory front. This would help President Trump deliver on his promise of more jobs - specifically, 25 million new jobs in a decade! - since small and medium-sized businesses account for 90% of job growth.
ADP is the main source for logging private-sector payroll job creation statistics. Since ADP made their data available in 2005, small firms (under 50 employees) accounted for nearly half (48.7%) of all new hires. Medium-sized companies (50 to 499 people) accounted for another 41.3%, while large firms only attracted 10% of new hires. Specifically, small firms added 5.9 million jobs, medium-sized firms added 5.0 million jobs, and big firms added only 1.2 million to their payrolls. To treat smaller businesses fairly, Trump's people need to cut the cords of crony capitalism that feed the lobbyist army in The DC Swamp.
So far, small businesses are hopeful, as reflected in the 10.9-point jump in the NFIB Small Business Optimism Index over the last two months of 2016, reaching 105.8, the highest level since December of 2004. (Source for this segment: Ed Yardeni, "Entrepreneurial vs. Crony Capitalists," February 6, 2017)
Dow 20k - Just Another February Milestone?
The Dow Jones Industrial Average (DJIA, or "the Dow") has closed above 20,000 every day since February 3, 2017. Perhaps 20k will become the new floor in a long series of February Dow benchmarks:
On February 28, 1964, the Dow surpassed 800for the first time.
On February 9, 1966, the Dow hit a record 1,001, inter-day, but then it closed at 995. That's as close as the Dow got to the magic four-figure barrier for the next seven years.
On February 24, 1983, the Dow first closed above 1,100. It seemed like a lofty peak back then.
On February 23, 1995, the Dow closed above 4,000 for the first time.
On February 13, 1997, the Dow-Jones industrials topped the 7,000 mark for the first time.
Source: The Almanac Investor
Disclosure: *Navellier may hold securities in one or more investment strategies offered to its clients.
Disclaimer: Please click here for important disclosures located in the "About" section of the Navellier & Associates profile that accompany this article.