Amazon (NASDAQ:AMZN) just reported its Q4 results, and we are again, disappointed.
We don't care that much about what analysts were expecting, and whether Amazon achieved the expected or not (for those who do, Amazon missed analysts' revenue projections for Q4 by nearly $1 billion, and surpassed their expectations on the EPS front, $1.54 actual EPS vs $1.35 projected). We only care about whether these earnings suit the $400 billion valuation or not.
And after the results, we are more definite that they don't. Here's why.
Low-quality CFO, again:
Last time, we talked about why we think Amazon's cash from operations are of low quality. And Amazon's Q4 results re-affirmed our belief.
In Q3, 53% of Amazon's CFO consisted of accounts payable and accrued expenses. That rate jumped to 71% in Amazon's latest quarter.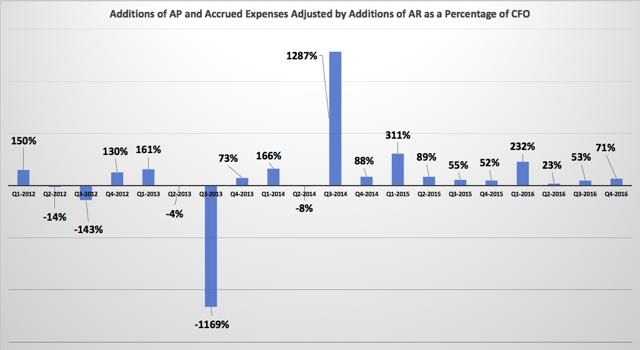 Sounds ordinary? Well, let's compare that to Walmart's (NYSE:WMT) composition of CFO.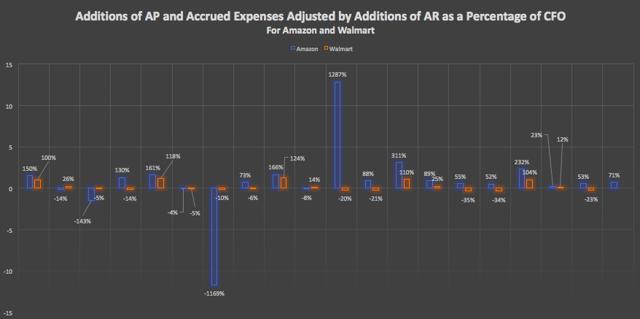 Both companies are operating in the same business which requires frequent transactions with suppliers, so why Amazon is having much higher portion of its CFO sourced from accounts payable and accrued expenses than Walmart?
For simplicity, readers should know that over the last 4 years, the average AP/AE percentage of CFO for Walmart (adjusted by AR) was 24%, while it was 80% (!) for Amazon.
Lower growth, now what?
In its latest earnings call, Amazon management gave guidance of 14%-23% of currency adjusted guidance. That is 10% lower (taking the midpoint of the guidance) than the 28% growth rate achieved in 2016.
For those who have read our previous article about Amazon, they knew that we expect that Amazon's CFO will decrease substantially once growth rates start to slow down.
That's because the money invested (which was supposed to be paid to suppliers), won't yield the same as it previously did.
That's why Amazon's pure focus is on growth; management knows that once growth starts to slow down, investors will become more skeptical about its lofty valuation. Thus, it's doing everything it can to keep the engine at full speed (making phones, tablets, producing movies etc...).
To understand more our point, take this as an example: Mr. John, a retail store owner, had a payment of $100 thousand to his suppliers in the end of December 2016. Short of funds, he re-negotiated with his suppliers and postponed the payments till June 2017. His business grew 8% in those 6 months, thus, his $100 thousand invested added $8 thousand to the store's bottom line. In the second half of 2017, the store's sales grew only 1%, which only added $1 thousand to the bottom line. Assuming the store's growth rate will stagnate in the future, the costs of postponing suppliers' payments (forgoing better promotions from suppliers, or suppliers preferring other competitors) will outweigh the benefits. Thus, Mr. John will find himself pushed to pay suppliers in time, which will negatively affect the company's CFO.
And now, after the lower growth guidance, investors should ask themselves; what will happen to Amazon's CFO once growth rates start to slow down more?
High concentration risk
We believe that there is a high concentration risk in Amazon in the short/medium term. Investors should be aware that the company is hugely dependent on one source of income, Amazon Web Services, which happened to be operating in one of the most competitive markets in this decade.
Even though AWS contributes to only 9% of Amazon's revenue in 2016, 90% of Amazon's operating income was generated from AWS alone. That's a lot of concentration risk.
Microsoft (NASDAQ:MSFT), Alphabet (NASDAQ:GOOGL)(NASDAQ:GOOG), Salesforce (NYSE:CRM), Oracle (NYSE:ORCL), and many-many other players, are investing heavily in the cloud services market. These competitors pushed Amazon to lower its AWS prices by 16% to 23%, depending on the region, three months ago.
We still don't know how much these reductions will affect operating margins, but we believe these price cuts are just the beginning for AWS (taking deep-pocketed competitors into account).
With AWS being the leader in the cloud services market, we believe there is more things to lose than gain for Amazon at this point.
Another risk for Amazon in the near term
While reading Amazon's 2016 10-k, we noticed something worrying (taking the tense relationship between President Trump and Jeff Bezos into account).
Amazon had made deals, mistakenly, by sanctioned Iranian entities. This is from Amazon's latest annual report:
" In 2016, we determined that we processed and delivered orders of consumer products for certain individuals and entities located outside Iran covered by the Iran Threat Reduction and Syria Human Rights Act or other United States sanctions and export control laws. The consumer products included books, music, other media, apparel, home and kitchen, health and beauty, jewelry, office, consumer electronics, software, lawn and patio, grocery, and automotive products. Our review is ongoing and we have voluntarily reported these orders to the United States Treasury Department's Office of Foreign Assets Control and the United States Department of Commerce's Bureau of Industry and Security."
While we believe that Amazon had made nothing voluntarily wrong, there is a decent probability that President Trump will use this incident to pressure the CEO who offered to give him a one-way ticket to the outer space.
Concluding, we believe that there is a high risk in investing in Amazon at this point. We believe that this huge dependence on increasing AP and AE don't suit a P/CFO ratio of 24, one of the highest in the retail sector. In addition, there is a huge dependence on AWS, which suffers from tense competition from deep-pocketed companies. Last but not least, there is a risk of an investigation being carried by the Department of Commerce, which may cause the stock price to decline in the short-term.
Cautious investing to all.
Disclosure: I/we have no positions in any stocks mentioned, and no plans to initiate any positions within the next 72 hours.
I wrote this article myself, and it expresses my own opinions. I am not receiving compensation for it (other than from Seeking Alpha). I have no business relationship with any company whose stock is mentioned in this article.