Since peaking during the late 1990s during the dot-com boom, Cisco Systems' (NASDAQ:CSCO) share price has largely gone nowhere. In fact, the share price is still less than half of what it was during the excesses of the time. That serves as a reminder to always pay attention to valuation in regards to the fundamentals of the business when making any investment.
Cisco has continued to chug along slowly, but surely and has transformed itself into a blue-chip tech company. In 2011, Cisco initiated a dividend and has grown it every year since. With earnings on tap this week, as well as a likely dividend increase, I wanted to examine Cisco to see if some of my investment capital needs to be devoted to this cash cow.
Dividend History
A company's dividend history gives a great glimpse into the strength of the company. It takes a high-quality company that successfully defends and grows its business over time as well as a management team that is willing to reward shareholders with cold, hard cash. That doesn't happen by accident.
Most of the companies that I own have dividend growth streaks of at least 10 years with many stretching into multi-decade long runs. However, I also like to add in companies that are in the early stages of a potentially lengthy dividend growth streak. These companies typically have low payout ratios so investors can double dip in terms of dividend growth where the business fundamentals continue to improve and the company can also expand its payout ratio.
One company I've had my eye on for a while is Cisco. Cisco has paid and increased dividends for six consecutive years giving it the title of Dividend Challenger. The following chart shows Cisco's dividend payout history since initiating a dividend back in 2011. A full-screen interactive version of this chart can be found here.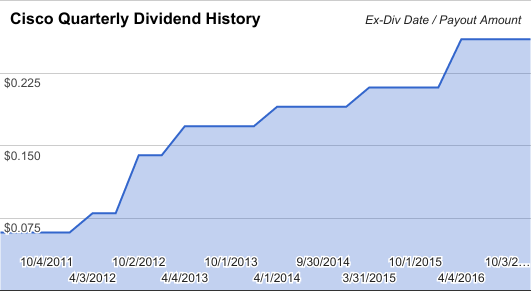 *Image Source: Author/Data Source: Cisco SEC filings
Since initiating a dividend, Cisco has had a stellar run of dividend growth. That's due to both improving fundamentals as well as a rising payout ratio.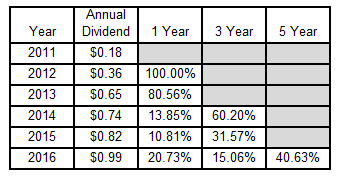 *Image Source: Author
A full-screen interactive version of this chart can be found here.
Quantitative Quality
Cisco's dividend history isn't the longest, but every streak has to start somewhere and Cisco at least looks like it has the potential to grow into a lengthy streak.
Determining the quality of a company is highly subjective and if you asked any Seeking Alpha authors, you would likely get a different answer as to what they focus on. My own preference is to examine companies through the lens of their cash flow.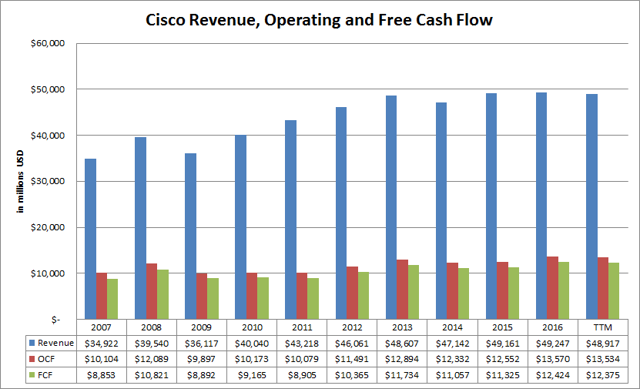 *Image Source: Author/Data Source: Cisco SEC filings
Despite a few year-to-year declines, Cisco has still managed to grow revenues at an adequate rate. From fiscal 2007 to fiscal 2016, revenue increased by 41% or 3.9% per year although recently, revenue growth has stalled, which is something to keep an eye on.
Operating cash flow hasn't fared as well as revenue growth over the same time period. Cash flow from operations has still grown by 34%, 3.3% annually; however, this could signal that Cisco is about to be tapped out of moves to improve the profitability of the company.
Free cash flow has also underperformed revenue growth. Free cash flow grew by 40% cumulatively or 3.8% per year from 2007 through 2016. As with operating cash flow, this signifies that meaningful growth of free cash flow might be hard to come by until revenue growth returns.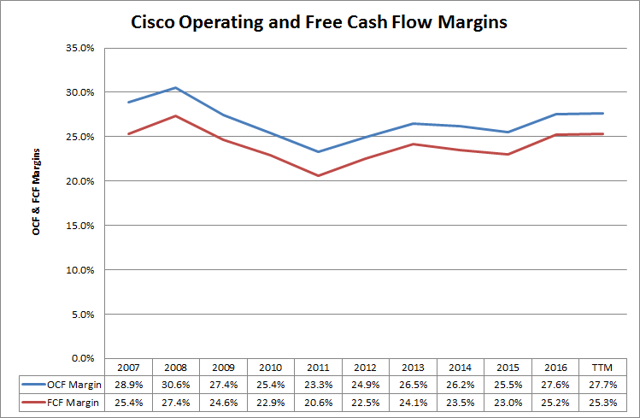 *Image Source: Author/Data Source: Cisco SEC filings
Since both operating and free cash flow growth has lagged behind revenue growth, we've seen a decline in profitability in terms of Cisco's cash flow margins. Operating cash flow margins have declined from 28.9% in 2007 to 27.6% for fiscal 2016. Likewise, free cash flow margin has seen a slight decline from 25.4% to 25.2% for the same periods.
Despite the slight declines, the chart does glean a light on some bright spots for Cisco. For starters, operating and free cash flow margin both remain at high levels above 20%. The other is that capital expenditures are small in comparison to the cash that is generated. Capital expenditures have averaged just 2.7% of revenue, which means the majority of operating cash flow is converted into free cash flow.
Cash flow margins represent the amount of cash a company generates per dollar of revenue. It's a sign of the profitability of the company. Another way to examine the profitability is the free cash flow return on equity and total capital invested in the business. This would be the cash return that you could expect to earn should you buy out the entire business. Ideally, both of these would be at least at 10%.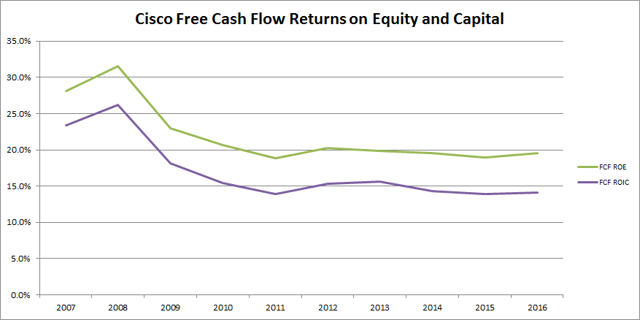 *Image Source: Author/Data Source: Cisco SEC filings
Cisco's free cash flow returns declined significantly coming out of the financial crisis. However, they have both maintained strong and consistent levels since fiscal 2009.
Cisco's free cash flow return on equity remains well above the 10% threshold. The average free cash flow return on equity for the last 10 years is 22% and for the last five years is 19.6%.
Free cash flow return on equity can be manipulated by companies that increase their debt load and is less meaningful in a changing capital structure environment. The free cash flow return on invested capital paints a clearer picture of the returns you could expect to make if you bought the whole company, all else being equal.
Cisco's free cash flow return on capital has lagged behind the return on equity due to the debt that Cisco carries. The spread between the two gives an idea of the capital structure of Cisco with a debt to capitalization ratio increasing slightly over the period, but stabilizing around the 20-25% level. The average free cash flow return on capital for the last 10 years is 23% and is 25% for the last five years.
Free cash flow is the lifeblood for any company. Unlike earnings, it is cold, hard cash that the company has moving through the business. It represents the excess cash above and beyond what is required to operate and grow the business. That surplus cash can then be used to improve the balance sheet, repurchase shares or pay a dividend to shareholders. In order to understand how Cisco uses its free cash flow, I use three variations of the metric.
Free Cash Flow (FCF) - The traditional calculation of operating cash flow less capital expenditures.
Free Cash Flow after Dividend (FCFaD) - FCF less total cash spent on dividends.
Free Cash Flow after Dividend and Buybacks (FCFaDB) - FCFaD less net cash spent on share repurchases.
The reason that I use these three variations is that it allows me to see how Cisco uses its cash as well as whether it can self-fund the entire capital allocation process. When a company internally generates more cash than is needed to run the business, management is free to move down the capital allocation chain by paying dividends, repurchase shares or build up the balance sheet. High quality companies will still be free cash flow positive after accounting for capital expenditures, dividend payments and share repurchases.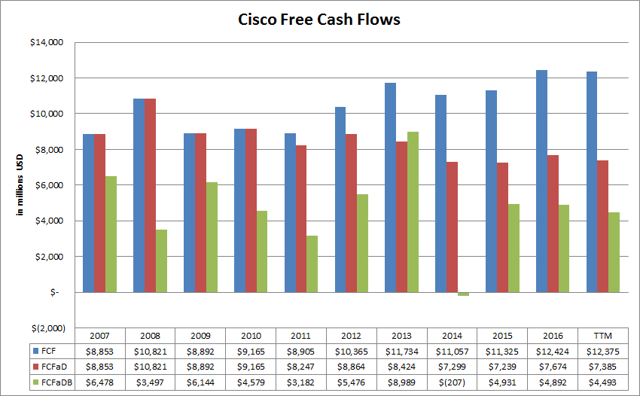 *Image Source: Author/Data Source: Cisco SEC filings
Cisco's free cash flow variation chart is, for all intents and purposes, a thing of beauty. As we saw earlier, free cash flow has been on the rise albeit slowly at just 3.8% per year. Cisco's strong free cash flow allows management to pursue other uses of the cash in the form of additional investments, dividends or share repurchases.
Cisco initiated a dividend during the fiscal year ending in 2011 so prior to that FCFaD equaled FCF. Since paying a dividend, Cisco has maintained positive FCFaD every year with plenty of excess coverage above the dividend. Cisco's free cash flow payout ratio has averaged 37% over the last three fiscal years and TTM period. The positive FCFaD is what has allowed Cisco to both increase the dividend payment every year as well as employ a large share buyback program.
Looking at just the period from 2011 through 2016, once Cisco started paying a dividend, Cisco has spent a net $20.48 B on share repurchases. Although what's really impressive is that management has been able to do so completely via internally generated cash flow. Despite the large share buybacks, Cisco has still maintained a positive FCFaDB for every year except 2014.
For dividend paying companies, that is exactly what you want to see. Assuming nothing fundamentally changes with the company and cash flows remain at these levels, Cisco still has excess free cash above and beyond what is needed to run and defend the business, pay and increase the dividend as well as repurchase shares.
Buy, Hold or Sell?
I think it's safe to say that Cisco is a fairly high quality company. Unfortunately, though, when it comes to investing, we also have the requirement that the shares are trading at a reasonable valuation.
One method I like to use to determine whether a company is trading at a good valuation is the minimum acceptable rate of return analysis. This requires estimating the future earnings and dividends for the company, applying a reasonable future valuation and seeing what the returns would be. If the returns are higher than you require, then the company is currently representing a value.
On average, analysts expect Cisco to earn $2.37 for the current fiscal year ending in July, $2.49 the following year and to grow them on average at 9.1% per year through the next five years. I've assumed that earnings growth will slow to just 4.5% per year for the following five years.
The annual dividend payment for the fiscal year ending July 2016 came to $0.94 with $2.36 of earnings to support it. That pegs the payout ratio at 40% for fiscal 2016. Cisco should announce a dividend increase this week, which I'm expecting to come to $0.30 per quarter. Based on the earnings estimates of $2.37 for the current fiscal year, the payout ratio would be 47%. I've assumed that Cisco will grow dividends at the same rate as earnings to maintain a 47% payout ratio. Dividends will be paid and increased at the same periods that Cisco has historically done so.
Barring a major change to the company, for the better or worse, valuations typically remain in a consistent range. As you can see in the following chart, market participants are currently valuing Cisco near the low end of the valuation range of the last 10 years. Looking at the most recent five-year stretch, the valuation appears to be slightly higher than the average.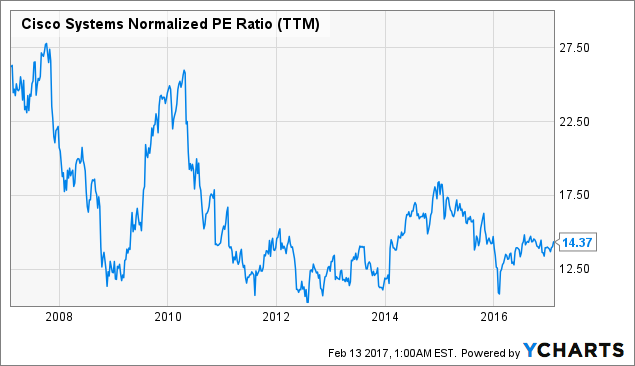 CSCO Normalized PE Ratio (TTM) data by YCharts
For the future valuation aspect, a reasonable range for the expected valuation in the future appears to be 12x to 20x.
The next step in a MARR analysis requires setting up a desired rate of return. Since Cisco is in the technology industry, primarily in the networking hardware business that is prone to disruption, I would require a higher rate of return to entice me to invest in the company. The initial MARR that I will use is 10%.
The following table shows the price targets for a purchase of Cisco shares on February 15th using the assumed growth assumptions from above and a 10% minimum acceptable rate of return through the end of calendar 2022 and 2027, respectively.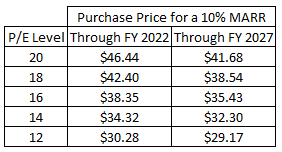 *Image Source: Author
The price targets show the maximum that you could pay for a share of Cisco in order to generate at least a 10% rate of return. This assumes the earnings and dividend growth play out as forecast.
Currently, Cisco's share price is sitting around $31.50, which could potentially make an attractive investment if you're willing to accept a 10% rate of return. At the current price level, you would be able to capture almost all of the growth that Cisco is able to obtain. This is primarily due to the low current valuation that the market is placing on Cisco. In the event that Cisco gets revalued to a higher normalized range, then your returns would be increased even more.
For the more conservative or value-oriented investors, I've re-run the calculations with a 12% minimum acceptable rate of return. By requiring a higher rate of return, an added margin of safety is built into the price targets. The following table shows the price targets using the same assumptions as before with a 12% MARR.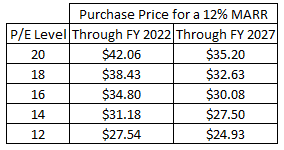 *Image Source: Author
In the higher return scenario, we intuitively see that the price targets decline given that the growth is the same. The current share price could still make for an attractive investment through the end of 2022 assuming a flat valuation from the markets. However, moving out to 10 years, the current price only supports a 12% rate of return with valuation expansion.
Conclusion
Cisco has transitioned from hyper growth in the late 1990s and early 2000s to a more stable and steady grower today. That transition has allowed Cisco to become a cash cow that generates plenty of excess cash flow year after year. In fact, since initiating a dividend and keeping a hefty share buyback program, Cisco has still managed to generate over $27 B in free cash flow from 2011 through 2016.
It's that excess cash flow that has allowed Cisco to continue to grow the dividend for six consecutive years and likely for years to come. Based on Cisco's brief history, investors can expect a dividend increase to be announced this week, which I expect to see a $0.30 per quarter payout. That would put the dividend yield at a strong 3.8% at current prices.
The current market price appears to be offering a good value should the valuation stay essentially flat over the next five and 10 years. Cisco has struggled to grow the top line over the last four fiscal years, which has led market participants to pay a lower valuation. That's a good thing for investors, though, because the combination of a low valuation, a relatively high dividend yield and plenty of cash flows can lead to outsized returns over the long term.
In the case of the status quo remaining where Cisco struggles to find meaningful growth, the cheap valuation gives the opportunity for solid returns. However, should Cisco return to meaningful growth, that cheap valuation of today will act as a coiled spring and propel returns higher. Cisco might not be able to find that growth through internal projects; however, the $70+ B in cash and short-term investments on the balance sheet could mean Cisco will be on the search for potential acquisitions.
I currently have no position in Cisco Systems, but will be looking to open a short put position this week.
Disclosure: I/we have no positions in any stocks mentioned, but may initiate a long position in CSCO over the next 72 hours.
I wrote this article myself, and it expresses my own opinions. I am not receiving compensation for it (other than from Seeking Alpha). I have no business relationship with any company whose stock is mentioned in this article.
Additional disclosure: I am not a financial professional. Please consult an investment advisor and do your own due diligence prior to investing. Investing involves risks. All thoughts/ideas presented in this article are the opinions of the author and should not be taken as investment advice. I currently have no position in Cisco Systems, but may initiate a long position or a short put position over the next 72 hours.