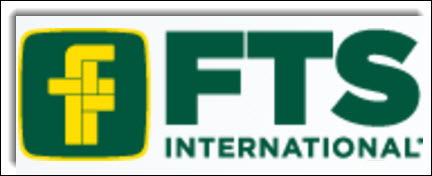 Quick Take
Well completion service provider FTS International (NYSE:FTSI) has filed a new S-1 registration to sell $100 million of its common stock in an IPO.
FTSI has suffered greatly during the dramatic downturn in oil & gas prices and I see no significant catalyst to pricing in the near term, absent a geopolitical crisis.
I'll provide an update when we know more about IPO pricing and details.
Company
Fort Worth, Texas-based FTSI was founded in 2000 originally as Frac Tech Services, a small family-owned business.
The company was sold in April 2011 to a consortium led by Singapore-based Temasek Holdings (70% ownership) and including Chesapeake Energy (30%).
Management is headed by CEO Michael Doss, who joined the firm in January 2014 as SVP - Finance and Treasurer. Mr. Doss was previously VP - Finance of Energy Transfer Partners, a company that operates a portfolio of energy assets in the U.S.
Company COO is Buddy Petersen, who with the firm since June 2015 and previously was COO of GoFrac, an oil & gas stimulation company.
Business
FTSI provides a range of hydraulic fracturing services in the E&P (Exploration & Production) market for oil & gas wells in shale and other unconventional formation environments, including:
Hydraulic fracturing
Wireline services
Reservoir optimization
Below is a brief explainer video about hydraulic fracturing:
(Source: Chesapeake Energy)
The company says it currently has '1.6 million total hydraulic horsepower between 32 fleet systems, of which 20 were active as of January 31, 2017.'
Below is a map which shows the basins FTSI operates and the number of fleets for each basin, as of January 31, 2017: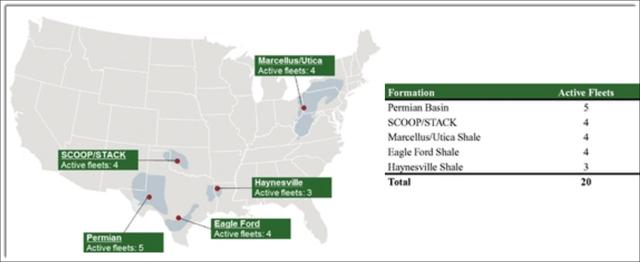 (Source: FTSI S-1)
FTSI's customer base includes large E&P companies such as EP Energy, Devon Energy, EQT Production, EOG Resources and Newfield Exploration Company.
Market and Competition
The market for oil & gas hydraulic fracking services has been characterized by wild swings in demand, generally as a result of gyrating oil prices brought on in part by technological advances of the service itself.
Accordingly, it is difficult to estimate demand for fracking fleet services, even though research groups such as Grand View have forecasted that U.S demand will reach $75 billion by 2024: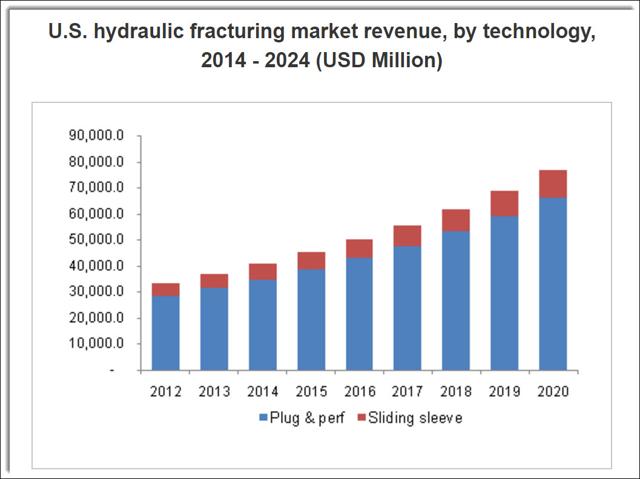 (Source: Grand View Research)
The U.S. hydraulic fracturing services industry is composed of six large providers, of which FTSI is one:
Multinational competitors include:
Notice that all of the above top service providers are public companies.
Management says that it competes on the basis of 24-hour fleet operation vs. competitor 12-hour operation, enabling it to complete jobs faster for customers and increase its profitability per operation.
Financials
FTSI's recent financial results can be summarized as follows:
Significantly reduced revenue due to industry-wide drop in oil & gas prices and resulting drop in drilling activity
Gross margin compression due to volatile rig utilization
Uneven cash flow from operations
Below are the company's operational results for the past four and ¾ years (Audited GAAP for full years):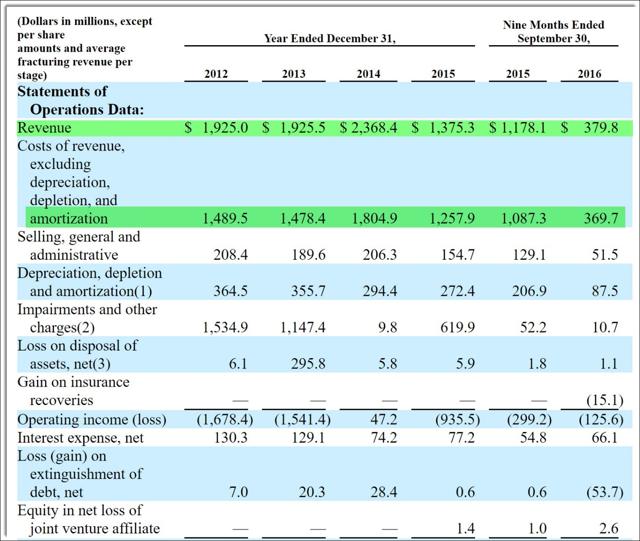 (Source: FTSI S-1)
Revenue
To Q3 2016: $380 million, 68% decrease vs. prior
2015: $1.38 billion, 42% decrease vs. prior
2014: $2.37 billion, 23% increase vs. prior
2013: $1.93 billion, no change vs. prior
2012: $1.93 billion
Gross Margin
To Q3 2016: 2.6%
2015: 8.5%
2014: 23.8%
2013: 22.7%
2012: 22.6%
Cash Flow from Operations
To Q3 2016: $74.1 million cash used in operations
2015: $50.6 million cash flow from operations
As of September 30, 2016, FTSI had $195 million in cash and total liabilities of $1.3 billion.
IPO Details
FTSI intends to raise $100 million in its IPO, but has not provided an expected share price range or proposed post-IPO market cap valuation.
Management said it wants to use the net proceeds to:
repay indebtedness under our term loan due April 16, 2021, or the Term Loan, our 6.250% senior secured notes due May 1, 2022, or the 2022 Notes, and our senior secured floating rate notes due May 1, 2020, or the 2020 Notes.
FTSI also says it intends to use a portion of the IPO net proceeds to reactivate additional fleets throughout 2017 and 2018, as demand indicates.
Management says the total cost to reactivate its dormant fleets will be $44 million.
Commentary
FTSI's financial performance has been hammered hard by the dramatic drop in oil & gas prices after reaching a high in June 2014.
However, despite this, management says the U.S. Energy Information Agency has forecasted that E&P activities in unconventional formations, such as those drilled by FTSI, are expected to increase in 2017 and 2018.
If investors agree and oil & gas prices rise, business for FTSI will improve, resulting in greater profitability.
However, for those investors skeptical that oil & gas prices will rise much before market participants react to add supply, the future doesn't look very promising for FTSI.
Even management believes that oil prices need to stabilize above $50 before E&P companies will even begin to consider increasing activity.
With WTI currently priced at $52.91, the most charitable assertion is that E&P companies are now starting to consider activating their cheapest cost wells.
I'm in the skeptical camp.
As technological capabilities increase the recoverability of previously shuttered wells, the effect is to increase reserves and potential market supply.
Also, alternative forms of energy continue to make inroads into industrial energy use.
The sheer amount of overcapacity is, as one executive termed it, "Hell".
In 2016, Plains All American Pipeline CEO Greg Armstrong said, "Every basin is currently overbuilt or will be overbuilt," due to finishing work already in progress.
Although we don't yet know the proposed share price and range and post-IPO market cap expectations, my view of FTSI's near future prospects is not positive.
I write about technology IPOs, follow-ons, secondaries, and M&A deals. If you want to receive future articles automatically, click the +Follow link next to my name at the top of this article.
Disclosure: I/we have no positions in any stocks mentioned, and no plans to initiate any positions within the next 72 hours.
I wrote this article myself, and it expresses my own opinions. I am not receiving compensation for it (other than from Seeking Alpha). I have no business relationship with any company whose stock is mentioned in this article.