After a monumental election night turn-around, shares have rallied and then stalled, basically on a sort of good-Trump, bad-Trump meme.
The good-Trump is the one that embarks on market friendly policies like tax cuts and deregulation, while the bad-Trump tends to periodically spoil the party with threats of protectionism.
But last week, Trump let it be known that some sort of big tax program is in the works and we will see the contours of this in a couple of weeks time. The markets took off again, we wonder whether this is justified.
It is somewhat difficult to say whilst nobody knows the details of Trump's tax plans, but some ambitions have clearly been stated so we're not entirely working in a vacuum, so we assume that the tax cuts are mainly favoring corporations and the better off.
After all, this is much of the Republican agenda in general, and those of Trump's economic advisers like Larry Kudlow in particular. Talked about is a rate reduction from the present 35% to perhaps 20% or even 15%, although the latter seems unlikely to us.
First off, there is clearly a one-off benefit for shares from a substantial cut in the corporate income tax, as after-tax corporate income will get a one-off boost.
According to supply-siders, such tax cuts will provide incentives to boost investment, as well as the funds to finance these. This remains very much to be seen.
There might very well be an accompanying reduction in deductibles and other tax loopholes, which could blunt the financial impact of the rate reduction.
Companies weren't exactly lacking funds to invest, corporate cash holdings were sky high, and corporations were benefiting from record low interest rates to leverage up: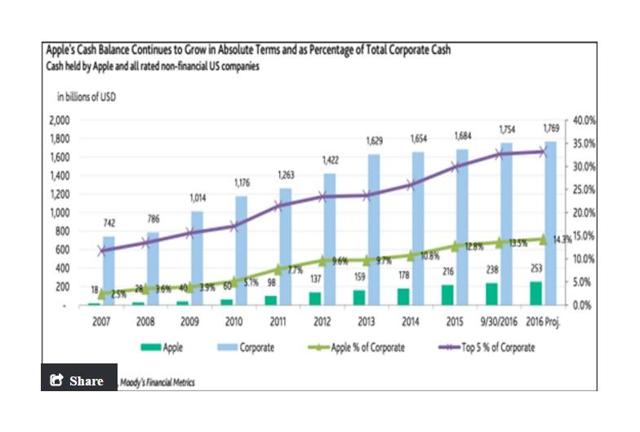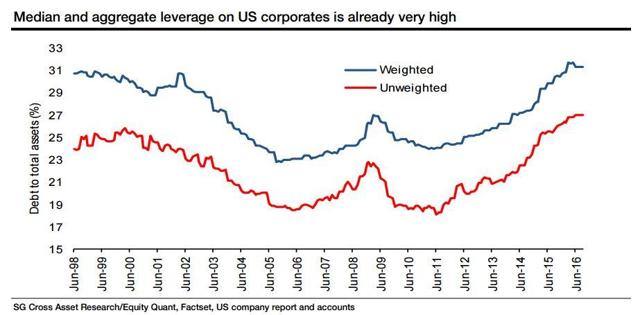 Given record corporate profitability, they weren't lacking incentives either. But basically, companies mostly chose to invest in other stuff, like stock buybacks and dividends, together absorbing some 90% of corporate earnings.
In fact, one could even argue that corporations were leveraging up in order to buy back their own shares: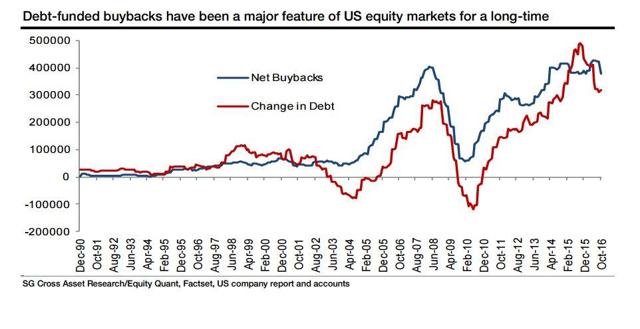 Why would companies change this behavior after a big tax cut? Well, here is Goldman Sachs (from MarketWatch):
S&P 500 companies will spend about $780 billion on share buybacks in 2017, marking a 30% rise from 2016, buoyed by corporate tax reform and the repatriation of cash from overseas, Goldman Sachs said Monday. Buybacks will account for the greatest share of cash use by S&P 500 companies for just the second time in 20 years, analysts wrote in a note. They are expecting companies to spend a total of $2.6 trillion next year, with 52% going to investing for growth, in the form of capital spending, research & development and mergers and acquisitions. The remaining 48% will go to shareholder awards, in the form of share buybacks and dividends... Goldman is expecting companies to increase the amount spent investing for growth by 6% to $1.3 trillion, but will increase cash returned to shareholders by 19% to $1.2 trillion.
An earlier tax holiday in 2004 in a similar effort to boost domestic investment didn't result in much added investment, according to Bill Gross. Here is MarketWatch again:
However, a report from the Democratic staff of the Senate Permanent Subcommittee on Investigations published in October 2011 found that many companies used the money for share buybacks and to boost executive pay. The top 15 beneficiaries actually cut more than 20,000 jobs and slowed the pace of spending on research, the survey found.
Neither is the experience in states that slashed taxes in order to stimulate investment and economic growth particularly encouraging. No investment or growth spurt in places like Kansas or Wisconsin, which led Bloomberg to conclude:
So the big conclusion here is that free-market policy reforms just don't seem to have a huge impact. Along every dimension of comparison, the two free-market states look similar to their more interventionist neighbors. A reasonable hypothesis is that tax rates, anti-union laws and other state-level economic policies just aren't nearly as powerful or important as people in the political arena make them out to be.
But what these policies generally did manage to achieve was to blow a hole into public finances. This could very well happen at the national level, after all, that's what happened in the 1980s (while not lifting investment, despite having tailwinds of a dramatic fall in interest rates).
Possible negatives
How the public finance effects of the tax cuts are dealt with will in no small part determine their overall macro-economic impact. The obvious idea, favored by many Republicans, is to embark on considerable declines in public spending.
The per dollar impact of most of these are likely to be larger, possibly substantially so as this directly leads to lower demand dollar for dollar (whilst a substantial part of tax cuts are saved).
However, during the campaign, Trump has indicated that he isn't in favor of cutting Medicaid nor Social Security, and what happens to the ACA remains to be seen. So there might not be all that much decline in public spending.
Another idea that has been included into Republican, but not (yet?) in Trump's plan is the so called border tax. This will roughly function as a 20% tax on imports (providing corporate income tax rates are reduced to that level) and a 20% subsidy on exports.
It's an interesting idea for two reasons. It appeals to Trump's trade agenda as it makes locating production facilities in the US more attractive. It also provides for substantial tax revenues, which could amount to $1.2 trillion over 10 years.
However, this idea is not without problems:
It's likely to raise US inflation.
It's likely to raise the value of the US dollar, negating some of the impact on trade (according to Martin Feldstein the rise in the dollar would even completely offset the benefits, although perhaps not immediately).
There could be substantial disruptions to existing international supply chains.
It's almost certainly a protectionist measure and in violation of WTO rules.
As such, it's liable to provoke countermeasures by trade partners.
Gavyn Davies cites one study describing its possible impact:
It cannot be assumed that the effects would be beneficial. Recent estimates by Michael Gapen and Rob Martin at Barclays Capital suggest that the first year effects would be to raise US inflation by about 0.5-1 per cent, and to reduce real GDP by 1.0-1.5 per cent.
So indeed, we cannot assume this is a good idea.
On the whole, it's quite remarkable that Goldman Sachs has now turned net negative on Trump's reflation efforts, especially considering the number of Goldman Sachs high flyers in the Administration.
Conclusion
We think that the policy goals of reviving business investment and economic growth are lofty. However, on basically all available evidence, big tax cuts are much less of a big deal in order to achieve these aims than its proponents claim.
Big tax cuts in the past haven't really done much in terms of boosting business investment nor economic growth and while we don't exclude a mild uptick in investment, there is little to suggest this time will be different.
Where big tax cuts have produced notable results is in the realm of public finances, creating often substantial deficits. How policy makers react to these (a border tax to make up the lost income, slashing public spending) might actually produce bigger effects on the economy compared to the tax cuts themselves, and here the news is less reassuring, from a macro-economic perspective.
Considering the renewed party going on in the equity markets, whilst this could continue for a while, we think reality will set in at some time even if other risks stay muted.
Disclosure: I/we have no positions in any stocks mentioned, and no plans to initiate any positions within the next 72 hours.
I wrote this article myself, and it expresses my own opinions. I am not receiving compensation for it (other than from Seeking Alpha). I have no business relationship with any company whose stock is mentioned in this article.