Back last August, my research highlighted how CyberArk (NASDAQ:CYBR) was generating solid results yet the stock wasn't likely to rally. The cybersecurity specialists again reported another quarterly beat for Q4 and the stock is virtually flat in that period.
The stock trades around $53 now. The question is whether the quarterly results and guidance are enough to support a breakout of CyberArk?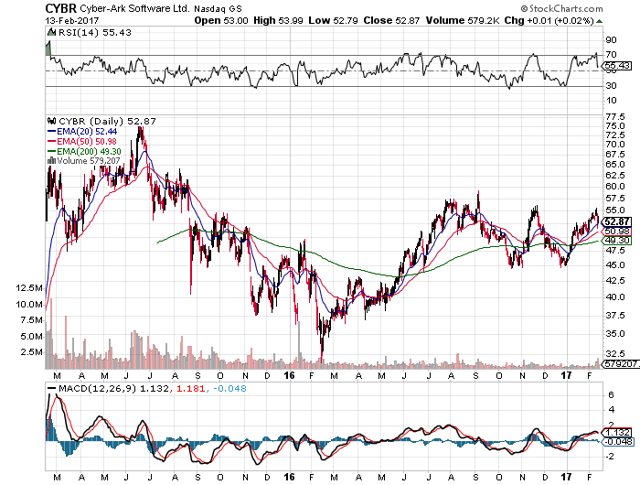 As pointed out in the last article, the issue with decelerating revenue growth was a big headwind. The latest quarter had revenue growth down to 25% and a forecast for a further dip to possibly only 22% for Q1.
The key to the investment thesis is that the massive deceleration from quarterly growth still above 70% in early 2015 made investing difficult. A more sustainable growth level now makes investors more willing to make long-term bets.
The sector is appealing as state-sponsored cyber attacks continue mostly unabated. Google (NASDAQ:GOOG) (NASDAQ:GOOGL) just warned journalists that they were under attack from places like Russia, while President Trump has shown the cybersecurity sector as a place for investment during his term.
Favorable sector trends plus stable growth provide a solid investment thesis. The only real question is valuation. The main reason CyberArk didn't surge after Q4 results was the combination of a premium valuation and the typical weak guidance that holds back the stock.
The company guided to a 2017 EPS of $1.20 to $1.24, some $0.10 below analyst estimates. CyberArk originally guided to 2016 EPS of $0.83 to $0.86 and ended up earning $1.26.
The company has a history of lowballing guidance partially due to some original fears that cybersecurity breaches pulled revenues forward back in 2015. Despite that no longer being the fear, Q4 guidance a few months ago was for CyberArk only earning up to $0.33 and the company actually earned $0.41 per share.
The real issue is the valuation that now stands at $1.9 billion, based on the 36.4 million shares listed outstanding for 2017. Even considering the $250 million cash balance, CyberArk has an enterprise value of $1.67 billion.
The stock trades at an EV of roughly 6x revenue guidance and 35x my estimate that CyberArk will conservatively earn $1.50 per share in 2017. Neither value is cheap, but mostly in line with the growth potential here.
In comparison to other sector plays like Imperva (NYSE:IMPV) and Palo Alto Networks (NYSE:PANW), CyberArk is valued roughly at the mid-point of the group. Palo Alto expects faster growth and Imperva slower growth, so one can argue these valuations are logical.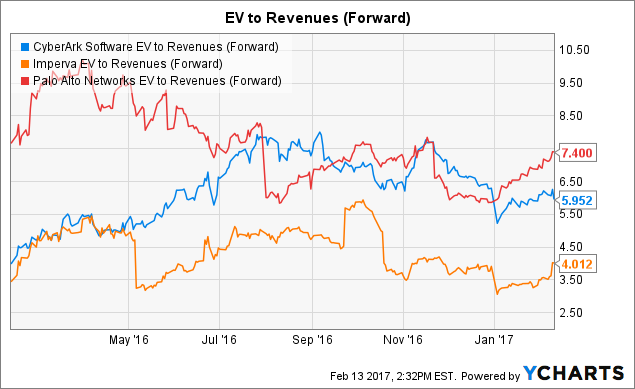 CYBR EV to Revenues (Forward) data by YCharts
The key investor takeaway is that CyberArk is now fairly valued for a license based software company with predictable growth and cash flows. Without the premium valuation based off unsustainable growth in the past, an investor can now own the stock with reasonable return expectations. The stock even provides upside if the sector returns to a period of accelerated growth due to higher risks of cyber threats.
Disclosure: I/we have no positions in any stocks mentioned, and no plans to initiate any positions within the next 72 hours.
I wrote this article myself, and it expresses my own opinions. I am not receiving compensation for it (other than from Seeking Alpha). I have no business relationship with any company whose stock is mentioned in this article.
Additional disclosure: The information contained herein is for informational purposes only. Nothing in this article should be taken as a solicitation to purchase or sell securities. Before buying or selling any stock you should do your own research and reach your own conclusion or consult a financial advisor. Investing includes risks, including loss of principal.