VirTra (OTCQX:VTSI), is the rare microcap that possesses both positive earnings and explosive growth potential. The present condition of the company is the result of over a decade of work in the field of firearm training systems while its future may be tied to, of all things, a restaurant concept.
Originally founded as a general virtual reality company, VirTra pivoted to become strictly a tool for military and law enforcement. The business's main product line consists of immersive scenario simulators such as the V-300 which can present multi-branched high fidelity scenarios with stress inducing electric belt shocks and authentic firearm kickback. The goal is not so much to train officers and soldiers to shoot more accurately but instead to refine their split second decisions regarding when to shoot at all.
First hand accounts of the technology testify to its effectiveness. Quite simply, it's about as realistic an experience an officer or soldier can encounter outside of the real thing.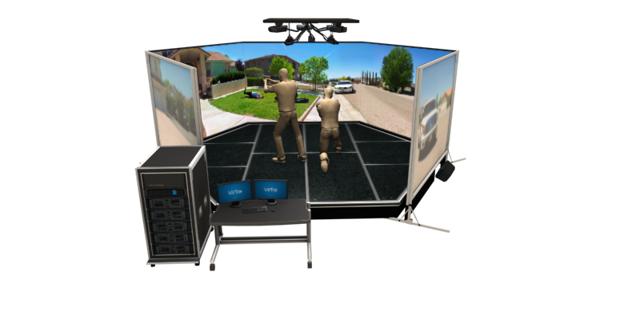 This authenticity is critical. As past high profile shootings have proven, deciding when to pull the trigger can mean the difference between life and death for both officer and suspect.
VirTra's solution is well positioned to take advantage of the contrasting factions perpetuating endless debate over these incidents. President Trump ran on a platform of law and order and has unwaveringly supported this nation's police officers. Similarly, attorney general Jeff Sessions believes that there is a dangerous trend in crime. This shines a spotlight on police departments and puts them in a position to increase budgets. At the same time, the last thing opponents of the president want to see is the continued militarization of local squadrons.
Providing better training is uniquely qualified to quell the concerns of both sides. Budgets can still increase and be applied in a way that protects officers and the public, but through training rather than show of force.
The trend is confirmed by the company, "In the last six to eight months, there's been a lot of push for requests for de-escalation type training," said Scott Dilullo from Virtra. Dilullo is a former Marine, and retired from the Scottsdale Police Department after 20 years. "De-escalation doesn't just come from verbal skills, it comes from reactionary gaps from your tactics. How close you're getting, where you're positioning yourself."
Dilullo's quote is promising for the company since much of this new push is probably not reflected in current financials whose trailing twelve month earnings already generate a P/E in the low twenties. Profitability is not a one year anomaly from a big contract either. 2014 and 2015 saw the company generate profits of 1.26 million and 1.53 million, respectively.
To be fair, the company does carry risk from having a limited customer base. According to the 2015 annual report, 36.9% of net sales that year were related to a single federal agency. A shift to a competitor would be a major blow for the company. These challengers include Cubic Defense Systems, part of Cubic Corporation (NYSE:CUB), and Meggit (GBX: MGGT) both much larger companies.
However, VirTra received a crucial vote of confidence recently in the form of follow on contracts from both the US Department of State and the US Department of Homeland Security. It's one thing for government agencies to give technology a shot, but coming back for more is a testament to its effectiveness and provides a margin of comfort that the narrow customer base should be somewhat resistant to erosion.
The market responded in kind, pushing shares from just over two dollars to a full three in a few days time. Since then, price has settled down to the $2.30 - 2.40 range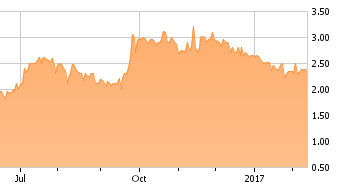 Looking solely at its core business, VirTra is a profitable business in a favorable political climate that has $5 million in cash, no long term debt, and a valuation that looks very reasonable. But there is one additional element that makes this especially attractive for investment.
In January 2015, VirTra entered into a co-venture agreement with a company called Modern Round. The firm, headed by a former Smith&Wesson chairman, aspires to open restaurants that are part upscale eatery part shooting range.
From the very first press release, the comparison the Modern Round and VirTra are pitching to the investment community is to Topgolf, writing, "In many ways, this first of its kind experience will be similar to the growing number of simulated golf ranges, with one key difference being that Modern Round does not require as large of a facility or as much land."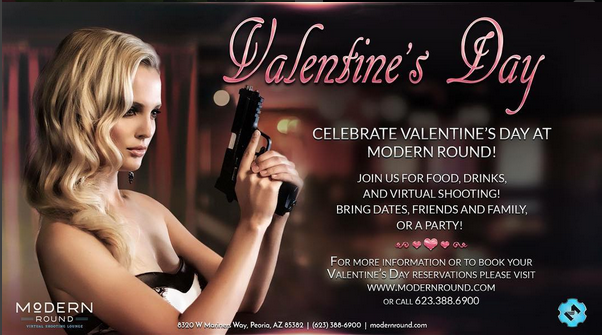 Frankly, I wasn't expecting the most glowing reviews when I went to Yelp to see how the flagship restaurant was doing, so I was surprised to see Peoria Arizona edition of Modern Round, sporting a very respectable 3.7 out of 5.
Internally, the numbers must look strong as well because three restaurants have been scheduled for roll out in Dallas, San Antonio, and Las Vegas. Additionally, VirTra has moved quickly to exercise their ownership option, "On October 20, 2016, the Company exercised its warrant option and purchased 1.7 million shares of stock of Modern Round Entertainment Corporation for approximately $335,000, resulting in the Company's aggregate holdings of Modern Round to be 3.4 million shares, or 8.9% of its current issued and outstanding common shares." This ownership stake is in addition to an ongoing royalty stream.
Forbes recently covered Modern Round, first making the inevitable the Topgolf reference, then noting, "[Modern Round] says 65% of its revenue at its current location comes from food sales and the remainder is from the [shooting] fees." The Financial Times reports that the split at Topgolf is more like fifty-fifty, which presumably boosts their margins since they are less reliant on food, but both companies list their price to play as $25-45 per hour.
The reason that the Topgolf comparison is important is that it just received a $300 million investment at a valuation believed to be close to $2 billion. Now, for some perspective, Modern Round currently has a single restaurant and even with all locations set to open in the mix that only moves the total to four.
Additionally, guns are not golf. Golf has both international and family friendly appeal that shooting does not. Children under twelve are not even able to participate no matter if a cartoonish looking scenario is chosen. Furthermore, the concept would probably be met with protests were it try to move into the northeast.
All caveats noted though, the market cap of VirTra currently stands at less than forty million. And that's not forty million to cross your fingers and hope that Modern Round takes off. It's forty million for a company earning a few million per year already that just happens to have a stake in what could become a trendy restaurant concept in a large portion of the United States.
In short, VirTra is just the type of stock that the investment community should consider pulling the trigger on.
Disclosure: I/we have no positions in any stocks mentioned, and no plans to initiate any positions within the next 72 hours.
I wrote this article myself, and it expresses my own opinions. I am not receiving compensation for it (other than from Seeking Alpha). I have no business relationship with any company whose stock is mentioned in this article.
Editor's Note: This article covers one or more stocks trading at less than $1 per share and/or with less than a $100 million market cap. Please be aware of the risks associated with these stocks.