It was pretty much to everybody's surprise when Bob Iger, Disney's (NYSE:DIS) CEO, announced during the May 10, 2016, earnings call that they were pulling the plug on Infinity.
This is how he explained this abrupt decision:
"We thought we had a really good opportunity to launch our own product in that space. I realize it was console space, but it was also -- essentially a large component of it was the toys -- they call it toys to life space -- the toys to life business. And, in fact, we did quite well with the first iteration of it, and we did okay with the second iteration. But that business is a changing business, and we did not have enough confidence in the business in terms of it being stable enough to stay in it from a self-publishing perspective".
When you see such obfuscation then you know that there are in all probability some important unspoken reasons for this decision. Buyers speculate that it came down to a fight between two ideological factions within Disney - those that proposed building an own toy business versus those that wanted the company to keep on licensing off its IPs. The latter won.
However, Mr. Iger's statement immediately led to speculation that the Toys To Life product concept had had its chips and that it was only a matter of time until it would totally disappear. This belief was further strengthened by the October NPD report suggesting that the Toys To Life genre had finally collapsed given that the new Skylanders (NASDAQ:ATVI) had only sold a tiny $66,000 and were down 41%.
Collapsed? Perhaps we should look at what the numbers say: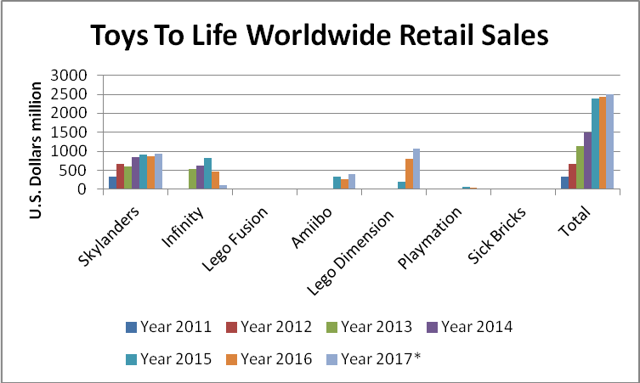 Source: Klosters Retailer Panel
2016 numbers reflect sell-through data generated by the Klosters Retailer Panel backed up by national buyer comments from major retailers on all Continents. 2017 numbers reflect the expectations for the year by the same national buyers.
In other words, whilst sales clearly slowed down in 2016, you can hardly call this a "collapse". Also, when looking at the chart, remember that the bars reflect retail sales in U.S. dollars. These are significantly deflated by the heavy clearance discounts retailers instituted since June last year to clear out Infinity inventories. Growth in units in 2016 was very much higher.
The impact of the Infinity withdrawal, and of the ensuing price cuts, was much greater in the U.S. since this was Infinity's main market in the first place. Here the chart looks slightly different: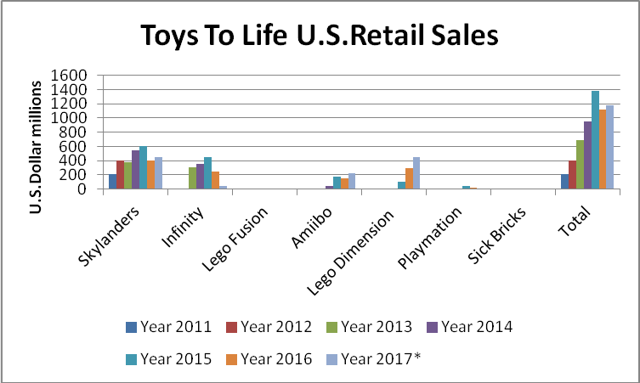 Source: Klosters Retailer Panel
Clearly, the Skylanders took a hammering and this is also borne out by the various retail market share readings undertaken by the Klosters Retailer Panel: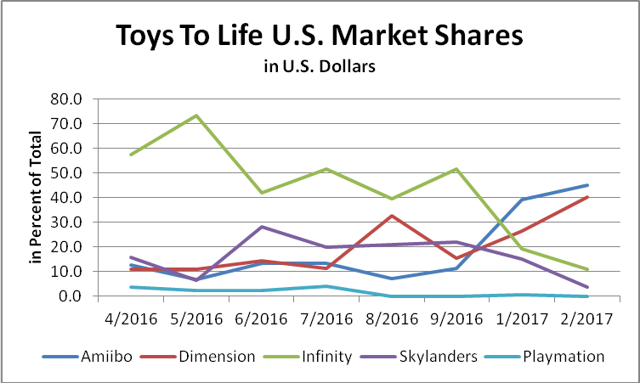 Source: Klosters Retailer Panel
Infinity's market share of 11% shown in the chart above is misleading in that it represents a Dollar position severely deflated by clearance discounts - TRU buy 1 get 2 free; Wal-Mart (NYSE:WMT) down 2/3 and the same for Amazon. In terms of unit market shares, Infinity is still at a pretty respectable 27% (which also tells you just how much Disney loaded the trade before bowing out]. Incidentally, whilst Target (NYSE:T) has not discounted Infinity, they did drop it from their shelves.
Social Media metrics also show a rapid decline of consumer interest in Infinity and a trend towards both Lego Dimensions and the Skylanders:

Source: Tickertags.com
Another metric worth looking at is that of shelf space given to the Toys To Life category by Wal-Mart, Target and ToysRUs: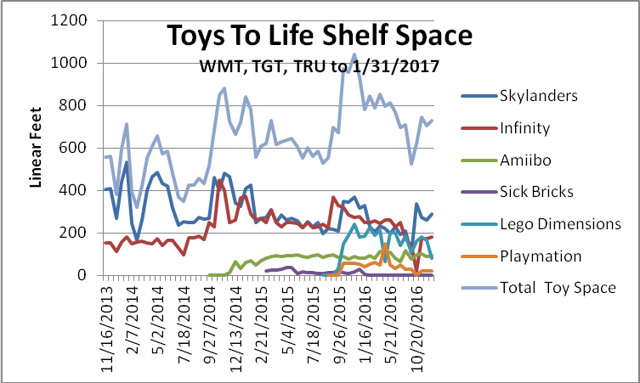 Source: Klosters Retailer Panel
Equally instructive is to look at what these three retailers did at identical points in time:
1/26/14

1/23/15

1/30/16

1/31/17

Skylanders

533

424

228

288

Infinity

180

288

248

179

Amiibo

68

92

94

Sick Bricks

0

0

Lego Dimensions

224

80

Playmation

52

20

Total

713

780

844

728
Source: Klosters Retailer Panel
This tells you two things. One is that Toys To Life have not collapsed if shelf space is anything to go by. These three retailers are not really known for their merciful compassion towards failing brands and the fact that they continue to give the category the same amount of shelf space as they did before the withdrawal of Infinity tells you something. The second is that the Skylanders continue to have the largest percentage of shelf space which suggests that the brand has too much inventory but is not, in the absence of really massive discounting, on the way out. Yes, there is some discounting of the Skylanders going on but it is virtually totally limited to the Trap Team and the Super Chargers released in 2014 and 2015. In other words, the retailers are cleaning out old merchandise.
So, what is the outlook for the category this year?
Activision is not packing up. Firstly, they will launch the Imaginators on Nintendo Switch in March. Further out, they intend to do two things - strengthen the Imaginators range with new characters and new content and support it with a follow-up of the Skylanders Academy middle of this year. Also, we can expect a new Skylanders mobile game come this Fall. In other words, Activision is not about to give up on one of their top money spinners even though the company has hit a rough spot of late. Also of interest is the fact that they are bringing Tim Kilpin on board to head off their newly formed Consumer Products Division. As a toy veteran and coming from Disney and Mattel he is likely to see the Skylanders as the core of any retail product development.
Lego, too, is charging ahead. Supported by the Lego movie which opened on February 10 with a very strong box office performance, the company has released a range of Batman Movie mini figures, the so-called Wave 7.5, which already has begun to move well. The next release, that of Wave 8, will take place in May. Buyers also tell me that they expect to a significant product action from Lego in September or October. So, Lego, too, is not throwing in the towel.
Amiibo (OTCPK:NTDOY) problems were to a large extent tied to its dependence on the ill-fated WII U. and the company believes that the forthcoming release of the Nintendo Switch will change the equation for the better. The buyers expect the Switch to be very strong in 2017 and this will benefit Amiibo. Over the long term, the buyers are more cautious in that they believe that the success or failure of the Switch will depend to a major degree on third-party content support which in turn will affect Amiibo. They expect the machine to sell worldwide 40 million units between March 2017 and end of December 2020 which compares with 15 million units for the WII U between end of December 2012 and end of last year. However, Amiibo continues to be at a disadvantage compared to the Skylanders and Lego Dimension in that the range is (at least so far) limited to Nintendo consoles whereas its two competitors are playable on Playstation and Xbox as well as on the Switch and the DS.
In any event, Amiibo continues to release new games this year - Legend of Zelda's Breath of the Wild on 3/3; complete the Super Smash Bros lineup including Bayoneta and Cloud; and to introduce Box Boy.
Disney Infinity will discontinue all online services of the game on March 3, 2017. There is still a fair amount of inventory lying around at retail and this will keep the line going throughout the year, albeit at vastly discounted price levels and sharply declining sell-through.
Final take-away? One is that the Toys To Life category is not going quietly into the night. The second is that the category has matured after years of dizzying growth and is now much more in tune with the toy market overall. The third is that the three main players - the Skylanders, Lego Dimension and Amiibo - will stay in the game and that the real fight for dominance will be between the Skylanders and Lego.
Disclosure: I/we have no positions in any stocks mentioned, and no plans to initiate any positions within the next 72 hours.
I wrote this article myself, and it expresses my own opinions. I am not receiving compensation for it (other than from Seeking Alpha). I have no business relationship with any company whose stock is mentioned in this article.
Editor's Note: This article discusses one or more securities that do not trade on a major U.S. exchange. Please be aware of the risks associated with these stocks.