TFS Corporation (OTCPK:TFSCF)
Featured In: July 2015
Partnership Average Cost per Share: AU$1.86
Current Market Price (February 9, 2017): AU$1.53
TFS Corporation was our featured investment in July 2015. The company remains our largest forestry holding. TFS shares have been range bound between AU$1-$2 for well over two years, despite continued progress from the company. I still believe that we will see a dramatic re-rating of TFS's share price over the coming 3-5 years to better reflect the company's dominant position in the global sandalwood trade and the value of fully-owned subsidiary Santalis Pharmaceuticals. Shareholders get to collect a ~2% dividend yield as we wait.
It was a busy second half of 2016 for the company, with the following noteworthy developments:
1. The company completed its third annual harvest in late August. Around 32,000 sandalwood trees were harvested, producing 310 tonnes of heartwood - the valuable oil-bearing portion of the tree. This is a 10x increase over last year's production. The company's Primary Processing Center, which operated around the clock during harvest season, is pictured below.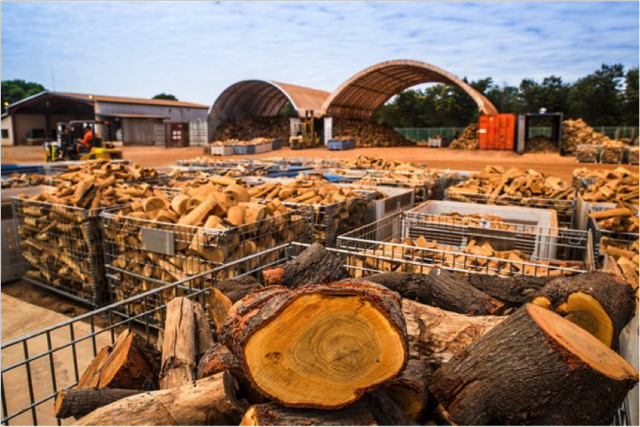 2. On Sept 27th, the company announced its first sandalwood shipments to China under the recently announced five-year, 150 tonnes per annum supply agreement. Additional shipments occurred on a monthly basis throughout the remainder of 2016. China is expected to consume roughly 40% of all legal Indian sandalwood by 2025.
3. A top tier global management consultancy completed a market study concluding that TFS will control 80% of the legal Indian sandalwood market by 2030. Indian sandalwood takes 15 years to grow and any trees not yet planted cannot be ready for harvest by 2030. This study took inventory of all current sandalwood plantations in India, China, and Australia, and determined that TFS's market share is set to dramatically increase over the next fifteen years.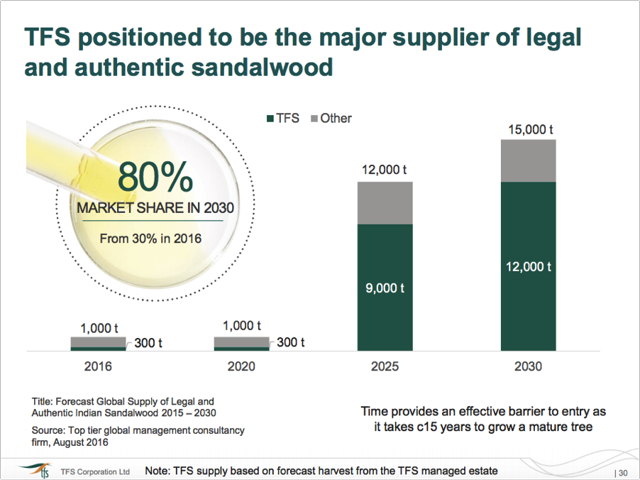 4. Finally, TFS announced a AU$50m contract to sell sandalwood oil to US-based Young Living, the largest essential oils company in the world. This is one of the largest contracts that TFS has signed to date, but more importantly, the contract sales price is AU$6000 per kilogram- 15% higher than the company's 2016 average sales price of AU$5202. As seen in the below chart, Indian sandalwood has seen twenty five years of consistent price increases. This extraordinary bull market shows no sign of slowing down.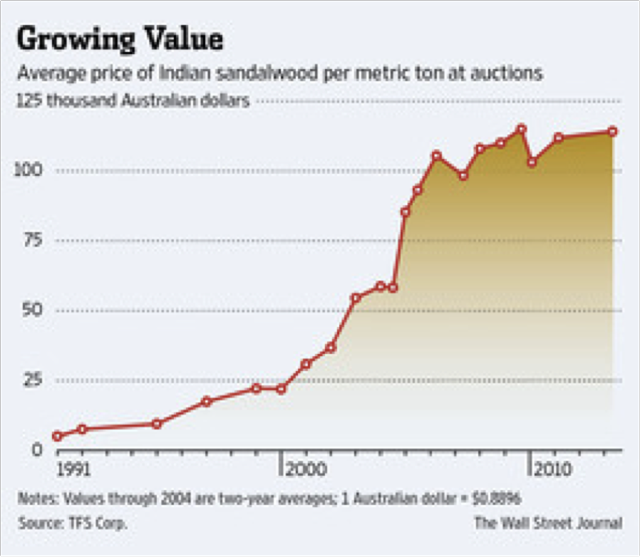 TFS values its biological assets at AU$614m using current sandalwood prices. This compares to a market capitalization of AU$599m. Based on this valuation, the market is implying the following: (1) there will be no further increases to the price of Indian sandalwood, (2) TFS's dominant position in the sandalwood market does not deserve a premium valuation, and (3) the value of the company's fully owned subsidiary Santalis Pharmaceuticals is effectively zero.
Unsurprisingly, I disagree with all three of the above points. Further increases in the price of Indian sandalwood is very likely to continue - due to strong demand from new sandalwood markets (pharmaceuticals and cosmetics) and the fact that aside from TFS, there will be very few sources of legal sandalwood for at least fifteen years.
Additionally, TFS deserves a premium valuation as they are set to become the undisputed market leader over the coming decades. Finally, one could make the argument that Santalis Pharmaceuticals alone is worth between AU$400-650m based on comparable biotech companies. Further information can be found in this presentation, which was just published within the past four weeks.
For those with longer-term time horizons, TFS shares offer compelling upside with minimal risk. The market clearly doubts the credibility of TFS's core plantation ownership/management business, and doesn't believe that Santalis Pharmaceuticals will create value. The market will be proven wrong, but it won't happen overnight. The company will be rebranding as Qunitis within the next few months, which might draw increased attention to the name. TFS shares below AU$2 are a steal.
Disclosure: I am/we are long TFSCF.
I wrote this article myself, and it expresses my own opinions. I am not receiving compensation for it (other than from Seeking Alpha). I have no business relationship with any company whose stock is mentioned in this article.
Editor's Note: This article discusses one or more securities that do not trade on a major U.S. exchange. Please be aware of the risks associated with these stocks.