Shares of Taser (TASR) have rallied more than 15% since our call to buy the stock back in mid-December. Although the stock has breached our critical $27 fair value level, recent developments in the law enforcement market have urged us to raise our fair value estimate to $29 per share. We acknowledge that there is more risk at these levels now, but also feel the Q4 ER is a potential catalyst on the horizon which could shoot shares up to our $29 fair value. We remain largely long the name.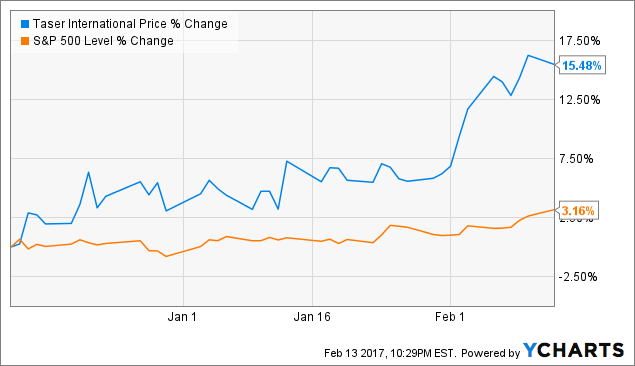 A lot has happened since our last update article before Christmas 2016, all of which underscore the company's long-term growth story as providing a necessary technological advancement for the law enforcement world.
On the smart weapons side, domestic adoption has only accelerated. The Georgia Department of Public Safety deployed 800 smart weapons in the first quarter of 2017 while the US Air Force purchased 1,345 smart weapons in Q1. The body camera business has also experienced some great momentum in the United States recently. Police departments from Virginia to Florida to Utah ordered body cameras in the fourth quarter of 2016, with particularly large orders coming from the Chesterfield County Police Department in Virginia (450 Flex 2 cameras) and the Chattanooga Police Department in Tennessee (360 Axon Body 2 cameras). It is also notable that every order was accompanied by an Evidence.com subscription, underscoring Taser's value-add in providing a digital evidence management solution.
Internationally, the growth story is also strengthening, as Taser won a contract in the fourth quarter of 2016 to supply Warwickshire Police and West Mercia Police forces (both United Kingdom) with 2,200 Axon Body 2 cameras and nearly 200 Axon Flex 2 cameras. Those orders were also accompanied by Evidence.com subscriptions. Meanwhile, Australian and New Zealand police agencies deployed nearly 2,600 smart weapons in Q4. Investors should remember that the same catalysts driving Taser's growth in the US (increased police-related violence) are also driving international growth (police brutality in the UK, police brutality in New Zealand, police shootings in Australia, hate crimes following Brexit, a police preference for Tasers, etc).
From all vantage points, the growth story keeps gaining more traction. Smart weapon adoption is accelerating across all ranks of law enforcement and public safety, body camera adoption is turning into a wide-spread trend across all geographies in the US, all body camera customers are also ordering the accompanying cloud solution, and the international growth trajectory looks as promising as ever. The company is also making moves into AI by utilizing video analytic technology to streamline the process of gleaning actionable information from video records. This is a significant cross-selling opportunity which should boost average revenue per customer.
The stock's 15% gain since mid-December is well founded, but investors should realize that there is more risk at these levels. We initially told investors to watch the $27 level as we felt that was fair value under the assumption that the company could tap into 25% of global Axon TAM and grow its weapons business to $300m in annual revenue at maturity. These are conservative assumptions, so we think it is smart to lessen exposure at these levels.
That said, recent developments have forced us to revisit our fair value. With body camera and Evidence.com adoption gaining significant traction globally, we think Taser's long-term penetration will be closer to 30% of its $2B TAM. On the weapons side, we think that business looks more like $350m in annual revenues at maturity. There will also be presumably a third ARR stream from Axon AI, although we are not sure how much revenue that could generate or how long it will take to scale. Ignoring Axon AI, we think Taser can realistically achieve growth on the operating profit line north of 20% per year over the next 10 years to get to around $260m in 2025 (vs $220m prior). We now think shares have upside to $29 per share.
We also think the stock could get to that $29 level fairly soon. Q4 earnings are due out soon, and as we illustrated earlier, all signs point to a strong quarter. This stock has historically reacted strongly to ERs, so we think a good Q4 report in a couple weeks could bounce this stock back to re-test its Summer 2016 highs around $29 per share.
Disclosure: I am/we are long TASR.
I wrote this article myself, and it expresses my own opinions. I am not receiving compensation for it (other than from Seeking Alpha). I have no business relationship with any company whose stock is mentioned in this article.