Well, it's the same old story.
Everyone was waiting on OPEC's monthly report to find out how the production cuts are coming along because you know, those cuts are going to bring global supply and demand back into balance and help usher in a sustained period of higher crude prices (NYSEARCA:USO). Or something.
A few days ago, I spent what was probably an inordinate amount of time explaining, for the umpteenth time, why the OPEC centric oil bull thesis is fundamentally flawed. Basically, I wrote the piece so I could use it as a reference point later. That is, I wanted to be able to refer readers back to it so I wouldn't have to keep explaining why a sustained rally in crude prices should be impossible (I say "should be" because God knows markets are prone to mispricing things). So, for those in need of a comprehensive refresher, I humbly refer you to "Oil's New Bull Thesis: 'The Story Is Not As Dismal As Yesterday.'"
Needless to say, the ramping we've seen in US production and the attendant resurgence of equity offerings from American energy companies ($6.4 billion in January alone) suggest that at this point, OPEC cuts are simply being offset by new supply. To wit, from Bloomberg's Tracy Alloway: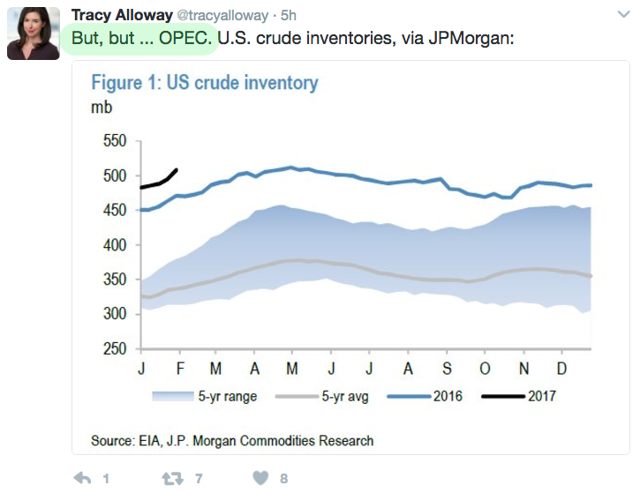 "You have to balance what OPEC can achieve in the next six months versus increases in production elsewhere that dilute the effects of those cuts," Harry Tchilinguirian, head of commodity markets strategy at BNP Paribas told Bloomberg on Monday.
You know Harry, I think you're onto something there.
Have a look at the following chart that shows you how quickly the market is fading OPEC cut news these days:

"WTI falls for the first time in four sessions on concerns about rising global supplies [as] U.S. output seen climbing even as countries like Saudi Arabia cut monthly production by most in more than 8 years," Bloomberg wrote, following the report, before reminding us that "U.S. drillers increased the number of oil rigs to highest level since October 2015, Baker Hughes data showed Friday [while] DOE data last week showed U.S. production rose to highest since April 2016."
As I quipped last week, "the supply/demand picture is looking a bit supply-ish" these days.
If you really want a laugh (and this is an example of the narrative fallacy I've talked about previously) have a look at the following "analysis" from Reuters:
Oil prices fell on Monday in response to growing evidence that U.S. production is rising, but losses were capped by official OPEC production figures showing initial compliance with its landmark production reduction deal was as high as 93 percent.
Obviously the exact opposite is the case. That is, it should read as follows: "oil rose on Monday but strength was capped by growing evidence that U.S. production is rising."
Anyway, if you want some further perspective on the outlook, consider the following excerpts from a BofAML note out Monday morning (my highlights):
The U.S. election in November marked a turning point for global markets on the back of a dramatic shift in growth and inflation expectations. Rising inflation expectations have played an important role in driving rates higher since the start of the year (Chart 1), as trade and immigration policies have come to the fore. More recently, inflation forwards have fallen modestly as investors are starting to wonder whether even higher inflation is on the cards. After all, headline inflation has been trending higher for more than nine months now, helped by bottoming oil and commodity prices (Chart 2), and should soon reverse.

While rising spot oil prices have definitely contributed to rising headline inflation and, arguably, to higher inflation expectations, the back end of the Brent crude oil curve has not run up in sympathy. In fact, just as spot oil prices rose in recent months helped by OPEC cuts, long-dated oil prices have been falling steadily (Chart 3). The drop, in our view, has partly been driven by a dramatic productivity revolution in shale oil drilling and production economics (Chart 4). So even if spot oil prices keep rallying to $70/bbl by the summer in response to OPEC cuts as we expect, it is likely that long dated oil prices will keep falling as producers continue to lock in attractive rates of return for 2018 and beyond. No surprises there, perhaps, as technology has been a major deflationary force for many years in most markets.
Good points, all.
And speaking of oil and inflation, recall what RBC said last week regarding the interplay between the dollar, breakevens, and crude:
The downside of the USD firming-up for risk-assets and the broad 'reflation' theme is the point made in our recent observations: crude sets 'inflation expectations,' which are a primary macro price-driver input for stocks, rates, credit and commodities (duh). As the Dollar strengthens now, instead of being a representation of "reflation" as it was at the start of the year…USD now might be transitioning back to a more historical correlation where it is a drag on commodities instead.
See how fun it is to try and incorporate all of the factors at play into a holistic view of markets?
In any event, hopefully everything said above will be useful in terms of helping readers develop a more nuanced understanding of what's going on with crude and why, at the end of the day, pairing supply cuts with supply gluts is a zero sum game.
Disclosure: I/we have no positions in any stocks mentioned, and no plans to initiate any positions within the next 72 hours.
I wrote this article myself, and it expresses my own opinions. I am not receiving compensation for it (other than from Seeking Alpha). I have no business relationship with any company whose stock is mentioned in this article.