CNBC: 7:15 EST

After yet another bullish day for US equities on Monday, we come in this morning to find the S&P (NYSEARCA:SPY) pulling back slightly as Fed Chair Janet Yellen approaches the microphone (she'll be here all week, folks!). Volume is extremely low today, with approximately 70,000 contracts traded in the ES futures overnight. Look for market participants to act cautiously as we wait for Yellen.
The S&P broke through a $20 trillion market cap level for the first time yesterday on its way to another all-time high. Earnings have continued to come out solid; AIG (NYSE:AIG) and T-Mobile (NASDAQ:TMUS) report today.

CNBC Monday Close
Article Shout-Out
Yesterday's article highlight concerning chaos theory and a Trump presidency, we thought it fitting to continue that discussion somewhat today. As such, we look to Macro Ops' Monday article, where they state that " Uncertainty Is Good For The Stock Market".
Despite the commonly held belief that all financial markets hate uncertainty of any kind, Macro Ops argues that at the very least, uncertainty can benefit equities in the short-term. Over the past few months, we've seen Fed members back away from their hawkish rhetoric as President Trump has put his unconventional style of leadership on full display.
Macro Ops points to data showing that banks are beginning to tighten lending standards for credit cards, and that loan growth is slowing over several sectors.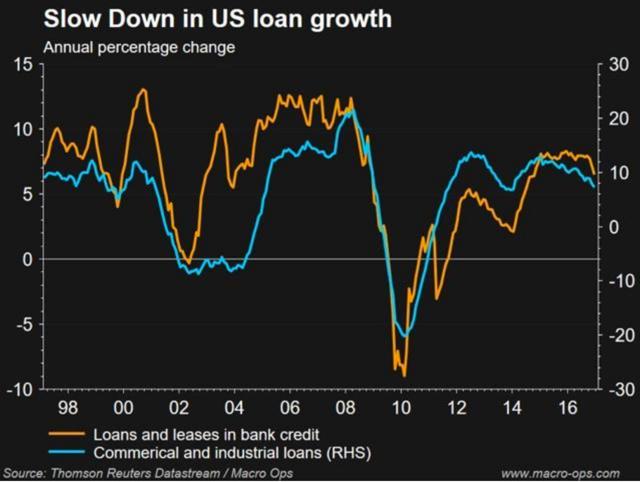 For our investors, we believe these types of data point to the possibility that the equities markets continue on their bullish path, but only to the extent that it allows the Fed to kick the can further down the road on rate hikes..
Thoughts On Volatility
As discussed yesterday in the comment section of a previous article, VIX futures are looking to roll to a March front-month. Though expiration for the FEB VX contract is not set to expire until tomorrow (you can view the CBOE expiration calendar here), this morning we find that futures trading volume has already rolled over to the March contract.

Source: The Balance of Trade
We've warned in the past against taking VIX positions on the very front-end of the futures curve, due mostly to the incredible levels of contango present. Today we wish to remind anybody dealing in front-month VIX futures contracts to strongly consider rolling positions over, as this will likely be the last day to trade FEB VX with strong liquidity.
As one of our followers referenced yesterday, the rolling over of VIX futures contracts can have a strong dislocating effect on the price of certain VIX ETPs. Take yesterday's closing prices as examples: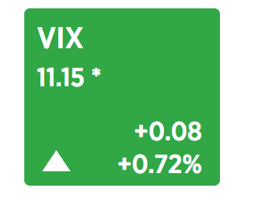 Source: CNBC
We can see that although US stocks did have a decidedly positive day, the VIX finished the day higher as well. Shown below, yesterday's closing price of VXX shows it as firmly bearish. As our readers know, the VXX seeks short-term VIX exposure, by balancing a mixture of first- and second-month VX futures contracts.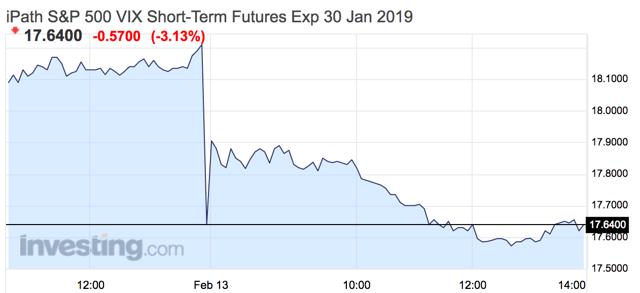 As the expiration date for the front-month contract (FEB in this case) approaches, you may well find VIX ETPs not achieving their stated goal. That is, you may see them move opposite in price from the VIX.

Raw vol as seen in the S&P 500 options is very low and shows where VIX vol is sourced from. Consider that the implied volatility on a short-dated straddle like the one-week rests at a meager 6.7%, while the one-month(ish) IV holds at 9.1%; one quarter out has a market price of volatility of 11.2%. While this is not literally where VIX (and VIX contango) comes from, this is more or less the source.
Keep in mind that the front-week has a holiday embedded in the calendar. Still, vols at the front-end have been very low for weeks now.
Tracking the Trade*(please read disclosures):
We will begin a new trade to follow over the course of the next couple weeks. Our trade boundaries are as follows:
Trade horizon: Friday, Feb 24
Instrument: "ES" - S&P e-mini futures and futures options
Over the next several days we will focus on a modified timefly.
Timeflies can be a good way to adjust expirations on an existing position, or as a way of positioning on a calendar for a move that you believe is coming, but not necessarily right around the corner.
VIX traders may give some consideration for timeflies, as it can have interesting implications for VIX contango.
Thesis: Strategy
The market may hang out in this region before moving on to something else. We've determined we want short exposure to ES, but we believe that the market could easily hang out in its current region for awhile.
We also believe that the S&P is quite overheated, but that it may be due to calm down or pull back. This may enter considerations as we build our timefly.
* Note that our strategy here is fairly simple. A lot of investors or traders put a great amount of thought into their strategy: developing a firm rationale for why they want to invest or trade a certain way. We agree that strategy matters; but tactics and mechanics are often overlooked when determining how to let a strategic directive play out.
Tactics
We will avail ourselves of some timeflies to play our strategy.
An unmodified timefly has one strike, three expiries. They are frequently used to adjust a current position, but can also be used on their own.
Timeflies are relatively "gentle" - they do not have a great deal of exposure to time, price, etc. This becomes less true for near-the-money options.
We will go long the "guts" (the middle expiry), short the "wings" (short and long-dated expiries).
In practice, timeflies can be "unbalanced". They do not have to have the same distance between expiries; they could have different strikes. We will likely conduct some modifications as we venture forward, but for now we'll keep it simple.
Single TimeFly Order:
sell the March 3 2280 P
buy the March 10 2280 P 2x
sell the March 17 2280 P
"What does the payoff diagram look like?"
So glad you asked.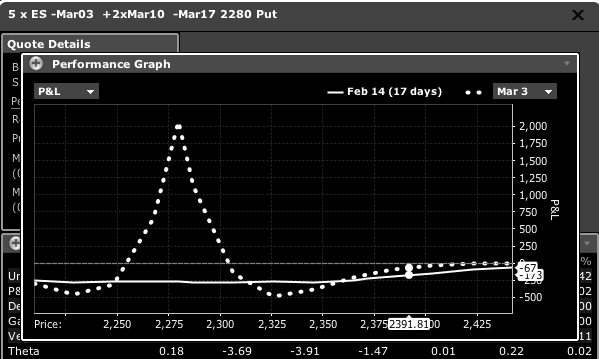 Source: Interactive Brokers
Above is the current (solid line) and March 3 (dotted line) payoff diagram for five of these timeflies.
As a general rule, the solid line approaches the dotted line with the passage of time. So with each passing day, our real-time P&L will look more and more like the March 3 P&L.
We'll ask more about this spread in the days ahead. For now, we'll just do five of them.
Mechanics
Fifteen minutes before the open, the spread looks like so:

At a bid-ask of $1.75 and no pressing need for us to trade this, we're in no hurry on this trade. That means we can hold out for better pricing.
We would press to get this done for an average credit of $1.50.
It is entirely possible that we'd work the first two or three at lower credits, just to get a partial fill. We would then get increasingly greedy on the last two or three.
As we've seen in past Tracking-the-Trade sessions, taking a trade off often takes more skill than putting one on. Here, as long as we're patient, we will quite likely get the chance to sell five of these timeflies at $1.50.
Commission on the five timeflies would be $28.20 for a standard retail account at Interactive Brokers. Margin impact is quite modest.
Closing Thoughts
We'll leave it there for today. The volatility environment is still quite low. Over the next couple weeks, we shall explore various aspects of this trade, and discuss potential ways to modify it.
Have any questions or suggestions? Let us know!
Please consider following us.
Disclosure: I am/we are short SPY.
I wrote this article myself, and it expresses my own opinions. I am not receiving compensation for it (other than from Seeking Alpha). I have no business relationship with any company whose stock is mentioned in this article.
Additional disclosure: We actively trade the FX and futures markets, potentially taking multiple positions on any given day, both long and short. It is our belief that the S&P 500 is meaningfully overvalued. As such, we typically carry a net short position using ES options and futures. We want to emphasise that these "trades" are for educational purposes, to demonstrate how to reasonably analyze, enter, adjust or modify a position. These are NOT actual trade recommendations.