Investment Thesis
Mattel Inc (NASDAQ:MAT) has had its revenues largely stagnate over the past decade and in its most recent full year results the top line has actually fallen slightly. In spite of its shares falling significantly (roughly 15%) since it posted its 2016 Q3 earnings and the stock trading at 1-year lows, this stock still has a lot of optimism priced in, and it is therefore unsuitable for investors seeking capital appreciation returns. Saying that, investors that are seeking a blue-chip with a large dividend of just shy of 6% could do well to consider Mattel's stock.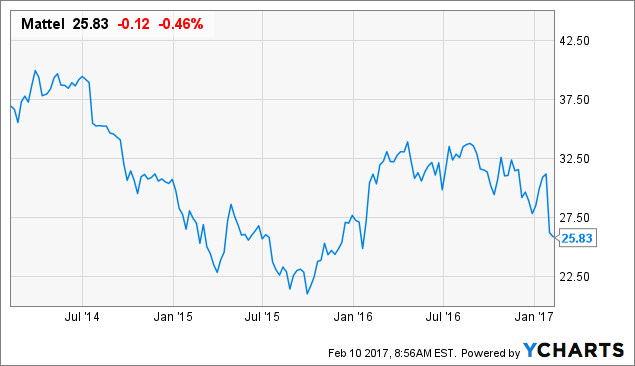 Overview
Mattel Inc designs, manufactures, and markets a variety of toy products through sales to its customers and directly to consumers. The products include fashion dolls, infant and preschool products, toy cars, and electrical vehicles, among others.
Mattel's management is certainly aware of the dip in its revenues and have put in place some incentives to reward its team for creativity, innovation as well as speed and personal accountability. Which if performed with a view to succeed can make a difference and reignite top line growth. But if not these just become empty words that management says.
In the latest quarter results, 2016 Q3, management has blamed currency headwinds throughout its earnings call. And although that would obviously played a role (by roughly a negative 3%), Mattel is not a currency trading company. If their products have failed to drive revenues forward it's because of bad business economics, not solely currency.
Financials
Please see below a quick overview of Mattel's financials of the past 10 years.

Source: morningstar.com; author's calculations.
One problem that Mattel faces is from unbranded competition, but as can be seen from its financials above and its high returns on equity this business has obviously been able to successfully tackle cheap unbranded toys for years. On the other hand, even in the boom years of 2006-2007 its revenues were not materially different from now and have remained somewhat flat over the past 10 years.
Another significant problem that Mattel has had growing its revenue has come from its customer concentration. Roughly 48% of its revenue is coming from its top 10 customers and within that, 37% of its total revenues is coming Wal-Mart (NYSE:WMT), Toys "R" Us, and Target (NYSE:TGT). This obviously gives these companies a lot of negating leverage against Mattel. The fact that Amazon.com (NASDAQ:AMZN) is not within the top three customers reinforces the fact that Mattel struggles to compete with cheap online imitation.
Geographical diversification
Mattel is fairly diversified geographically, with about 45% of sales outside of the US. With Europe accounting for roughly 22% of total revenue (2015 FY).
Operational leverage
The slowdown in revenues triggered by significant discounting which has compressed its gross margins by 1% QoQ. Although management has vowed to grow its top line again through several initiatives, including a cultural recent in its business, cutting excess fat in its process, general improvements and its supply chain optimization, I feel that this rosy outlook is largely priced into its stock already.
Dividend
The only aspect that I found worthy of investment in Mattel's stock at this price, is its dividend yield at 5.94% (at the time of writing). Mattel has been slowly increasing its dividend over time. Although the increase in its dividend has not been consistent it has still crept up.
Balance Sheet
In comparison with other high dividend yield stocks, this one appears to be backed by a somewhat strong balance sheet.
Although Mattel does have a trench of debt due in March 2018 and another trench in May 2019 I do not consider this to be of material significance and I suspect that Mattel's management will look to refinance this soon (although investors should keep an eye on this in the next couple of quarters). Also, Mattel has plenty of liquidity with nearly $300m of cash and a current ratio of 1.8x.
Valuation
Relative Valuation
In order to confirm that there is a margin of safety, I performed both a relative valuation and a DCF valuation.

Source: Morningstar.com
My favorite metric is P/S. I like it because it is quite a clean metric. I like to compare what investors have been willing to pay for a stock over the past five years and what they are willing to pay for it now. In the past five years, investors were happy to pay 1.9x P/S. Currently, investors are only asked to pay 1.6x P/S. So on a relative valuation, the stock is slightly underpriced.
DCF Valuation
I then performed a back-of-the-envelope DCF analysis with a normalized $518M of FCF, with 5% growth over the next five years (which Mattel should be able to achieve as it is starting from a depressed base), before leveling off at 4% (which is marginally above inflation). I discounted this FCF back at 10%. I used 10% because Mattel has shown that it does have a viable business but the business has not materially grown its top line over the last 10 years. This brings the DCF to roughly $9.4B market cap. This reinforces that investors that are seeking dividends are not overpaying for it in Mattel shares.
Competition
Although I feel that Mattel's shares are somewhat fully priced and that investors should only actively seek its shares for its dividend yield, I compared what investors are willing to accept in terms of yield from its main competitor, Hasbro (NASDAQ:HAS).

Source: Morningstar.com
This quick and dirty overview demonstrates that Mattel's dividend is quite attractive when compared to Hasbro's 2.1% dividend yield, which is roughly 30% less yield than over its 5-year average. Also, on a P/S ratio investors are currently paying 50% more than its 5-year average. Therefore, relative to its competitor Mattel is in fact slightly underpriced. The counter argument could be that Hasbro has grown its revenue by a CAGR of 3.7% (and 12.6% for its EPS line) over the last decade whereas Mattel has been largely stagnant. Also, Hasbro is significantly less levered.
Conclusion
I feel that Mattel's shares are fully priced relative to the best case scenario where it does end up successfully driving up revenue. On the other hand, investors that are seeking a healthy dividend that is roughly 1.5x more than that offered by average stock in the S&P500 could do well to consider an investment in Mattel.
Otherwise, investors seeking a different type of cyclical stock with a better risk reward profile, with potentially more upside (and less downside risk) could look to the potash industry.
Thank you so much for reading my article. If you have enjoyed reading this article, please click "Follow" to get more articles of mine in real time.
Disclosure: I/we have no positions in any stocks mentioned, and no plans to initiate any positions within the next 72 hours.
I wrote this article myself, and it expresses my own opinions. I am not receiving compensation for it (other than from Seeking Alpha). I have no business relationship with any company whose stock is mentioned in this article.