If we look at past history, we're basically in the dead period of the year when it comes to Apple (NASDAQ:AAPL). Q1 earnings are behind us, while there aren't any major announcements expected in the next month or so. The stock enters this period at an all-time high, so investors believe good things are coming. Today, I'll examine some key things investors should watch for in the near term.
Trump and potential tax news:
Late last week, President Trump stated that he would be making a major announcement regarding taxes in the next couple of weeks. This would likely mean something by the end of February, but of course, things could be delayed. Markets have soared to new highs since the President made this statement, with Apple also rallying.
For investors, there is a major hope that a lowering of taxes and a potential repatriation holiday would tremendously boost earnings, capital returns, and potentially acquisitions moving forward. According to the latest 10-Q filing, the company had over $230 billion of its cash located outside the US. Investors want to see that money return home, partially fueling some of the recent rally.
There are two risks here, however. The first is that you don't get the whipped cream with the pie. By that I mean that Trump could save part of his overall plan, say repatriation, to use as political capital for mid-term elections in 2018 or perhaps another run in 2020. Also, there are those that believe that whenever Trump announces something, it could take several months or even a year before changes actually occur. For now, Apple's script has stayed the same, borrowing against foreign funds, even if rates have increased.
The second risk is a potential border tax that would make all Apple products manufactured outside the US a lot more expensive. Trump has already gone after many firms that produce outside the US, and of course Apple fits that bill. What if every iPhone that comes into the country is slapped with a 20% tax? Apple would likely pass that onto consumers, meaning a starting price close to $800 for just the entry level iPhone 7.
Product announcements (or lack thereof):
In late March 2016, there were two new products that Apple brought to market, the iPhone SE and the 9.7 inch iPad Pro. While each of these devices on their own didn't necessarily account for a large portion of overall Apple sales, they will make quarterly comparisons tougher. This is especially true for the June ending fiscal Q3, where analysts are currently looking for more than 7.5% revenue growth.
By all accounts, there will not be a follow up to the SE, meaning those that prefer smaller screen phones may be out of luck moving forward. While Apple is likely to update the iPad at some point, timing still remains a mystery. The confusion is due to a December report that 10nm chips destined for the tablet are in short supply, so production may only start sometime this quarter. We may not see a full line update for the Mini and big screen one until the fall.
If we don't get any new launches in the next say two months, it will be up to the iPhone to carry the weight moving forward. While that might be a good thing considering the strong holiday period, Samsung (OTC:SSNLF) will launch its next flagship device eventually. Also, will the iPhone suffer as we get closer to perhaps the most anticipated iPhone launch since the iPhone 6? That gets me to my next discussion topic.
More iPhone 8/X rumors:
This week will mark five months since the iPhone 7 was released to the public. If Apple stays consistent with its timing, that means that we are less than 7 months away from the unveiling of the next iPhone. While there are reports that Apple may be starting production this year earlier than normal, I don't believe that's due to an earlier launch. I believe an earlier production schedule may be due to the complexity of the device, plus Apple probably wanting to have higher supplies at launch given the anticipation surrounding this anniversary device.
This puts us in prime time for rumors regarding the upcoming device. I detailed last week how the upper end model will likely eclipse $1,000 in the US, based on higher component costs for new bells and whistles and perhaps a larger screen. The latest rumor, of which many more will come, states that a new design of the logic board will support longer battery life, as detailed below.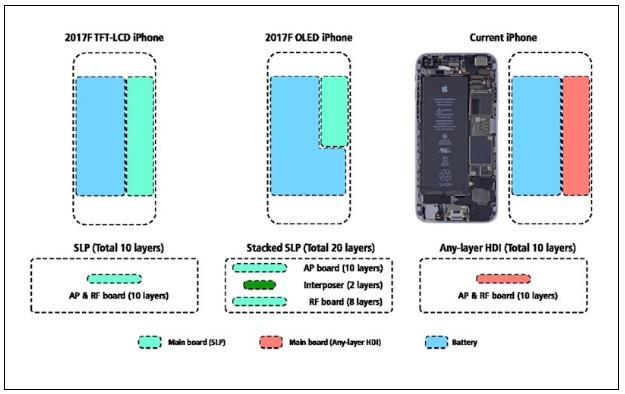 (Source: MacRumors article)
Final thoughts:
Since I don't expect a flood of major news from Apple in the next few months, I wanted to discuss today some key items to watch. In the next few weeks, all eyes will be on President Trump to hear what he has to say about taxes. Investors have been buying Apple shares in hope lower taxes and massive repatriation makes for stronger capital returns moving forward.
On the product side, I don't know if we'll see much. We may get one new iPad this spring, but the only iPhone discussion is likely to be surrounding the 8. Short-term expectations are certainly elevated with the stock at all-time highs, so keep that in mind if you are looking to purchase shares.
Disclosure: I/we have no positions in any stocks mentioned, and no plans to initiate any positions within the next 72 hours.
I wrote this article myself, and it expresses my own opinions. I am not receiving compensation for it (other than from Seeking Alpha). I have no business relationship with any company whose stock is mentioned in this article.
Additional disclosure: Investors are always reminded that before making any investment, you should do your own proper due diligence on any name directly or indirectly mentioned in this article. Investors should also consider seeking advice from a broker or financial adviser before making any investment decisions. Any material in this article should be considered general information, and not relied on as a formal investment recommendation.