As of now, Western Digital Corp. (NYSE:WDC) has had a consistent decline in revenue and EPS growth. However, the company just recently acquired SanDisk Corp. (SNDK) as a synergy that could help improve its current standing amongst competitors. Currently, WDC has reported weak numbers regarding its financial and growth metrics. Even worse is the constant decline in EPS growth and revenue that has been going on for roughly five years. One question to ask is if the latest performance could tie to acquiring SNDK? If so, can it jump through its current hurdles to gain traction on its ability to produce net profits for the year of 2017?
It is safe to say that the takeover of SNDK by WDC was so that it can supply its consumers with more data storage capabilities throughout all its current and future products. The synergies between the two companies are relevant in the fact they both provided services and products to the data storage industry. WDC looks to increase its product line and continue to align itself with current technology standards so that it can compete better. Its numbers for the last quarter of 2016 provided weak sentiment across the board. Whether the performance is likely due to the takeover of SNDK or if it is more of an underlying issue that has been percolating for a while. To get a better insight on whether WDC is having growing pains or is becoming distressed, it is best to look at the trailing data to see how it has been doing in time.
Dividend Setback
Just recently, its dividend yields were one of the highest out there. Now, it has completely turned upside down in which the company's dividend per share is greater than its current EPS, which will make it more difficult for the company to pay its dividends to its shareholders. The dividend per share is currently at $2.00 while the EPS is at -1.77. If the company wants to continue to pay out its current dividend payments, it will have to through other sources besides earnings. Since 2015, the company's EPS TTM has been in a sharp decline from being $7 in 2015 to now -1.77 for the present being. Its payout ratio is close to a one-year low at .63. It seems to me that the company is already preparing for a potential dividend cut and a continued decrease in the payout ratio to offset its current dividend predicament. At the same time, the company has a three-year dividend growth of 26%, which increased from $1.00 to $2.00, roughly in a span of three years. It is happening while the dividend yield is now near the one-year low. However, many companies have been in the same position and have been able to evade any potential trouble. I believe the company can make a quick comeback so that its earnings can pay for its current dividend payouts.
Showing Signs of a Comeback
By looking at the financial statements, we can see that upon acquiring SNDK, WDC had a momentary lapse in some performance metrics such as Net Income, ROA, ROE, ROIC, and others. The second and third quarters of 2016 set WDC back, and even put them in the red on the company's bottom line. The last quarter of 2016 already started to show the blooming effect of the synergies between WDC and SNDK. Its net income is back to being positive as well as the other metrics mentioned earlier. The ROA went from -4.73 to 3.24, while the ROE went from -13.36 to 8.74 in just one quarter.
What's more interesting is the operations of WDC. By looking through the financial statements, I was able to find that its gross and operating margins have increased providing positive sentiment that its operations are becoming more effective and efficient. It is still unknown whether the company will direct those savings from operations to its consumers, or use its savings to continue to build positive momentum for the business. So far, the synergy between the two companies is working well and has even increased its net margin from -7.76 to 4.81 for the last reported quarter. Another interesting point is that the gross profit margin has been increasing, showing that the company's cost of goods sold is making less of an impact on its earnings. Additionally, the cost of goods sold has bounced from a pullback at the beginning of 2016.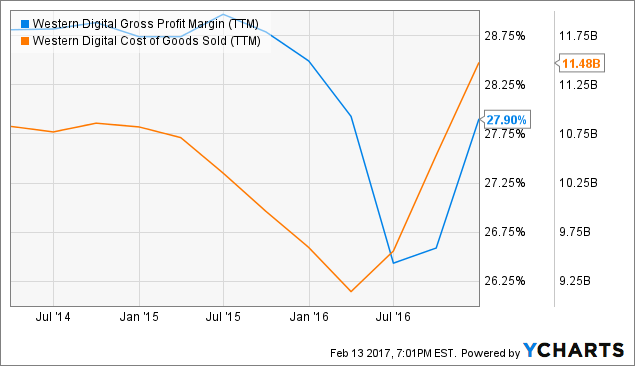 WDC Gross Profit Margin (TTM) data by YCharts
One downside that the firm has acquired is the interest expense on buying SNDK. Investors are aware that the company used substantial financed debt to purchase the company thus increasing the interest expense per quarter. It directly affected its interest coverage ratio, which brought it down to less than 1, showing that WDC currently cannot afford to pay its current interest payments fully with current generating revenue levels. The current interest expense is -$681 million while the interest income is only $75 million. Alternatively, the interest coverage ratio on WDC is 2.66, which shows that the company can currently pay its interest payments on outstanding debt even after the takeover of SNDK. The return on invested capital is currently at 8.34% while its weighted average cost of capital is at 8.91%, which still shows that it must increase its returns on invested capital so that it begins to show a profit over its cost of capital, which will be a huge benefit for its shareholders. I believe that we will see the ROIC continue to increase just as other return metrics saw in the last quarter.
The free cash flow for WDC began to decline from 2013 temporarily. However, when looking at free cash flow, especially of a company that just acquired SNDK, it could have very volatile numbers in shorter time frames. When looking at a 10-year range, we can see that WDC's free cash flow has been increasing and holding steady in the long term. Before acquiring SNDK, the company had no debt. So the only debt incurred as the majority is based on the takeover of the enterprise. If the synergy continues to prove amicable, then the financed debt to take over SNDK was worthwhile. With a quick comeback from WDC in regards to its financials, I can assume that if the positive progression persists throughout 2017, WDC can look to bring in new investor interest into the stock better. I believe that WDC will continue to show investors healthy growth after the synergy and will be able to withstand the dividend issue in a short amount of time until its earnings per share show positive returns.
Finishing Up
I see a great entry opportunity to go long with adamant support levels as stops. The entry price would be $79.66 just above the previous sell candle on the weekly chart. The stop could either be $74.83 or $65.43, which are both levels on the Fibonacci retracement and extension. I placed both types of Fibonacci levels so that I can potentially find price levels that may overlap one another between both Fibonaccis. The reasoning behind this is that having overlapping factors creates a "heavier" support level. However, there is a resistance level with the same overlapping features priced at $84.24, which is the .618 Fibonacci level. Once the price can break through that level and preferably close above, it could allow the stock to push much higher price levels from $88 to $92.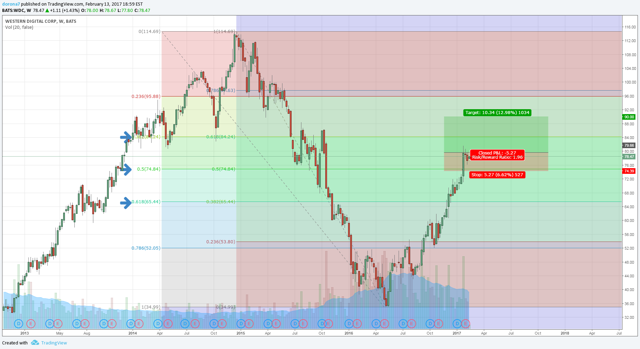 A majority of analysts currently have a buy rating on the stock, and this has increased with a positive sentiment for the last three reporting quarters. Analysts have priced its targets with an average of $92.31. My targets are more than reasonable as it is a bit below their expectations. With the closer stops, the risk/reward ratio would be around two times the initial risk. Most people are not used to tight stops, which is how I like to trade. If the wider stop fits and investors preference, then targets should be raised to offset the risk/reward ratio to ideal levels. Next earnings report on WDC is on April 26th after the market close. Make sure to continue to actively follow for new information as the synergy continues to settle.
Disclosure: I/we have no positions in any stocks mentioned, and no plans to initiate any positions within the next 72 hours.
I wrote this article myself, and it expresses my own opinions. I am not receiving compensation for it (other than from Seeking Alpha). I have no business relationship with any company whose stock is mentioned in this article.