Bellatrix Exploration (NYSE:BXE) has been through the mill. Now finally escaping the grasp of some really nervous bankers, the company is now projecting a more than doubling of the cash flow. Will the market buy it?
Below is a summary of what has happened so far.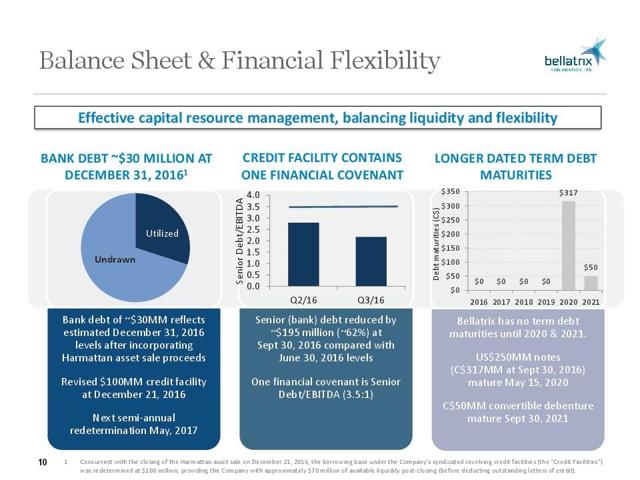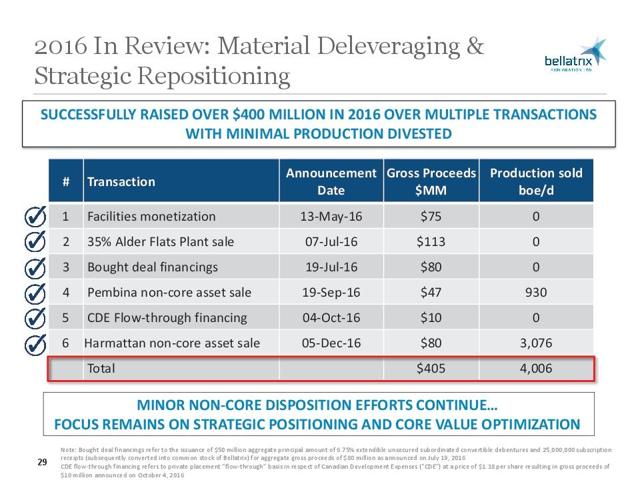 Source: Bellatrix Exploration Ltd., January, 2017, Corporate Presentation
Bellatrix sold several non-core properties (click on the latest presentation) and an interest in its processing plant to decrease the bank debt. Some of those non-core properties were purchased by start-up companies to manage the leases involved. So it will be interesting to see how profitable the leases are for the new owners.
Still, the bank debt was reduced to about $30 million and the company was finally able to obtain a bank line on reasonable terms. The immediate pressure to pay down the line is over. But all of this was brought on by a lack of cash flow. That lack of cash flow will keep the stock price low. Management promises to make a significant dent in that low cash flow problem immediately using the remaining assets.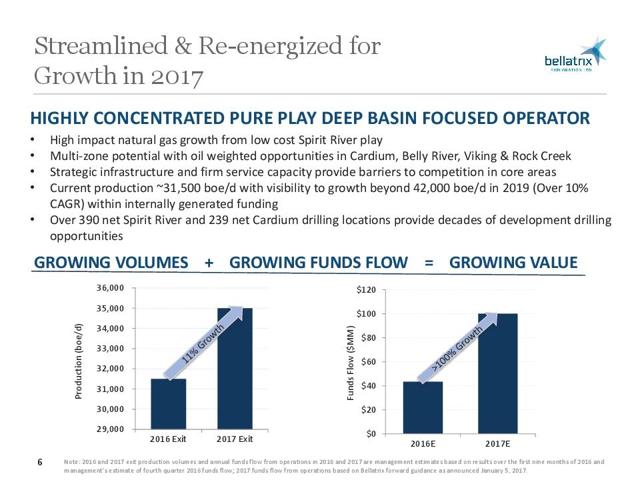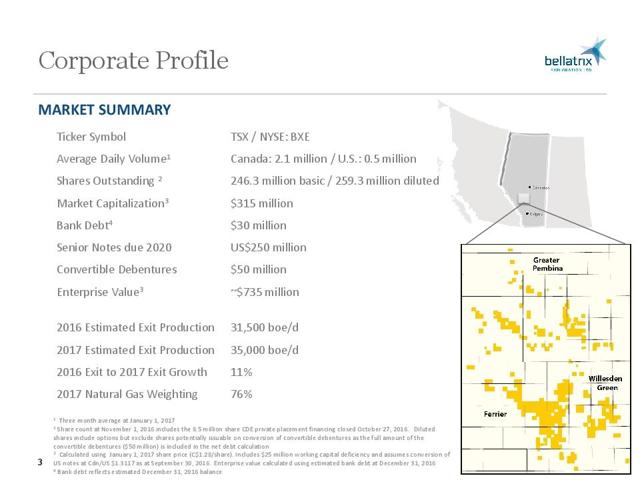 Source: Bellatrix Exploration Ltd., January, 2017, Corporate Presentation
The first slide shows the company projection (click on latest presentation) of a cash flow from operations increase to C$100 million from the latest C$40 million cash flow. The cash flow amount last year caused much of the bank anxiety and led to all the asset sales. Really long term debt should not be more than four times cash flow. Even after the latest payoff of bank debt, total debt exceeds C$330 million (after converting the US debt). So the ratio of long term debt-to-cash flow is awful even after much of the bank debt was gone. Now the projected cash flow increase would make things a lot better for the company if it can be achieved.
Next year, 2018, the increase in the gas processing capacity could provide some very tangible cost savings. But this year, management has bet on rising gas prices and the cheap cost of the remaining lease areas to produce gas and liquids more profitably. It has been awhile since the company made a profit, so the projection has invited some well founded skepticism.
Plus one of the more common comments on the older articles was, "if the company gets the banks off its backs, then the stock will soar. Just look at those assets and reserves!". However, the latest proposal at the annual meeting will probably be for a reverse split to maintain the NYSE listing. The bank crisis may be over, but the stock certainly has not soared. The operating fundamentals still need a lot of work.
The reason appears to be that the cash flow problem is still there. For a company with an enterprise value of $735 million, cash flow from operations is only $40 million. That means that the enterprise value-to-cash flow from operations is an extreme 18:1. Even if management is right and the cash flow makes it to $100 million next year the ratio would improve to 7:1. For a company that went through a financial crisis that figure could prove to still be high and definitely not a bargain. After all those sales, management needs to restore some market confidence in the company track record. Any long term speculators would have to be betting that next year will be better than the management forecast. Or speculators will give management several years to show a marked improvement. So there may not be much of a fundamental analysis based case for capital gains over the next year.
A company losing money with financial leverage attracts investors like bees to honey. The turnaround story just sounds so good and the potential capital gains seem legendary. The potential of early retirement appears too good to turn down. After all, what can go wrong?
The reality is often different. What is going on with Bellatrix Exploration is actually above average. I have written about many companies such as Sandridge Energy (NYSE:SD), Energy XXI (EXXIQ), and Halcon Resources (NYSE:HK) where the companies supposedly has premier assets, fantastically valuable reserves, and the investors lost everything. Right now Chesapeake Energy (NYSE:CHK) appears to be heading down the same miserable pathway as the others. At least with Bellatrix, the company appears to be entering the slow turnaround phase. But this has definitely not been a painless experience.
Financially leveraged companies need to make sure that the leverage is working for the investors. Any problems need to be proactively solved before the market is aware of them. Cash flow needs to be generous and growing. Two examples of this include the Sanchez Energy (NYSE:SN) article and the EP Energy (NYSE:EPE) article. Even in those two cases, financial leverage is still very risky. So there is no guarantee that either company will succeed, but both appear to have put the odds in their favor. Plus both have very knowledgeable resources that are used to dealing with leverage. There is a very large difference between the actions of Bellatrix management and the steps taken by those two leveraged companies. When financial leverage does not work no matter what the reason, then investors need to sell and watch from the sidelines until the situation is corrected (if it is corrected). A lot of times one misstep is fatal.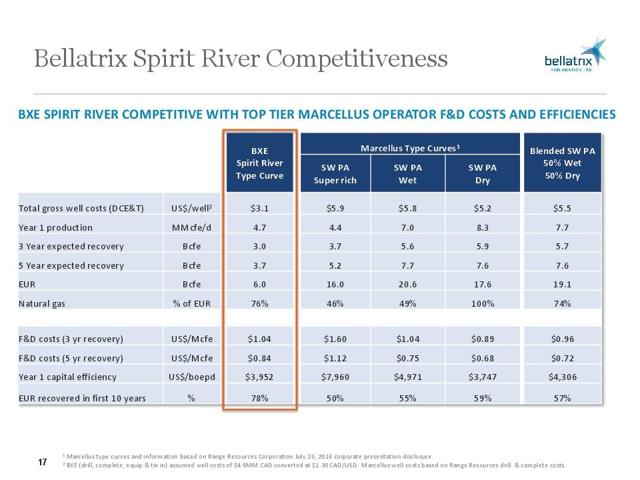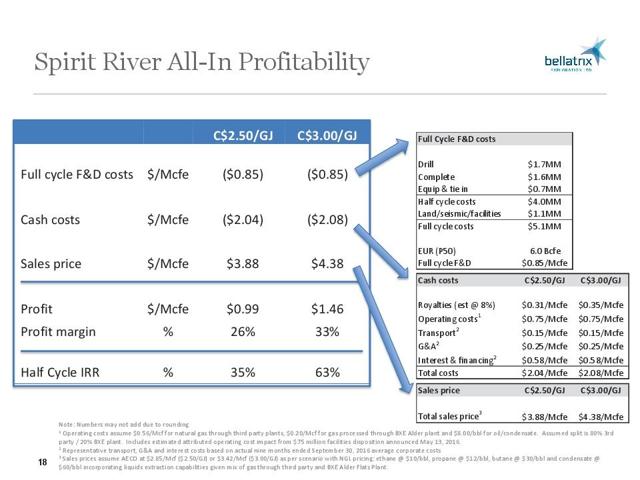 Source: Bellatrix Exploration Ltd., January, 2017, Corporate Presentation
Management has shown these comparisons from the first slide for awhile. In the second slide, the company is clearly depending upon some liquids sales. Gas prices have frequently been below the price on the slide in recent history. So while management projects a lot of improvement nothing is certain. Management claims to have a decent hedging program, but in the past that hedging did not protect cash flow enough to allay banker fears.
For the mixture of products produced, the lease operating expense may be too high. This company has not really appeared to be very aggressive at cutting operating costs. Others in the industry have reported better results. So what has happened is an apparent delay in the return to profitability and adequate cash flow. Whether that will change in the future is anyone's guess. But the past is just not that encouraging.
So while Spirit River is a low cost area. Management has so far not been able to take advantage of those low costs. Another indicator of management ability will be the ability of the new owners to make money from the "non-core properties" that were sold. If the new owners make decent returns with the properties that were sold, then it points another finger at the inadequacies of this management. So there is no way this company should have much if any financial leverage after the experience of the last few years.
Cash flow needs to become the priority. Cost cutting and product sales optimization need to be pursued until an adequate and consistent profit is obtained. There is not much room for inefficiency in a commodity industry where barriers to entry are relatively low. So this stock may only appeal to only the most speculative of investors who are prepared for a potentially very bumpy ride initially. The NYSE warning probably provides that capital gains are in the distant future until operations significantly improve first. Everyone else may have a healthier wallet by watching from the sidelines. This stock may eventually soar to complete recovery. But there is a lot of work to be done here first. That would be true even if commodity price cooperate.
Disclaimer: I am not an investment advisor, and this article is not meant to be a recommendation of the purchase or sale of stock. Investors are advised to review all company documents and press releases to see if the company fits their own investment qualifications.
Disclosure: I/we have no positions in any stocks mentioned, and no plans to initiate any positions within the next 72 hours.
I wrote this article myself, and it expresses my own opinions. I am not receiving compensation for it (other than from Seeking Alpha). I have no business relationship with any company whose stock is mentioned in this article.
Editor's Note: This article covers one or more stocks trading at less than $1 per share and/or with less than a $100 million market cap. Please be aware of the risks associated with these stocks.