Brookfield Infrastructure Partners (NYSE:BIP) owns and operates infrastructure assets. The company operates utilities, transport, energy, and communication infrastructure assets in North and South America, Australia and Europe.
The company has a been a superior source of recurring cash flows through its business lines and continues to find quality assets around the world. For the most part, all the divisions operate primarily with contracted or regulated cash flows (75%+ of total cash flows) in necessary industries to the global economy. With the support from its parent, Brookfield Asset Management (NYSE:BAM), BIP is able to meaningfully find and acquire quality assets from around the world, as well as finance its deals with BAM's partnership.
Management has been very keen on a strong capital recycling program in which the company will exit out non-performing or low IRR assets and will be redeploying the capital in assets with better prospects. Although the company employs relatively significant leverage to acquire assets, the company has a very strong handle on its debt servicing with its double-digit interest coverage, high concentration of fixed rate non-recourse debt, superior and stable cash flow generation, and FX hedging capabilities.
Overall, BIP has been a stable long-term grower and dividend provider to shareholders in a very meaningful way. Going forward, I think the company will be able to maintain its excellent execution of high quality deals and provide safe and reliable dividends to shareholders.
In the past 5 years, BIP's market capitalization has doubled and has provided historically strong dividend yields at the 6-7% range. On a dollar basis, BIP's share price has increased from $19 to $36, and dividends per share totaled $6.39 (FY12 to FY16: $1.00 + $1.15 + 1.28 + $1.41 + $1.55) - implying a total return of >100% during the 5 years if an investor held on to the shares. Current dividend yield is 4.8%, which is still very attractive but still slightly less than some historical points in time.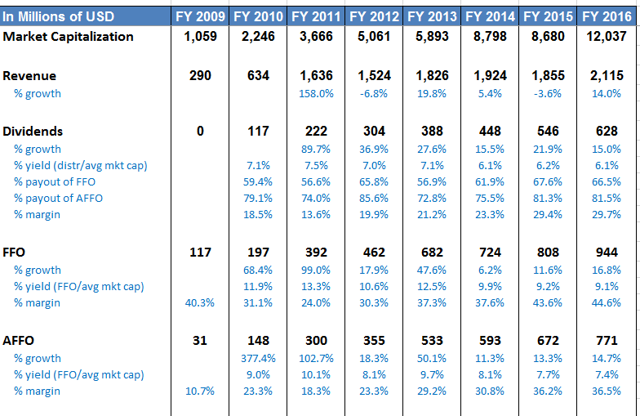 Dividend is promised by management to target dividend growth at 6-9% every year while upholding a 60-70% payout from FFO (Funds from Operations). The FFO is a proxy for the industry's recurring cash flows. AFFO (Adjusted FFO) is FFO net of maintenance capital expenditures. Its AFFO yield continues to stand at higher rates than its dividend yield - implying that the company has enough to sustain dividend growth and have a portion retained in the business to reinvest. In the most recent quarter, the company announced an 11% increase to the dividend, which is even better for dividend-oriented investors.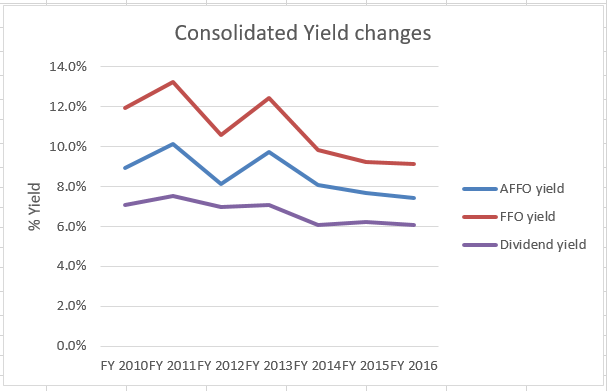 Current dividend payout out of FFO and AFFO is 67% and 80%, respectively. Also in the past, BIP has had a strong handle of its dividend payout in making sure that it's not overpaying from its annual AFFO. In previous years, FFO payout has been consistent at Management's range of 60-70%. AFFO payout has consistently stayed at the 70-80% level. On a margin basis (% of sales), the FFO and AFFO continue to be sustainable and higher than the dividend.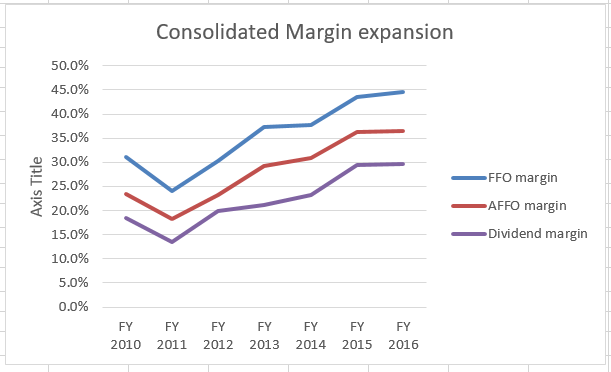 On a segment basis, all operations continue to grow for the company on a cash flow and profitability basis. Although we are seeing a reducing capital base from Utilities, we notice that the cash flows continue to grow strong and is improving significantly on a margin basis.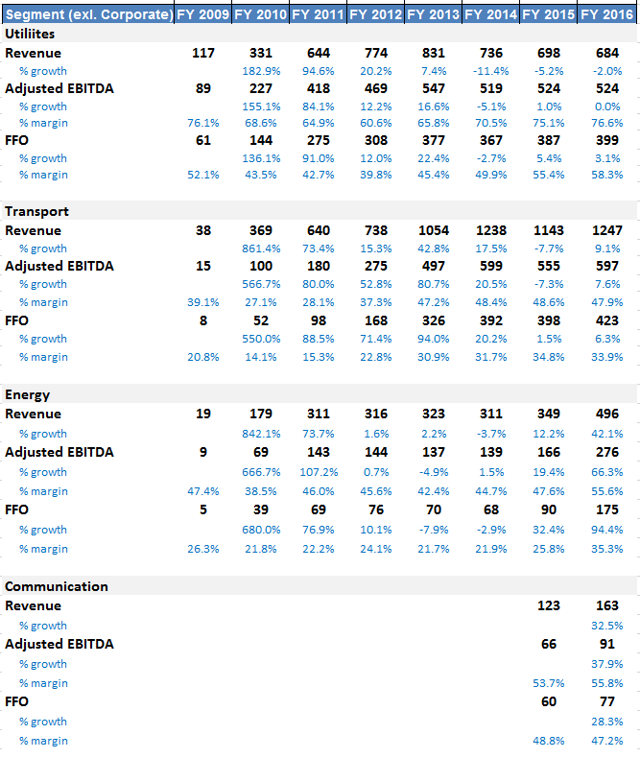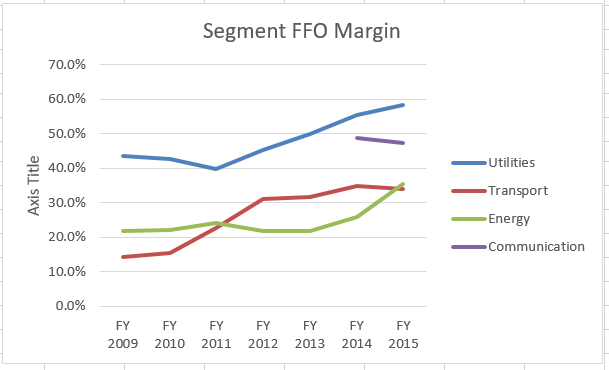 Overall, the company is a solid holding for long-term investors with the mindset that they expect to receive dividends from a very stable source of operations. In addition, the strong management team is able to execute global deals and further grow the company to ensure that they're able to expand their cash flows and thus warrant their dividend increases going forward.
Below includes a general run-down of their operations (optional read).
The Utilities division consists mainly of regulated or contractual businesses that earn a return on their rate base. The rate base increases with capital invested to upgrade and expand their systems. Depending on the jurisdiction, the rate base may also increase by inflation and maintenance capex and decrease by regulatory depreciation.
Regulated Distribution - Europe, SA - approx. 2.6M electricity and natural gas connections and 350K installed smart meters.
Electricity Transmission - NA, SA - approx. 10,500 km of transmission lines along with 4200 km of Greenfield electricity transmission developments in SA.
Regulated Terminal - Asia Pacific.
The Transport division provides transportation for freight, bulk commodities and passengers. Transport businesses have high barriers to entrance and very few substitutes in their local markets. Furthermore, the division has sensitivity to market prices and volumes (ex. Commodities, global trade) but stability is supported by contracts or customer relationships (80% of earnings are regulated or long-term contracts). Segments include:
Rail - Asia Pacific, SA - sole provider of rail network in Southwestern Western Australia with 5,100 km of track and 4,800 km of rail in South America.
Toll Roads - Asia Pacific, SA - approx. 3,600 km of motorways in Brazil, Chile, Peru and India.
Ports - NA, Europe, Asia Pacific - 38 terminals specifically in NA, UK, Australia and across Europe.
The Energy division has systems providing energy transmission, distribution and storage services. Profitability is based on volume and price achieved for services. There is light regulation (i.e. price ceilings) for some of the energy transmission businesses. Energy businesses have high barriers to entry due to significant fixed costs, economies of scale and unique positions in local markets. Revenues have sensitivity to market prices and volumes, but are typically generated under contracts with various durations and are relatively stable. Segments include:
Energy Transmission, Distribution & Storage - NA - approx. 15K km of natural gas transmission pipelines and 600B cubic feet of natural gas storage in NA.
District Energy - NA, Asia Pacific - delivers 2.87M pounds per hour of heating and 255K tons of cooling capacity to NA customers, and heating + cooling + distributed water and sewage services to 3000 customers in Australia.
Communication Infrastructure provides essential services and critical infrastructure to the media broadcasting and telecom sectors. Services and access are contracted on a long-term basis with tariff escalation mechanisms. Customers pay upfront and recurring fees to lease space on towers to host their equipment. Broadcasting customers pay fees for transmitting television and radio content to end users. Operations generate stable, inflation-lined cash flows from long-term contracts with large customers in France.
Tower Infrastructure Operations - Europe - approx. 7,000 multi-purpose towers and active rooftop sites, and 5,000 km of fibre backbone located in France.
Disclosure: I am/we are long BIP.
I wrote this article myself, and it expresses my own opinions. I am not receiving compensation for it (other than from Seeking Alpha). I have no business relationship with any company whose stock is mentioned in this article.