Gilead (NASDAQ:GILD) recently shocked investors with a dreadful 2017 guidance and its plain reluctance to give any indication for its business beyond 2017:
And by putting out the 2017 numbers, we hope that is helpful. 2018 will be what it will be when we get there.

Source: Gilead Chief Operating Officer, Kevin B. Young - Q4/2016 Earnings Call
As a result investors dumped the stock on large scale. The tumbling stock price in combination with a 10.6% dividend raise now leaves Gilead with a 3.1% yield. Is Gilead now a buy for long-term dividend growth investors?
What is going on at Gilead?
When Gilead announced its Q4/2016 earnings it recorded beats on revenue and on EPS but this was overshadowed by its shocking 2017 guidance. Gilead guided for an almost 40% drop in Hepatitis C (Hep C) sales compared to 2016 and flat revenues for its non-HCV segments, most notably for HIV. On top of that the company declined to give any indication beyond 2017.
As a result, a flurry of analyst downgrades occurred and lots of authors here on SA (understandably) writing about how they now lost all confidence in Gilead and that the company is doomed for the near future at least. One of the most inspiring pieces I found here was from DoctoRx: Gilead Bombs. A very descriptive title set the tone for the subsequent analysis which I do share from a qualitative point of view but I was asking myself how Gilead's business could look like by 2019 in different scenarios.
Thus, I do not want to recall and decipher Gilead's graceless earnings call, its miserable stock repurchase program timing or how it basically eroded its own customer base. No, what I want to do here is to project core business metrics for GILD for the next three years via four different scenarios based upon Gilead's own guidance and on overall forecast 2017-2019 drug trends from the recently released Drug Trend Report 2016 from Express Scripts.
Here are the four scenarios we will model:
A. Gilead's 2017 guidance and Drug Trends Report for 2018-2019
B. Gilead's 2017 HCV guidance and Drug Trends Report for 2018- 2019 and 2017 (HIV only)
C. Gilead's 2017 HIV guidance and Drug Trends Report for 2018- 2019 and 2017 (HCV only)
D. Drug Trends Report for 2017-2019
1) Modeling revenues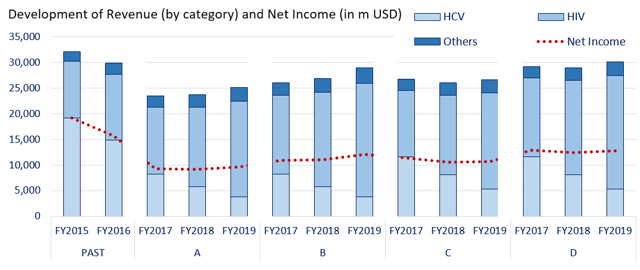 Source for all subsequent graphics: Gilead Guidance, Drug Trend Report 2016; modeling and visualization by author
Based by scenario overall revenue is projected to come in a range of $23B to $29B for Fiscal Year 2017, $24B to $29B for 2018 and between $25B and $30B for 2019. The worst case (Gilead's own guidance = Scenario A) sees sharply lower revenues for 2017 at around $23.5B (the mid-point of Gilead's guidance) as a result of collapsing HCV sales and flat non-HCV revenues. This precipitous fall in HCV revenues is expected to continue at least until 2019 with forecast decline rates of 30% for 2018 and 34.7% for 2019. However, even in such a scenario Gilead's projected revenues are projected to increase between 2017 and 2019.
Analysts and investors are torn between questioning Gilead's HCV and non-HCV guidance as both have negatively surprised the market. And indeed, if we consider that the Drug Report is projecting HIV sales to increase by a healthy 20% Y/Y until 2019 it is very questionable and disappointing why Gilead itself is expecting no growth for 2017 at all.
Thus, if we take Gilead's HCV guidance and replace its HIV guidance with the 20% Drug Trend report projection revenue is projected to decline to $26B in 2017 and then increase to almost $29B by 2019, which is still lower than what it reported in FY2016 but clearly shows a return to growth (Scenario B).
I am not going into detail for each of these scenarios but overall what we can see is that even in Scenario D Gilead's revenues are projected to remain flat at best. Still, there a few important aspects to outline here:
This projection obviously does not factor in any revenues from acquisitions or from earlier than planned FDA approvals and marketing of in-pipeline products, most notably Gilead's filgotonib, an inflammatory condition drug. The market for inflammatory conditions is expected to continue its 30% Y/Y growth trend through 2019 and is the number one specialty drug segment in terms of spending according to Express Scripts.
Even with a precipitous fall in HCV revenues of almost 30% year over year through 2019, Gilead's HCV segment will still generate almost $4B in annual revenue which is tremendous for basically only two drugs (Harvoni and Epclusa). (Many other pharmaceutical or consumer companies would love to have such strong products)
In every scenario Gilead's 2019 revenues are projected to be higher than for 2017 and thus growth in the non-HCV segment can offset declining Hep C sales, even with the latter declining by as much as 75% compared to 2016 levels.
Net income, modeled with a flat 28% tax rate for the next three years should range between $9.5B to $12.8B in 2019. Although that is a far cry away from its 2016 levels (-20% to -40%), it is still a lot of money. Given that it does not factor in any tax reforms or a higher share of international revenues that have a lower taxation there remains room on the upside.
Turning to cash flow and liquidity
Legend for charts


Source: see above (in m USD)
While Gilead's total liquidity is expected to range between $40B to $48B its operating cash flow is expected to decline and then trend between flat to slightly upward by 2019. Withstanding any scheduled or unscheduled debt repayments, Gilead will be left with ample liquidity in every scenario. In all of these scenarios we have modeled a 7% dividend growth, a rather conservative estimate given Gilead's dividend growth record. In reality, in each of these scenarios Gilead would have sufficient liquidity to boost the dividend further, buy back its shares and above all leverage its funds for M&A activities.
There are a few remarks regarding liquidity:
No further share buy-backs expected in any scenario
Capex and other outflows are projected at $1B each every year
Operating Cash Flow is assumed to be 80% of net income (average observed between FY2015-FY2016)
Now that we have projected important business metrics we can now turn to valuation.

Based on current pricing Gilead's P/E and P/S ratios are extremely low. If estimates for these scenarios are somewhat correct than the stock (at $67) is currently trading at around 7-10 times 2019 forward earnings and between 3.0 to 3.7 times its FY2019 sales. This certainly looks really attractive especially compared to its peers.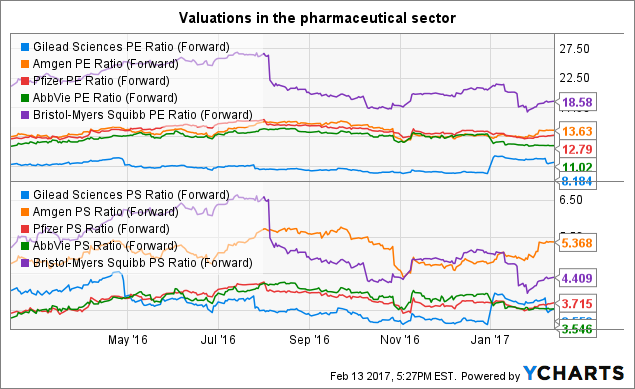 Conclusion
For every investor selling a stock there is also an investor buying the stock. Whether you should buy Gilead now depends on how you rate the company's growth perspectives and your ability to look beyond the doom & gloom surrounding the stock.
Based on a manifold scenario analysis it has been shown that Gilead's business metrics are likely to improve from 2017 to 2019 although probably not getting to where they were in 2016 or 2015. And least not yet. Playing the waiting game can pay off given that Gilead is very committed to maintain its dividend hikes and now that the stock has sold out on large scale I believe that there are more reasons for it to go up (e.g. an activist investor buys into the stock, Gilead finds a suitable acquisition target and gets the job done, a tax reform) than go down (even fewer patient starts for HCV than projected by Gilead, more intense competitive pressure on prices).
This is definitely not a SWAN stock but one with a lot of potential going forward and thus more suitable for an investor with a higher level of risk tolerance. Even if the fall in HCV revenues is steeper than expected Gilead will still have enough liquidity to acquire growth although this will put further strain on its debt levels.
What do you think? Do you buy Gilead again or do you expect another pullback? Is a pullback likely to come?
Author's note: If you like this article and want to read more, please click the "Follow" button on top of the page.
Disclosure: I am/we are long GILD.
I wrote this article myself, and it expresses my own opinions. I am not receiving compensation for it (other than from Seeking Alpha). I have no business relationship with any company whose stock is mentioned in this article.