I own a small amount of shares in Illinois Tool Works (NYSE:ITW) which I bought in September of 2015, when the stock price dropped to $80.53. At the time, I wrote this article, recommending my readers to buy some shares:"At Current Levels, Illinois Tool Works Is A Great Stock For Long Term Dividend Investors" The price per share has since increased by an amazing 60.6%, and now stands at $129.37, less than 1% below its 52-week high. When I bought my shares, the forward yield was at 2.73%. The most recent dividend increase pushed my yield on cost to a very respectable 3.2%. At the current price per share however, the forward yield is only 2.0%, which isn't very high. So the question is; Should I sell ITW and buy something else? Let's start by looking at the price graph for ITW over the past year and a half.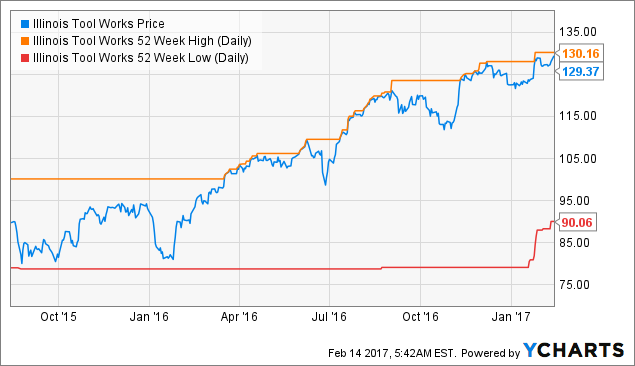 ITW's dividend yield had dropped significantly due to the increase in shareprice. The trailing twelve month yield stands at only 1.86%, while the forward yield of 2.0% isn't very high either. The most recent dividend increase was 18.2%, from $0.55 to $0.65 per quarter. This is well above the EPS growth, which was 11% in the most recent fiscal year. The trailing twelve month payout ratio is just over 40%, which isn't extremely high. Considering the fact ITW expects earnings per share for the current fiscal year to be in the range of $6.00 to $6.20, I wouldn't be surprised if the dividend gets raised to $0.75 per quarter in about 6 months from now. This would bring the payout ratio up to the high 40's, which still isn't any reason for concern. That would give investors getting in at the current price per share a yield on cost of 2.3%, which I don't consider to be extremely high. At $129.37, I don't think ITW is very interesting for dividend oriented investors.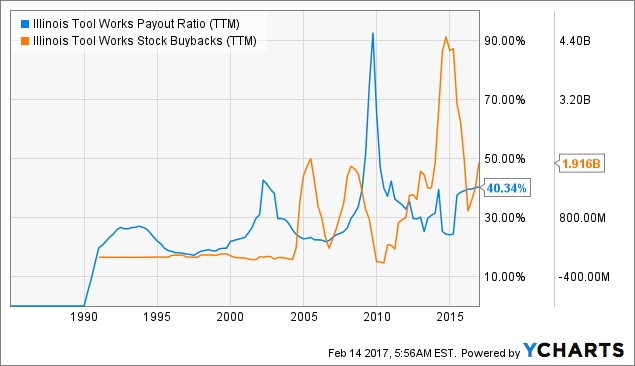 ITW Payout Ratio (NYSE:TTM) data by YCharts
Illinois Tool Works buys back large amounts of its own shares in an effort to boost EPS. This has been quite effective in recent years, as we can see from the graph below. However, the long term debt has been increasing at a steady pace over the past decade, and now stands at $7.83 billion. At some point, the share repurchases will have to decrease, as the debt level can't grow indefinitely. The short term financial health for ITW appears to be just fine, with a current ratio of 2.22. The quick ratio, which excludes inventory, stands at 1.83, which is also really good. The high current and quick ratio's are mostly due to the fact ITW has cash and equivalents totalling $2.47 billion.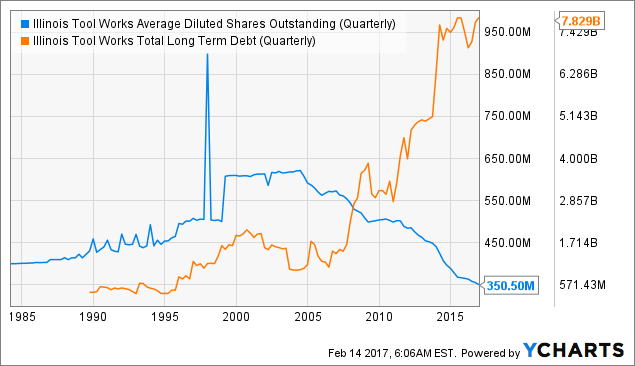 ITW Average Diluted Shares Outstanding (Quarterly) data by YCharts
The graph below shows ITW's price to earnings ratio and price to FCF ratio. As we can see, both have increased rapidly over the past year. The company is trading at well above its 5 year averages, which stand at 17.7 for the p/e ratio and 18.1 for the p/FCF ratio. I don't see how this higher than average valuations would be justified at this point in time. The company is currently valued at 3.4 times trailing twelve month revenue, which is 47.8% higher than the 5 year average of 2.3.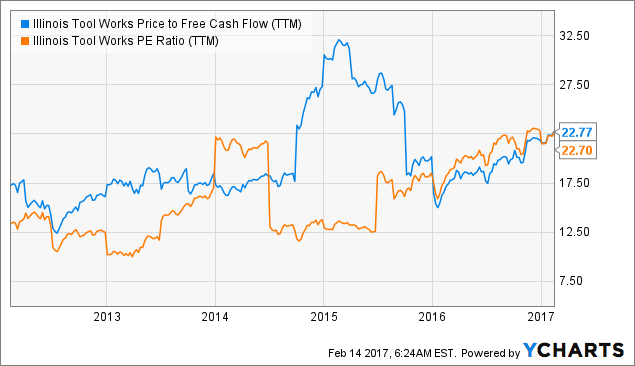 ITW Price to Free Cash Flow (TTM) data by YCharts
So far, I'm not convinced I should hold on to my shares in ITW. I bought ITW because of its high yield, but the price per share has increased so much the forward yield is actually quite low. My yield on cost might be quite decent, but I could take some profits and reinvest them into higher yielding stocks, which would increase my income. At some point I would hope to get an opportunity to buy ITW again, but it would have to make a significant drop. A price to earnings ratio in the range of 17 to 19 would be reasonable in my opinion, and I would certainly consider getting back in at that range. With EPS forecasted to be between $6.00 and $6.20 for the current fiscal year, my entry price target would be somewhere in the range of $ $102.00 to $117.80. For now, I'm selling my shares in ITW.
Disclosure: I/we have no positions in any stocks mentioned, and no plans to initiate any positions within the next 72 hours.
I wrote this article myself, and it expresses my own opinions. I am not receiving compensation for it (other than from Seeking Alpha). I have no business relationship with any company whose stock is mentioned in this article.