Kellogg (NYSE:K) is a business that I've felt has been a bit overpriced for quite a long while. This is a company with no discernible ability to grow and yet, it routinely trades at 18 to 20 times earnings. That is owed to the fact that it is a consumer staple food business, a group that has been bid up to absolutely stratospheric levels in the past couple of years, but that doesn't make it any easier to overpay for the stock. Q4 earnings were very well received, but some old problems are still hanging around and at $75, the stock still looks expensive to my eye.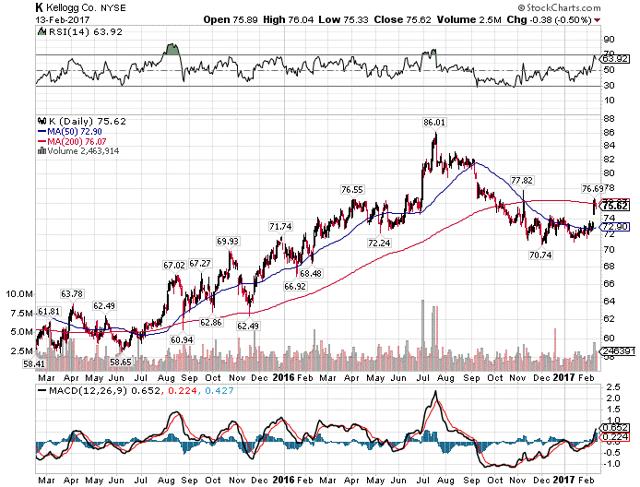 Revenue was down once again in what has become the norm for Kellogg and others it competes with. The packaged food business is a tough one of late, and in particular, for peddlers of breakfast cereal. Obviously, Kellogg relies heavily upon cereal and other breakfast items and once again in Q4, sales growth in that segment was negative. Apart from that, the Other and international businesses were weak as well in a story that has become all too familiar for Kellogg. At any rate, -1.4% sales growth makes it very difficult to justify paying almost 20 times earnings for the stock, regardless of how strong operating income gains are. And that's the problem I've had all along with Kellogg; demand is so weak for its core offerings that I'm not sure when it may turn around. Kellogg has the same basic problem that Coca-Cola (NYSE:KO) has; its core offering is a product that people are consuming less and less of and diversification helps, but it can't solve everything. Guidance for 2017 is for yet another year of negative revenue growth as it just never seems to end for Kellogg.
That said, operating margins were strong in Q4 as Project K has benefited the company greatly. Margins were up in all regions despite protracted weakness in revenue due to lower SG&A costs as well as cost of goods sold. Kellogg has shown a laser focus on controlling costs in the past few quarters and it is working extremely well. Project K has been a huge success and I suspect that will continue to be the case in 2017. K will eventually get to the point where it cannot cut anymore, but it hasn't reached that point yet. And with the announcement of the change in delivery model for the snack business, that leaves the door open for more margin upside after Project K has run its course. The financial impact will take some time to show up and for now, it will just result in some transition costs. But K is doing all the right things in terms of margins and that is the only reason the stock is still hovering in the mid-$70s.
Kellogg may be doing all the right things with respect to margins - including saving money on inputs, the supply chain and SG&A costs - but the harsh reality is that demand isn't expected to pick up anytime soon despite all of its diversification efforts. I mentioned guidance for this year was for further declines in revenue and if analysts are to be believed, that will happen next year as well. Will it stop after that? Is 2019 finally the time when K produces positive revenue again? I don't know the answer to that question, but the fact that it is even being asked tells you a lot about the state of K's business.
In addition, forex continues to be a strong headwind for earnings as K lost a whopping 57 cents in EPS in 2016 just to forex translation. On a base of $3.74, that is absolutely huge and it speaks to the magnitude of the problem for K. And with the Fed set to raise at least a couple of times this year while the rest of the world's central bankers race to the bottom with their respective currencies, I have to think this is going to get worse before it gets better. K is at the mercy of a strong dollar and given our economic strength and the Fed's plans, I'm not really sure why K would see any relief anytime soon.
At more than 19 times this year's earnings, K still looks pricey to me. Project K is great and K's operating margins are moving appreciably higher and should continue to do so for some time to come. But if we just take a look at the growth numbers K is producing - +6% EPS this year and +10% next year - this is not a growth stock. Paying 2X or 3X its growth rate is a lot to ask and while I understand consumer staples have different valuation standards than the rest of the market, K is steep even against its peers. The yield isn't high enough to entice buyers en masse either and with the 200DMA having rolled over, the technical picture is now weak until further notice. In other words, despite the progress of Project K, I think the stock is pricing in more than what should reasonably be expected. For that reason, I'm still on the sidelines with K and if it spikes from here, I'll consider shorting it.
Disclosure: I/we have no positions in any stocks mentioned, and no plans to initiate any positions within the next 72 hours.
I wrote this article myself, and it expresses my own opinions. I am not receiving compensation for it (other than from Seeking Alpha). I have no business relationship with any company whose stock is mentioned in this article.