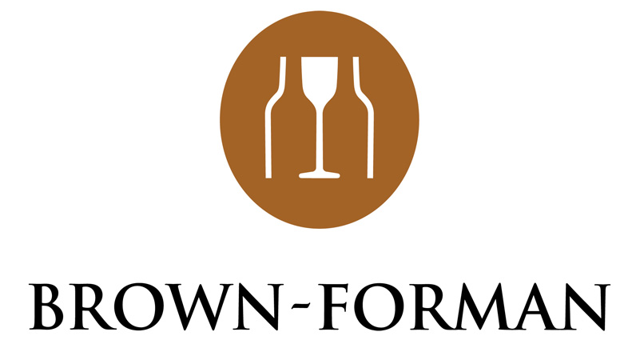 Brown-Forman (NYSE:BF.A)(NYSE:BF.B) is an incredibly consistent and rewarding company operating in a defensive industry with many premium brands, but its growth going forward doesn't deserve the premium multiple.

BF has a long history of operational success and rewarding shareholders with increasing dividends. Its streak of 33 years of consecutive dividend increases places it among the Dividend Aristocrats, but with a yield of only 1.6%, it is not necessarily one of the most covered. Looking below, its long-term earnings growth rate of 8.6% is impressive, and the steadily increasing earnings is a good sign of a healthy business.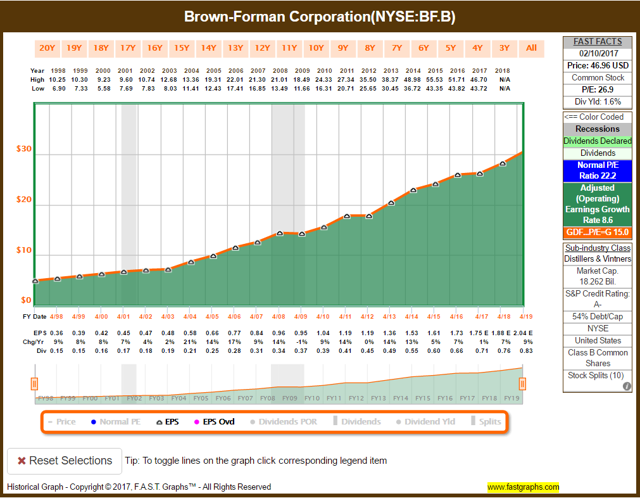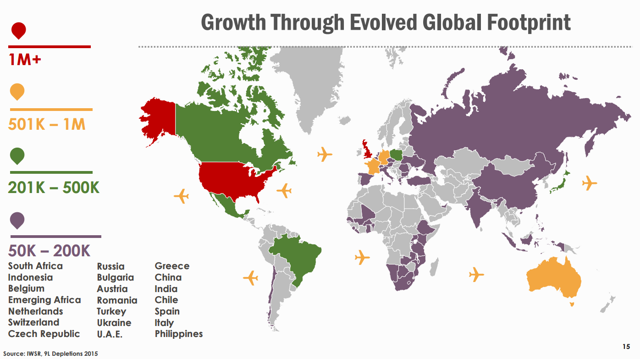 BF derives sales from all over the world, but the US is still its bread and butter with a large footprint in Great Britain and western Europe, as well. This puts the company at risk of currency fluctuations, like most of the large multinationals, which necessitates some adjustments to sales figures when attempting to perform YOY comparisons. For this reason, I will discuss management's reported underlying sales figures, which adjusts for currency and shifts in distributor inventory. The company has definitely been feeling the weakness in emerging markets, with the 3% increase in the second quarter only bringing the total on the year to a 1% decline in sales. The growth has been seen mostly in Mexico and Poland, with Mexico's being driven by Herradura and Jack Daniels. Poland is Finlandia Vodka's largest market, which saw strong results and continued growth in Jack Daniels, as well. However, other emerging markets including China, Russia, Brazil, and Turkey all declined at a double-digit rate. This isn't isolated to BF, as many other companies have experienced weakness in emerging markets recently.
Countering this, BF recently drove relatively strong sales growth in the US and developed markets of 5% and 2% respectively. Recent product launches in the Jack Daniels category pushed that family of brands up by 4% from an obviously large base, and key brands like Woodford Reserve, Old Forester, Herradura, and El Jimador have remained strong. Looking at sales growth, BF is in a better spot than some companies seeing sales declines or stagnant growth. However, 2% overall after adjustment for currency isn't going to set the world on fire.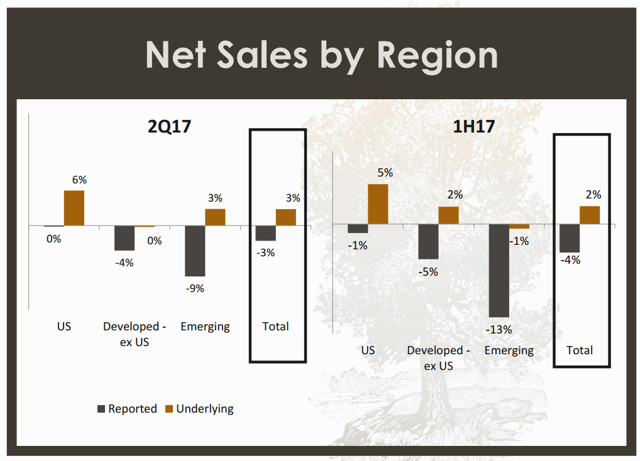 One of the things that I applaud BF's management for, especially considering the long operating history of the company, is their willingness to continue to innovate. Divesting the Southern Comfort and Tuaca brands in order to acquire 3 scotch whiskey brands and launching new Jack Daniels product offerings shows a commitment to continuing to shift to drive continued growth. Shifts like this can affect results this quarter or next quarter, but it's refreshing to see a management looking more at what results might be next year or even in 5 or 10 years. Southern Comfort and Tuaca were profitable brands, but declining. Management chose to cut ties and attempt to find the greater long-term growth potential.
Staying up to date and continuously shifting to meet consumers' desires while maintaining core brands is something BF has obviously done well over the years. Consumer shifts have helped whiskey brands immensely over the past several years, and BF was positioned well with Woodford Reserve to meet the craft whiskey trend. Woodford Reserve is now BF's fastest growing spirit, followed closely by its New Mix Ready to Drink offerings and Herradura, an 11-year-old acquisition in the tequila category. Additionally, Cooper's Craft was launched last year as the first new bourbon brand from the company since Woodford Reserve in 1996, which should continue the strong capitalization of the whiskey market.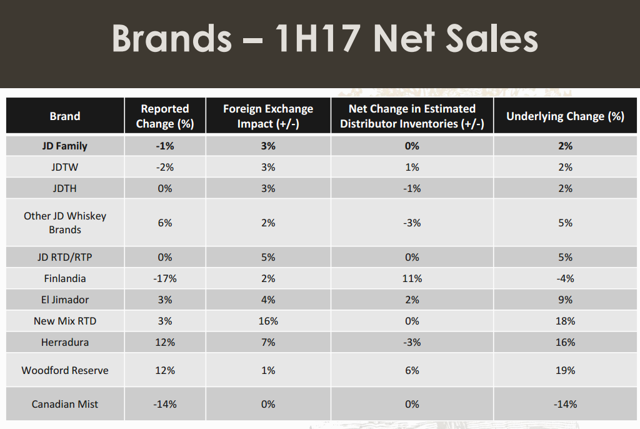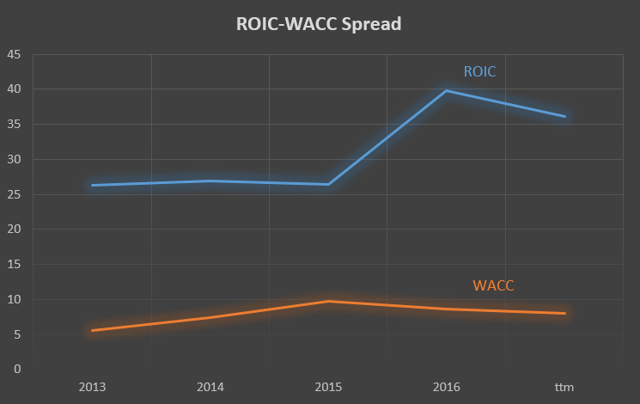 BF's strong ROIC-WACC spread shows one of the reasons the company likely trades at such a premium valuation. The mid 30% ROIC shows strong value creation and stewardship of capital by management.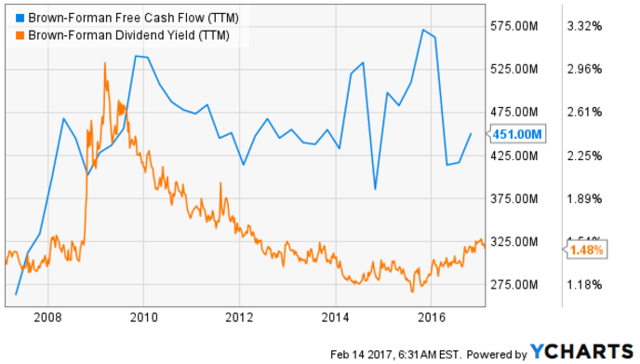 BF's free cash flow growth has been somewhat anemic, however. Dividend payments use up around half, or $266M last year. It carries a current payout ratio of only 25.6%, yielding around 1.5%. Free cash flow today is almost at the same level that it was in 2009,but capex did double over that time so operating cash flow was~$30M higher in 2016 than in 2009. For a safe, relatively slow-growing investment, I would typically like to see stronger cash flows. That being said, BF is carrying $1.9B in L-T debt with a quick ratio of 1.4 showing adequate liquidity. Dividend growth rates have been adequate in the mid-single digits for the last 10 years.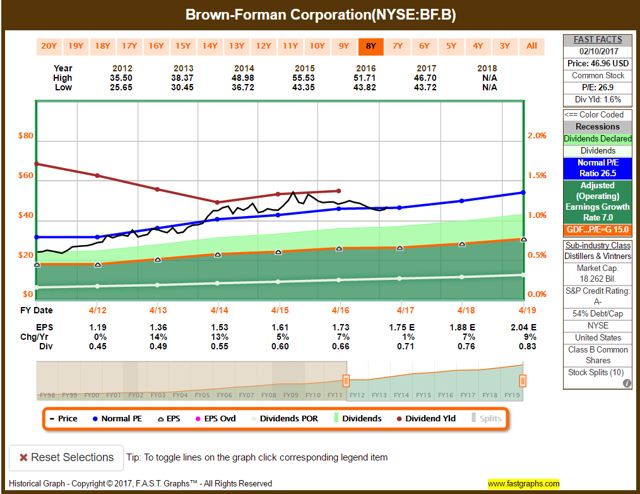 Looking at the valuation graph above, the market has awarded a premium multiple to BF over time of an average of 26.5X earnings. Therefore, one could surmise that where it trades now at ~26.9X earnings is not far off from fair value.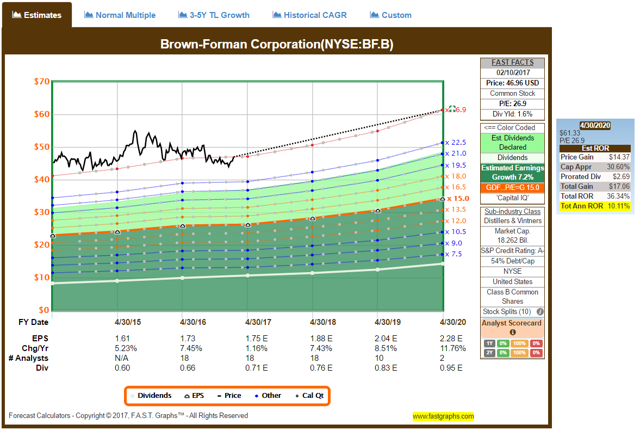 Looking at analyst estimates, if BF were to maintain this valuation shareholders would be looking at nearly a 12% annualized total return over the next 3 years. My take from this is that BF is an outstanding business that has shown strong value creation, stewardship of capital, and brand management. However, growth going forward does not justify the premium valuation, in my view. I will look to add on significant weakness, likely during an overall market downturn. I am setting a target of $38 as an entry point, or 20X forward earnings.
If you liked this article, and would like to read more like it, please click the "Follow" button next to my picture at the top and select Real-time alerts. Thanks for reading.
Financial statistics were sourced from Morningstar, with the charts and tables created by the author, unless otherwise stated. This article is for informational purposes only and represents the author's own opinions. It is not a formal recommendation to buy or sell any stock. Please do your own due diligence and/or consult a financial professional prior to making investment decisions.
Disclosure: I/we have no positions in any stocks mentioned, and no plans to initiate any positions within the next 72 hours.
I wrote this article myself, and it expresses my own opinions. I am not receiving compensation for it (other than from Seeking Alpha). I have no business relationship with any company whose stock is mentioned in this article.