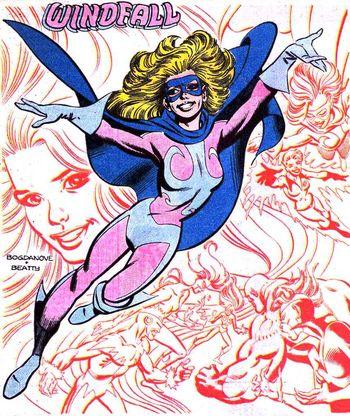 This song will make you all nostalgic as we focus on an emerging Canadian gold mining district in this week's
Resource Sector Digest.
(Vol. 75 - February 13, 2017)
Brought to you by Itinerant and The Investment Doctor.
In this edition we shall:
set the scene,
highlight actionable ideas,
comment on news releases and
link to relevant articles.
Please consider our cordial invitation to join Itinerant Musings for exclusive access to actionable research on mining and energy stocks.
In case you missed out on previous editions of this newsletter, simply click here, here or here to catch up.
Setting The Scene
Osisko Mining (OTCPK:OBNNF) has been a consistent entry in our news release review, typically with reports of high-grade drill intercepts from the company's Urban Barry (or Windfall) project 200 km to the Northeast of Val-d'Or in Quebec, Canada.
Osisko Mining is taken very seriously among investors as it enjoys the backing of a group of mining executives who have built and sold the mighty Canadian Malartic gold mine to a JV formed by Agnico Eagle Mining (NYSE:AEM) and Yamana Gold (NYSE:AUY) a couple of years ago. Osisko Gold Royalties (NYSE:OR) was spun out at this time, and this royalty company resides at the center of a network of companies developing gold projects, mostly around Canada.
Osisko Mining (formerly known as Oban Mining) originally subscribed to the newly-coined land-bank business model whereby cashed up entities would buy up prospective properties during the bear market in order to bring these properties to account once markets turned again. Osisko Mining is far and away the most successful of these land bankers, controlling a host of high quality projects with Windfall arguably the flagship among them.
Windfall is an underground deposit, with a total resource of more than 1.6M ounces (roughly half indicated and half inferred) at a very decent grade of 8.4 g/t for the indicated portion and only slightly less for the inferred portion. This presentation contains plenty of information on the project to serve as a starting point for further research.
Osisko companies are not known for their dawdling, and after drilling out the mentioned initial resource, the company proceeded quickly to complete a PEA on a 1,200 tpd operation producing in excess of 100,000 ounces per annum for an 8-year mine life. Needless to say, the results were highly attractive, and reinforced the market's resolve to pay a premium for shares of Osisko Mining. The highly positive market sentiment towards Osisko Mining has allowed the company to raise capital almost at will, and exploration to continue uninhibited.
The premium assigned to Osisko Mining by the market has made it difficult for us to justify an investment, despite the undeniable attraction of the company's assets and its management. However, we have been watching a number of backdoors, which we believe might eventually open for an entry at a discount.
Consider the map below taken from a presentation by Osisko Mining's neighbor at Windfall, Beaufield Resources (OTCPK:BFDRF). It illustrates the location of Osisko's existing Windfall resource, plus surrounding properties owned by a few other junior explorers including Beaufield Resources itself, but also Metanor Resources (OTCPK:MEAOF) and Bonterra Resources (BONXD). In actual fact, these are just the larger juniors in the area, and the map ignores some of the me-too plays that have also sprung up recently (Durango Resources (OTCQB:ATOXF) comes to mind as an example).
Last week's capital market activities by some of the players has triggered our write-up. Beaufield Resources is raising capital C$4M in flow-through financing, plus C$2M in a normal bought deal. Not to be outdone, Bonterra Resources is adding almost C$13M to its treasury, and topping the list is of course Osisko Mining with a whopping C$52M bought deal announcement. This tally is adding up to C$67M announced within the space of just one week; some serious money to be put into the ground in what used to be a backwater not long ago.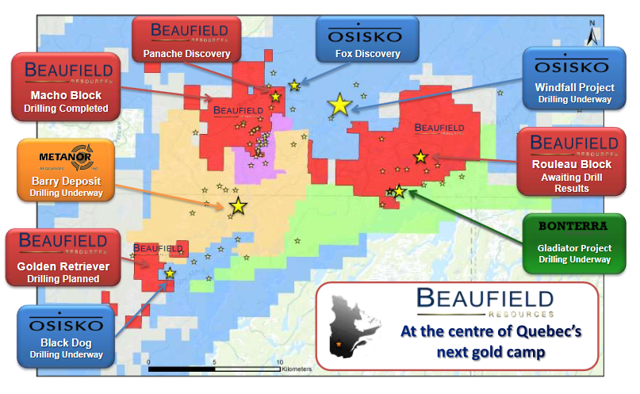 It is a rather fair assumption that consolidation of this emerging mining camp will eventually take place, with Osisko Mining the obvious driver of such consolidation. This consolidation process will most probably evolve selectively, and Osisko Mining will most probably only pick the plums. In actual fact, Osisko already owns a sizeable stake in Bonterra Resources, owing to this junior's Gladiator project.
Not surprisingly, the market has rewarded Bonterra with a premium on the share price already when compared to regional peers. We believe that other, similar transactions will take place in due time, and we are monitoring drill results from this area closely in order to identify the next probable M&A target. This newsletter is one way to stay up-to-date on proceedings, and membership with Itinerant Musings is another.
Actionable Ideas
Our recent article on Timmins Gold (TGD) has attracted a good number of quite extensive comments - mostly opposing our bear thesis. Notwithstanding which camp you subscribe to, there is a wealth of information for either side of the argument worth a read, and perhaps also worth acting upon. Here is a thank you to commenters in general, and to urgen and virtual in particular for taking a stand. We hope for your sake that you are right, and we are wrong.
Taylor Dart believes it's time to nibble on Primero Mining (NYSE:PPP). Whether this is a case of "second time lucky," or perhaps "fool me twice" remains to be seen. This scribe subscribes to the latter, but we have been wrong occasionally before. Quite a few Itinerant Musings subscribers are actually long PPP, but not via the company's common shares.
News Releases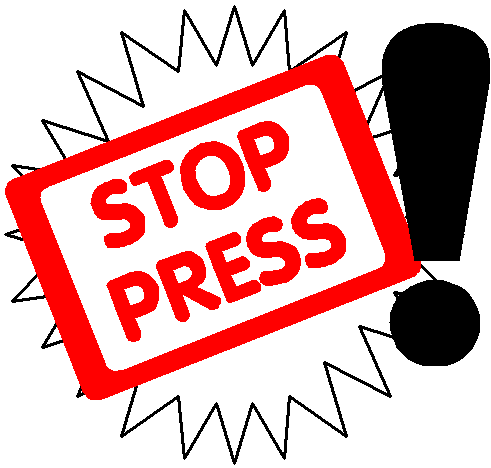 Our digestive systems have been at work again last week. Here is our summary.
News release of the week goes to TMAC Resources (OTC:TMMFF) for pouring first gold at Hope Bay. The company's processing plant at the Doris North Mine is in the final stages of commissioning and commercial production is scheduled for later this quarter.
Drill results aplenty, digested and summarized as follows:
Barkerville Gold (OTCPK:BGMZF) intersected 13.03g/t over 9.1m at Barkerville Mountain in BC, Canada. All Phase I assays for a total of more than 27,000m of drilling in 2016 have been reported now, and Phase II drilling is already under way again at Island and Cow Mountain.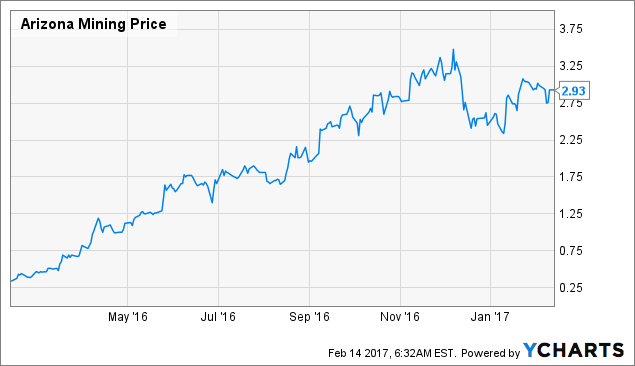 Capital markets are open for miners and explorers again, judging from the number of financings last week. Here is a selection: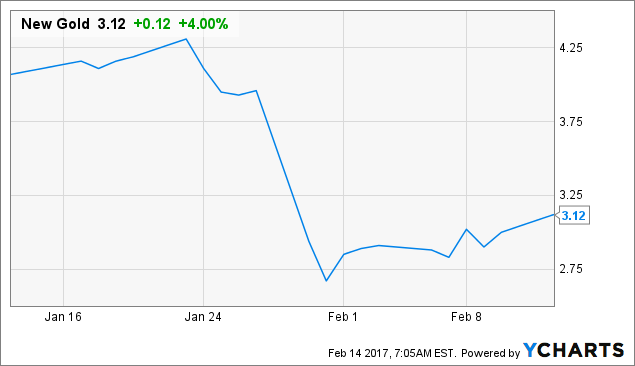 Nemaska Lithium (OTCQX:NMKEF) has successfully commissioned the electrolysis cell of its Phase 1 plant in Shawinigan. More heavy lifting will be necessary before the lithium miner will be able to report successful processing of ore from its Whabouchi mine, but boxes are certainly ticked by this company.
And here is where we bid our see youse all next week again. The Doc will be in charge of digestive systems again, and we are already looking forward to his offering.
Thanks for reading our article. If you're looking to stay on top of the mining sector, consider following my account above to get my latest articles. If you want to see our best ideas, please have a look at Itinerant's Musings, with exclusive access to our small and mid-cap ideas, a lively community, and regular commentary and outlook on metal prices. We'd love to have you on board.
Disclosure: I am/we are long AEM, NULGF, WDOFF, PPP, NGD.
I wrote this article myself, and it expresses my own opinions. I am not receiving compensation for it (other than from Seeking Alpha). I have no business relationship with any company whose stock is mentioned in this article.
Editor's Note: This article covers one or more stocks trading at less than $1 per share and/or with less than a $100 million market cap. Please be aware of the risks associated with these stocks.