By Scott Tzu
It has been a great year for Fannie (OTCQB:FNMA) and Freddie (OTCQB:FMCC) so far, and we are not sure that the biggest Fannie and Freddie bulls could have even considered the scenario that they are facing right now. Not only did Donald Trump win the presidency, but he has appointed a Secretary of Treasury who has publicly stated that his focus is on getting the GSE's (government sponsored entities) out of government control.
Last night, Trump's nomination for Secretary of Treasury, Steve Mnuchin, was confirmed by the Senate. NPR reported,
The Senate voted to confirm Steven Mnuchin as President Trump's Treasury secretary in a 53-47 vote Monday.

Mnuchin's approval came over the objections of some Democratic senators who pointed to Mnuchin's business record running a bank that hastily foreclosed on homeowners. It also drew fire from those who say that with the appointment of Mnuchin and other former bankers to key roles close to the White House, the administration is going back on its promise to get tough on Wall Street.
Fannie and Freddie have both been long debated in numerous forums over the last few years. Shareholders continue to feel like they got the short end of the stick when the government decided to step in and corral all of the profits generated from these government sponsored entities. The government's argument was that these entities should no longer be in anyway held by the private sector, as it was the irresponsibility of the private sector that drove them into conservatorship to begin with.
However, like many others, we don't think the government's case holds any water and we have believed for sometime that those fighting the government in court would be successful in forcing a potential recapitalization of these entities and a distribution of the profits that the government has taken that are argued to rightfully belong to shareholders.
Mnuchin's confirmation, alongside of the confirmation of other Trump cabinet members like Jeff Sessions, will pave the way for a full recapitalization of both Fannie Mae and Freddie Mac. The means with which the government decides to perform any recapitalization going forward all remain up in the air. However, long-standing allies of Mnuchin are significant shareholders in preferred shares of both GSEs.
The stock for Fannie Mae and Freddie Mac has run up significantly since the election. You can see in the chart below the common shares have appreciated significantly. Preferred shares for both entities have also moved higher.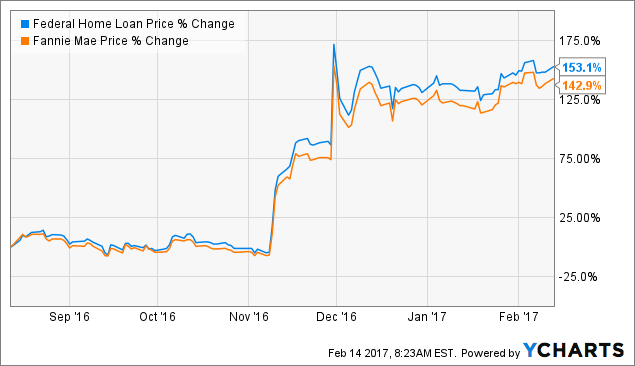 In a situation where the GSE's are recapitalized, we prefer to be in the preferred shares as there is less risk to them potentially getting short changed into recapitalization scenario. We own a significant amount of preferred shares in both of the GSE entities and may pepper in some common shares as call options if they pull back in price. We still think the road for both preferred and common shares is long and winding, but Mnuchin's confirmation last night clears the path for this administration to finally produce a permanent verdict in favor of the "FannieGate" crowd.
Furthermore, Fannie Mae is set to report earnings on Friday of this week. We are going to be watching extremely carefully as the company reports. Members of Trump's administration have commented that Fannie and Freddie are near first on the list for Mnuchin to take care of as Secretary of Treasury, and we can't help but wonder if we are going to possibly get news about the fate of the net worth sweep as early as Friday of this week.
While Mnuchin's confirmation is great news, both the common and the preferreds have appreciated meaningfully of late and may even be due for a slight correction. We would use any pullbacks to add to our position that we intend on holding over the course of the long term. Nobody knows what the new Secretary of Treasury's plans for the GSE's are, but with Mnuchin in place things are starting to look very bright and our attention will be heightened in a big way starting this Friday.
Disclosure: I am/we are long VARIOUS PREFERRED STOCK CLASSES OF BOTH FANNIE AND FREDDY.
I wrote this article myself, and it expresses my own opinions. I am not receiving compensation for it (other than from Seeking Alpha). I have no business relationship with any company whose stock is mentioned in this article.
Editor's Note: This article discusses one or more securities that do not trade on a major U.S. exchange. Please be aware of the risks associated with these stocks.