I remember when the news was first announced that Elliott Management first took a stake in Alcoa (NYSE:AA), shareholders, while happy with a quality large investor, were curious about the fate of the company. Elliott has now transitioned and has big plans for Arconic (NYSE:ARNC), notably that it will try to push out current CEO Klaus Kleinfeld. This is a large incoming change and investors who are focused on the pure play upstream company, Alcoa, need to understand that these changes could have positive ripple effects as these changes are cast from the light of capital preservation.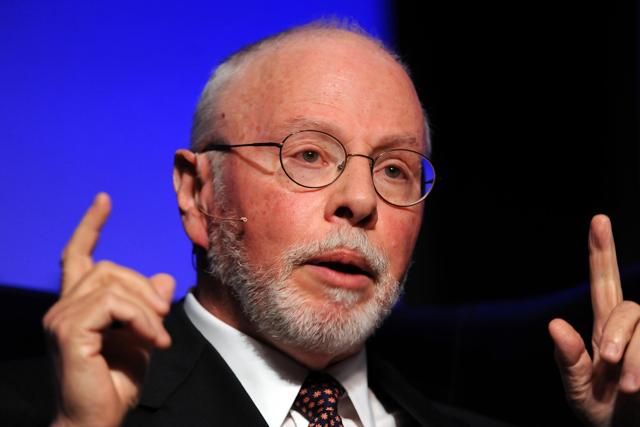 Source: Bloomberg
A New Day Dawns For Alcoa
Post-split, we've seen Alcoa's shares only confirm the preliminary thesis that the split would unlock shareholder value. Alcoa has effectively doubled since the beginning of November and that's a rapid change. If you look at the slope of this uptrend, it's really taken off. After months of dull trading and a continual downbeat in fundamental activity, the shareholder split unlocked value and while stalling around the $30 resistance level just a few weeks after the split, Alcoa has notched up rapidly and is looking to take out the $40 level.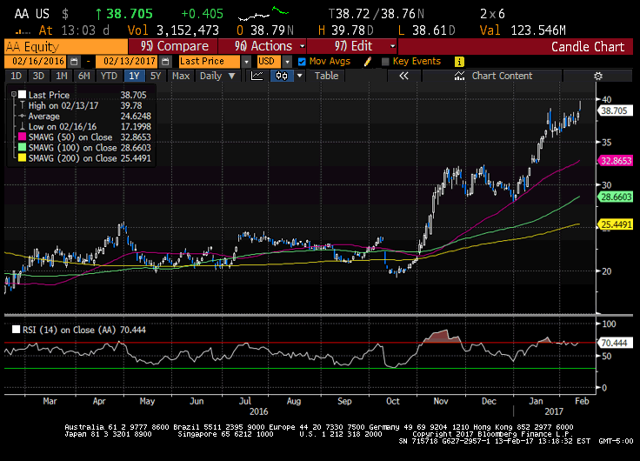 Source: Bloomberg
In fact, investors actually don't have much of a risk/reward scenario that's favorable within this stock anymore. The rapid uptrend of AA shares has left the five-year highs behind and now the stock is in uncharted territory. While this pacing, naturally, won't continue forever, the streak of strong annual gains may just be starting. From a momentum perspective, Alcoa has been in and out of the overbought reading for a couple months now and it's not surprising given the pacing of these gains. However, any pullback would be an excellent time for prospective shareholders who have missed this run to go long.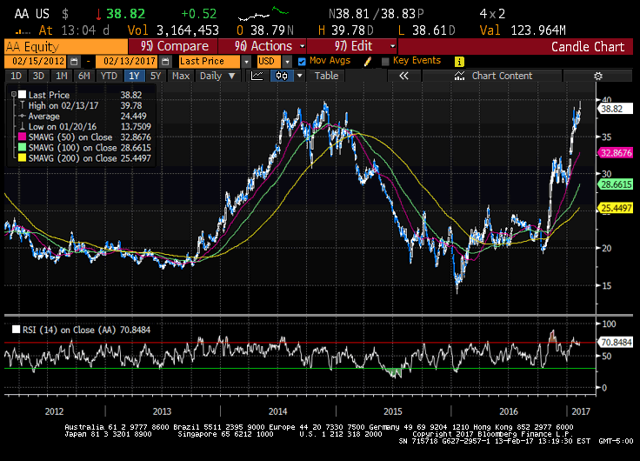 Source: Bloomberg
Now, while the stock may be entering in uncharted territory, aluminum prices are only about halfway through their price recovery. Below is a 5-Y chart of the base metal and you can see that it is currently priced at around $1,874/mt. There are two critical resistance levels in sight, $1,900/mt and $2,000/mt. Should the current pacing of gains continue, it's likely that we'll see $2,000/mt by the end of March.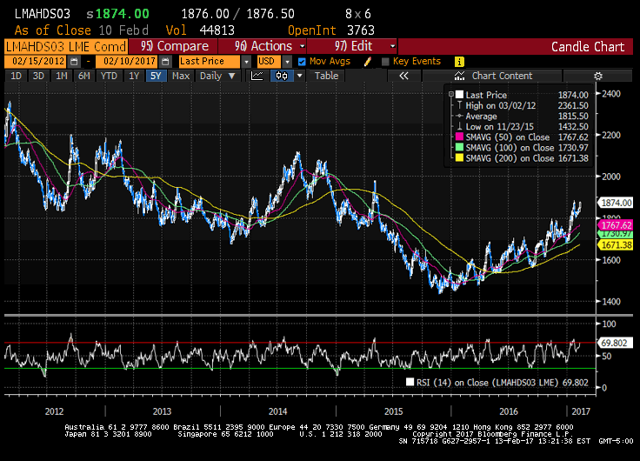 Source: Bloomberg
Aluminum fundamentals have certainly picked up. The upgrades last week from Bank of America (NYSE:BAC) and JPMorgan (NYSE:JPM) confirm the increasingly positive fundamental situation and highlight the key near-term drivers for aluminum. First, thanks to the WTO-filed complaint, premiums in the Midwest, a key gauge for price action for aluminum, have begun to increase and that's directly reflected in the above chart. Second, as China decreases its aluminum capacity, which is really not the case for all base metals so aluminum bulls should be optimistic on this point, the price has gone up and this is an action that doesn't seem to be reversing. We'll have to continue to watch changes to Chinese aluminum capacity in the coming months, but nothing at the moment suggests a reversal.
Additionally, these upgrades were on the back of Citi (NYSE:C) and Deutsche Bank (NYSE:DB) upgrading the stock the day after Q4 2016 earnings were announced. DB placed specific emphasis on the fact that the EBITDA margin doubled QOQ and that the outlook for EBITDA generation in 2017 is being revised upward. That's a fantastic development because it means free cash flow in excess of $1 billion could be generated, which could be used to help service the debt and further appease shareholders.
Elliott Management And Capital Preservation
It must be noted that first and foremost, while Elliott has a stake in Alcoa and a sizeable one at that, the current activism will be directed at Arconic, which is now a separate company from Alcoa. Nonetheless, its actions are important as they closely affect Alcoa from a strategy standpoint and there may be the possibility of future activism on AA shares.
A quote from Elliott's Paul Singer really caught my attention and will help in trying to understand what Elliott is seeking from Arconic. He said the following,
Now more than ever, we want to be positioned for as many permutations as possible in order to preserve capital if market conditions deteriorate
Interestingly enough, capital preservation strategies are those pursued by pension funds and DRIP investors, or generally investors with high fixed income allocations. Here, the same focus is indirectly applied because Elliott is trying to preserve the value that is Arconic. So, it begs the question, if Elliott is focusing on capital preservation strategies, potentially capital structure changes or improving operations, will there be further changes coming to Alcoa?
Elliott Management is actually only the 5th largest shareholder, but it is making the largest amount of news because it is finally taking action to fix the internal problems that have plagued Alcoa for so long. Interestingly enough, we saw it cut its stake in AA shares, presumably transferred to Arconic shares because of the split. The last filing date was November 11th, so when a new filing is updated, investors here on Seeking Alpha will be updated.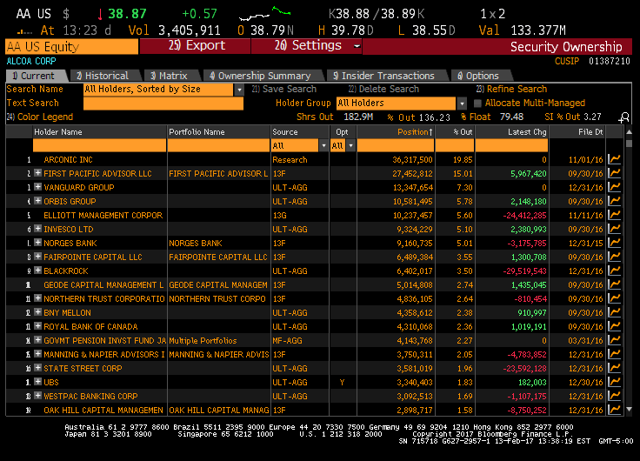 Source: Bloomberg
Investors have to have respect for the situation at hand. Elliott Management is coming off of a strong 2016 where it returned 13.1% in its main fund and outperformed the basket of hedge funds, that returned just over 7%. With its long track record for successful shareholder activism, Elliott will do everything it can to achieve its goals set for Arconic. For those shareholders of both Arconic and Alcoa, or even just Alcoa, these are optimistic signs that further internal improvements will be made and that internal conflict that has led to extended losses over the years will cease to near zero in the upcoming ones.
Conclusion
The situation is simple and has an increasing amount of clarity. Elliott management post-split has increased its stake in Arconic, but has maintained above a 5% stake in Alcoa. Shareholder activism has been quite light post-crisis, but this is a clear instance where a hedge fund is aiming to make a key change and that is trying to oust CEO of Arconic Klaus Kleinfeld. There may be ripple effects from this onto Alcoa shares and in the near term, we may even see changes to Alcoa's capital structure and changes to Alcoa's business strategy, but for now we'll have to wait and see. AA has positive fundamentals backing further gains and I am bullish on its prospects as we move through this first half of the year.
Disclosure: I/we have no positions in any stocks mentioned, but may initiate a long position in AA over the next 72 hours.
I wrote this article myself, and it expresses my own opinions. I am not receiving compensation for it (other than from Seeking Alpha). I have no business relationship with any company whose stock is mentioned in this article.