News dropped last week that Williams (NYSE:WMB) would be doing a deal with Western Gas Partners (NYSE:WES) to increase its foothold in the Marcellus. This will directly benefit Williams Partners (NYSE:WPZ), but still says a considerable amount of the direction and ability of management team members within the Williams family of companies. With the Atlantic Sunrise pipeline being approved and other pipelines that could be approved rather soon, the company is playing to its strength by trying to expand its Northeast market share and bolster long-term distributable cash flows, which will benefit shareholders immensely.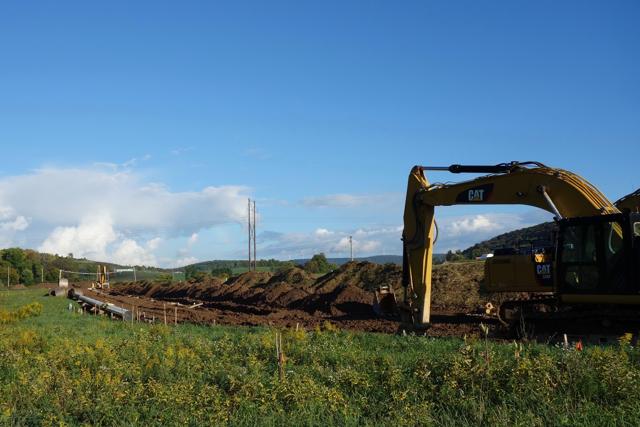 Source: Pittsburgh Post-Gazette
Strategy Change At Williams
The deal with Western Gas Partners to increase the foothold in the Marcellus shale tells me that the company at large is trying to shift from operations that were viable but underperforming their expectations towards their key strength, which is the northeast market. Bolstering the cash assets of the two companies is also something shareholders should look at. Cash is so critical for Williams because as of Q3 2016, the company had just $77 million in cash assets, down from the trailing two-year high of $204 million. WPZ had just $68 million in cash assets, down from the trailing two-year high of $186 million.
Now, there's a tradeoff in every transaction and RBC pointed to WPZ giving up "growth potential" in the Permian Basin, which is one of the most profitable and quality crude oil basins in North America. However, Williams is simply playing to its strengths as it has the opportunity to put into service two new pipelines linked to the Marcellus, which will help the company generate a higher level of distributable cash flow in the years to come.
The strategy shift, in my opinion, comes at a good time as the new presidential administration's will help to expedite pipeline approvals, so Williams' backlog will see more realizations than in the past eight years. We've already seen a major approval, the Atlantic Sunrise pipeline, which will service the northeastern United States, seen below. This is a $3 billion approval and comes after nearly two years of reviews by FERC. This is also a positive indicator that the Constitution Pipeline might be put back online, and perhaps the shift from the Permian to the Marcellus by WPZ is foreshadowing that. That's an $875 million pipeline that would also service the northeast and as I receive more information about the approvals and other regulatory hurdles, I'll be sure to update the investing community.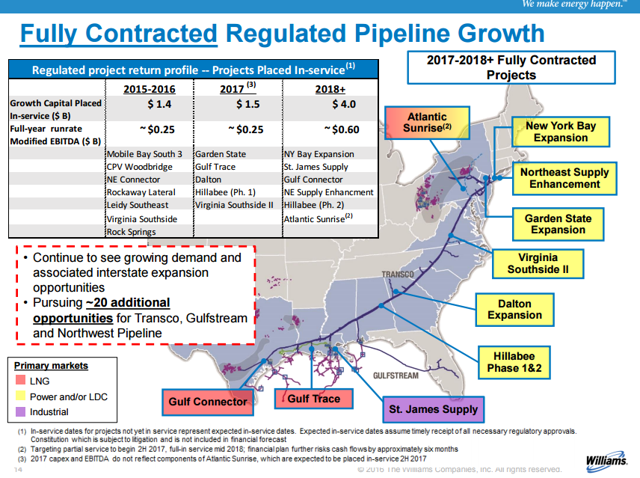 Source: Investor Presentation
Is There Near-Term Upside For Williams?
The best way to figure this out is to determine the fundamental situation for both natural gas and crude oil. This, in turn, will help us to understand how much freedom companies like Williams have in increasing volumes and generating a top-line boost as well as an increase to distributable cash flow.
Natural gas prices spiked in Q4 and approached the $4.00/MMBtu mark before crashing back to earth just above $3.00/MMBtu. Since then. The slide has been modest and natural gas is currently trading just above $2.91/MMBtu. Now, the situation at hand with natural gas pricing is much better than it has been in the last two years, as prices for a majority of 2016 were well under $3.00/MMBtu, so the previous breach sets a good omen for future trends. Natural gas prices will likely continue to follow the trend down in the short-term, unless another wave of cold weather comes in or we see a significant withdrawal in inventories past expectations.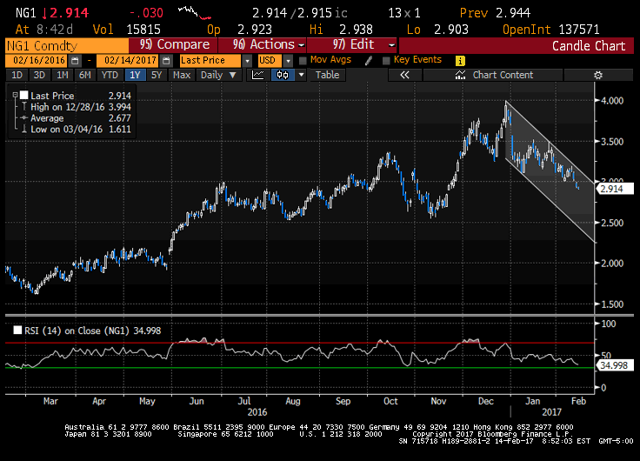 Source: Bloomberg
Natural gas inventories have naturally been coming down the last several weeks because we're in the middle of winter and continued withdrawals are normal for this time of year. However, as you can see from what looks to be a very odd graph below, it's critical that the withdrawals at the end of this winter surpass those of last year and make progress towards 2015 levels.
As a reminder, 2014 and 2015 were some of the most brutal winters experienced in the last couple of decades, which is why there were such large draws in storage. It's important these withdrawals continue to occur in light of recent news that the Transco gas pipeline just delivered record volumes early last month. The further these inventories fall, the higher the volumes Williams can transport, plain and simple, as the Transco is wrapping up a decade long capacity expansion.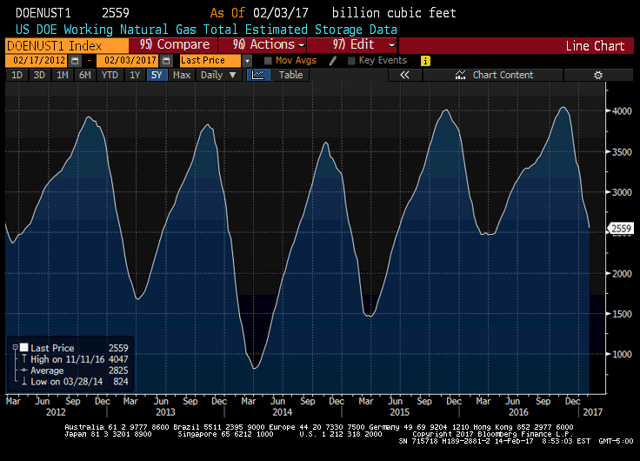 Source: Bloomberg
Moving forward to crude oil, the pattern is quite different because crude has been trading in a tight range since early December, just after OPEC moved to cut production at the Vienna meeting. That's a bit frustrating for midstream companies especially because E&Ps aren't necessarily inclined to start boosting flow, which would increase serviced volumes for pipelines. This sideways trading, naturally, won't last forever and there are critical events this year that could reshape the fundamental environment for both E&Ps and midstreams.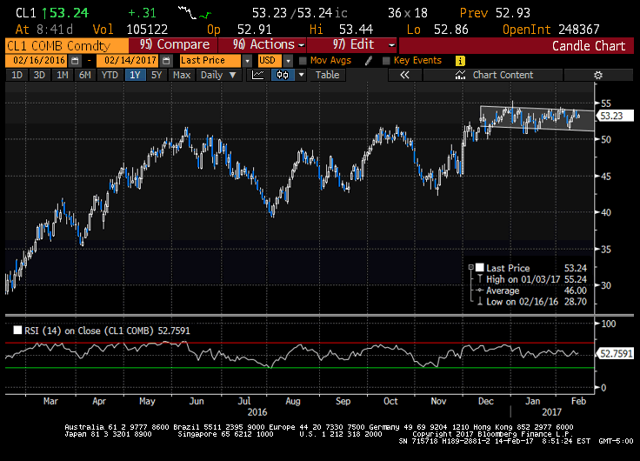 Source: Bloomberg
OPEC announced a few days ago that it is currently at 90% compliance with the set level for production cuts. That's substantial progress, obviously, and if the cuts are maintained, the potential for a 600k barrel draw in inventories will occur. The inventories in the United States have reversed course in recent weeks, piling up as producers take advantage of the best average pricing in several quarters. However, globally-reported OECD inventories have The only laggard in compliance is Russia, who still has to cut another 200 kbopd in order to be in line with its previously announced cuts. Below is a graph of OECD inventories, which are still above 3 billion barrels. When these inventories start to come down materially, which can happen if the compliance is maintained, crude prices will be able to pass the $60/barrel mark quite easily and, in turn, aid Williams with an increase in volumes.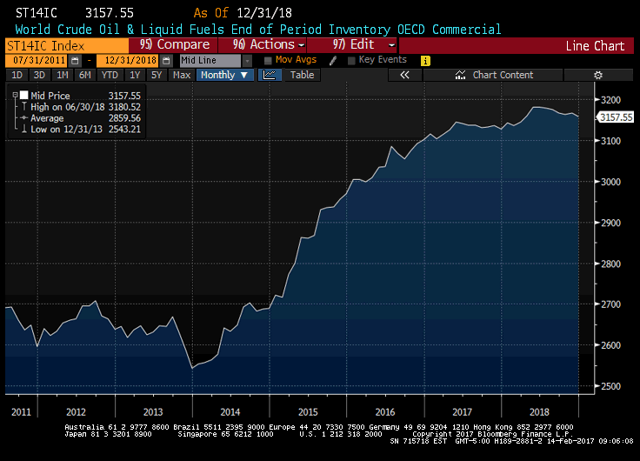 Source: Bloomberg
Conclusion
Williams reports earnings tomorrow, February 15 and with the spike in natural gas prices in Q4, we should see the report detail a strong improvement YOY, with volumes improved. The strategy shift that is currently occurring is quite interesting, as you don't see as many companies playing to their strengths as they should. Thus, I think the answer is, yes, there is near-term upside for Williams, but a lot of it has to do with inventory retractions and commodity pricing strength, even for a company like Williams who has a reduced dependency on the fundamental environment. The real ticket here is that the long-term picture is incredibly bright for the company and I fully expect distributable cash flow in the next cyclical uptrend to be robust based upon the actions they're taking now.
Disclosure: I/we have no positions in any stocks mentioned, but may initiate a long position in WPZ over the next 72 hours.
I wrote this article myself, and it expresses my own opinions. I am not receiving compensation for it (other than from Seeking Alpha). I have no business relationship with any company whose stock is mentioned in this article.