On February 21st, I published an article which claimed that, contrary to the common opinions of the crowd, mREITS are likely to be heading south from here.
In this follow up article, I will explain the full details of why the earnings trends of mREITS are about to reverse and why this is a good time to sell these stocks rather than to own them.
Dark Clouds of Regulation
On August 31, 2011, the SEC issued release IC- 29778 seeking comments from the public as to whether mREITS should remain exempt from the investment Company Act of 1940. The purpose behind this initiative was to try and limit the extent of leverage mREITS employ to acquire assets and boost returns.
According to the release (Page 9):
"while the debt-to-equity ratio of mREITS is nearly five to one, the debt-to-equity ratio of registered closed-end investment companies that use borrowings was generally less than one quarter to one."
It is imperative to remember that leverage is the engine behind the returns that mREITS produce. Without leverage, mREITS will not be able to magnify the spreads and turn a meaningful profit. If, for example, Annaly Capital Management (NYSE:NLY) will not be permitted to use leverage beyond a 3- to- 1 debt to equity ratio (it currently employs a 5-1 ratio), the company will experience a drop of more than 30% in earnings almost overnight. Needless to say, its dividend payouts will be drastically trimmed as well.
Not only that, the real danger for mREITS is losing their special tax advantage as mREITS. If they lose it, they will not be obligated to distribute 90% of their earnings back to shareholders, which means, of course, that their currently high dividend rate is obsolete.
The Danger of Refinancing
The shape of the housing market is a leading indicator for booms and busts. Positive signs of a boom are usually first followed by a recovery in the real-estate market, and vice versa.
The Fed understands that and is doing anything it possibly can to maintain interest rates at record lows so as to stimulate the economy. Look at the graph below to see the change in rates of various types of mortgages.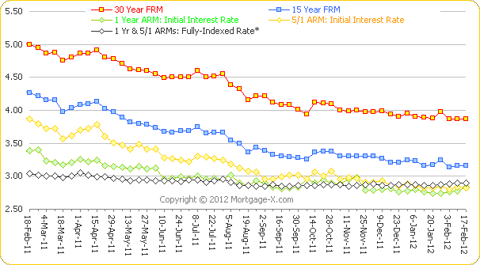 Mortgage rates have been on a steady decline for a few years now. This means that homeowners today are not only able, but also incentivized by the Fed, to refinance existing mortgages into new loans and take advantage of historically low interest rates.
Fixed-rate agency MBS prices rose in 4Q11 and so far in 2012, driven by continued strong bid for lower risk assets on global macro on concerns and interest rate expectations. Nevertheless, this makes new deployment of capital more challenging given high dollar prices and lower yields.
You see, once the crowd is asking for new mortgages, investment bankers are sure to give it to them. They issue new MBSs, bearing lower yield to investors. This, of course, spells big trouble for mREITs. Their profit margins are being squeezed as more new MBSs are issued to replace older ones.
In other words, the more this trend of refinancing persists, the less likely mREITS will maintain their old profit margins.
Unsustainable Dividends
Let's take a look at the following table, with a special emphasis on the capital structure (as expressed in the debt/equity), the payout ratio and the revenue growth.
| | | | | | |
| --- | --- | --- | --- | --- | --- |
| | Annaly NLY | American Capital Agency AGNC | Invesco Mortgage IVR | Chimera CIM | American Capital Mortgage MTGE |
| Market Cap | 16BL | 6.8BL | 1.8BL | 3BL | 0.2BL |
| Trailing P/E | 45 | 6 | 4.4 | 5.5 | 4.6 |
| Debt/ Equity | 5.3 | 7.2 | 6.2 | 2 | 8 |
| Trailing Div. Yield | 14.7% | 18.5% | 21.5% | 17.1% | 4.6% |
| Payout Ratio | 660% | 112% | 98% | 116% | N/A |
| Quarterly Rev. Growth | -58.7% | 64.4% | 91.3% | -38% | N/A |

As things appear at the moment, many companies pay excessive dividends, way beyond their normal capacity just in order not to drive investors away from the underlying security. Annaly, for example, currently pays much more than what it earns. It simply pays out this money from its retained earnings. Of course, this situation is unsustainable. It is as if NLY is currently on some imaginary life support machine.
But that is not the whole story. The revenues of NLY and CIM have been shrinking dramatically, which only makes the current dividend payouts seem even more absurd.
For example, on February 7, 2012, Annaly Capital Management announced earnings for the fourth quarter of 2011. The company reported GAAP net Q4 income of $445.6 million or $0.46, compared to $1.2 billion or $1.94 per share for Q4 of 2010, and a loss of $921.8 million or $0.98 per average share for Q3 of 2011. Excluding unrealized gains and losses on interest rate swaps and agency interest-only mortgage-backed securities, net Q4 income was 54 cents per share, compared to 60 cents for the same quarter in 2010 and 65 cents for Q3 of 2011.
It's All in the Spreads
The spreads between the yield companies pay to borrow and the yield they receive on their loans is the ultimate source of income for mREITS. Now, for the first time in years, it is shrinking. The following is taken from Annaly's latest quarterly report:
"For the quarter ended December 31, 2011, the annualized yield on average interest-earning assets was 3.31% and the annualized cost of funds on average interest-bearing liabilities, including the net interest payments on interest rate swaps, was 1.60%, which resulted in an average interest rate spread of 1.71%. This was a 14 basis point decrease from the 1.85% annualized interest rate spread for the quarter ended December 31, 2010, and a 37 basis point decrease from the 2.08% average interest rate spread for the quarter ended September 30, 2011. At December 31, 2011, the weighted average yield on investment securities was 3.22% and the weighted average cost of funds on borrowings, including the net interest payments on interest rate swaps, was 1.60%, which resulted in an interest rate spread of 1.62%."
The spreads are narrowing for mREITs. You should note that the rate of change in interest rates is not reflected equally between interest earning and interest paying assets, and it is tilted to the interest earnings assets. In other words, as the interest rate decreases, it will have a more substantial (negative) effect on the amount Annaly earns than on the amount it saves (positive) on its borrowing. This is the beginning of this cycle and it will only get worse.
Psychology Matters
Almost anyone likes to attribute mREITs' bright prospects to the existing low interest rate environment.
You see, people like to drive using their rear view mirrors. Yes, the low rates are here to stay but everything is already priced in. This comes as no surprise. The only surprise those investors are likely to encounter is a negative one.
Not only that, I find it a fact that investors are often addicted to dividends. They are so addicted to the regularity of their payouts that they seem to have forgotten to check the underlying security which pays them this dividend.
Buying a security merely for its high rate of dividend or interest is a recipe for trouble. Once the business shrinks, even if it is by only one bit, payouts are likely to follow. The next step would be a public announcement by mREITs of secondary offerings. This, in turn, will drive investors out of the security, which will only lead to a further depreciation in the security's price. This could easily become a vicious cycle.
As Warren Buffett nicely put it: "Buying a bond just for its high coupon is like getting married for the sex. Once the former stops delivering, the later is sure to follow."
Action to Take
If you own shares in any mREIT, sell them. If you don't, sell NLY short above the price of $16.50, place your stop loss at $18, AND take profit at $14. alternatively, you can purchase the October 2012 Puts at a strike of $17, for less than $2 an option.
Disclosure: I am short NLY.