If there is one thing clear from Trump's first weeks in the White House, it is that the man relishes conflict. Political opponents, federal judges, trade partners, steadfast allies - it doesn't matter. If there is a conflict to be had, Trump will seek it out.
So far, China has been spared from his outbursts. This won't last for long.
As we've seen in the past, when presented with conflict, the Chinese government has not hesitated to cut exports of strategically important metals. Most recently, in 2010 the Chinese government shut down rare earth exports to Japan virtually overnight - due to a territorial dispute in the South China Sea.
There is nothing stopping them from employing the same tactics against the United States as soon as Trump starts acting belligerently towards China. Particularly as Trump tries to coax America into a manufacturing renaissance, there would be no better retribution than cutting the supply of the necessary inputs.
China accounts for the vast majority of reliable global production for the following four metals: heavy rare earths, tungsten, indium and antimony. The metals are vital to national defense, renewable power generation and other forms of high-tech manufacturing. At any point, China could fully restrict the United States from accessing these metals.
Below I provide a brief background on each of these metals. Additionally, I include the names of the development stage projects OUSTIDE of China that could most quickly replace Chinese supply if/when an export ban occurs.
Heavy Rare Earth Elements (HREE) - Within the past five years, Lynas Corporation has commenced rare earth production at the Mt. Weld project in Australia. While this has provided a significant supply of rare earths from outside of China, it is important to note that the vast majority of Mt. Weld's production is comprised of light rare earths. The world still remains beholden to China for virtually 100% of heavy rare earth supply.
As you can see in the below chart, the heavy rare earths are indispensable for wind power, nuclear power, lasers, sonar systems, ground monitoring devices and a bevy of other high-tech applications.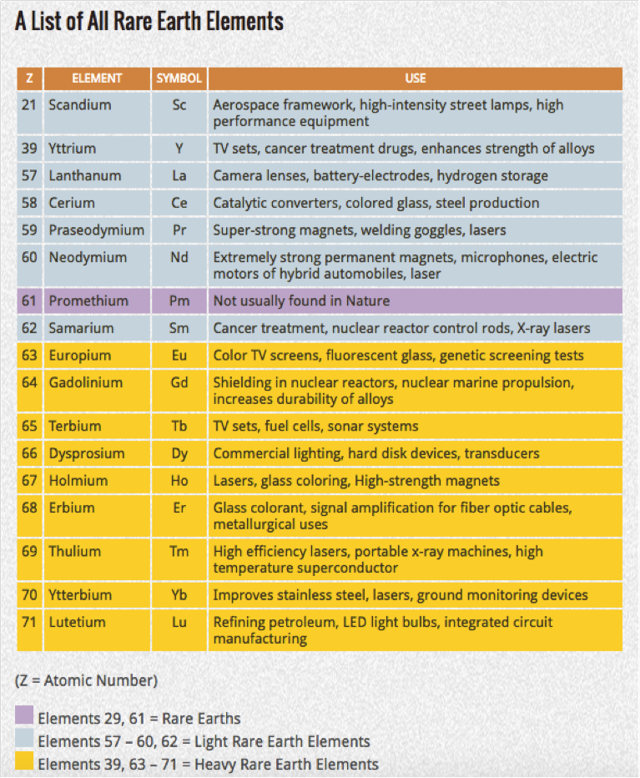 If the United States wants to ensure security of supply for heavy rare earths, it is in our best interest to encourage rare earth supply from outside of China. Two late stage development projects that have caught my eye are Namibia Rare Earths' (OTCPK:NMREF) Lofdal Project in Namibia and Alkane Resources' (OTCQX:ANLKY) Dubbo Project in New South Wales, Australia. Lofdal in particular contains an exceptionally high percentage of heavy rare earths (as determined by the HREO to TREO ratio) and both projects have seen significant work over the past five years.
Tungsten - China accounts for roughly 85% of global tungsten supply. There is currently no production from the United States.
By far the largest market application for tungsten is in the production of "cemented carbides" at around 60% of the total demand. Cemented carbides are utilized across a range of sectors that are mainly related to heavy industry - cutting tools, wear parts and mining/construction tools account for the majority of use. Other applications include electronics, energy and aerospace/defense.
There are two development stage tungsten projects of note in North America: Northcliff Resources' (OTC:NCFFF) Sisson Project in New Brunswick and Silver Predator's (OTCPK:SVROF) Springer Project in Nevada. Both of these need higher tungsten prices to justify production. Sisson is world-class in its scale, while Springer is a brownfield operation that can more quickly be brought into production.
Indium - China accounts for roughly 50% of global indium supply, according to the USGS. There is currently no mine production from within the United States.
Although indium has been in commercial use for less than 100 years, many of today's electronics now rely on its unique properties. Most indium is used to make indium tin oxide (ITO), which is an important part of touch screens, flatscreen TVs and solar panels. This is because it conducts electricity, bonds strongly to glass and is transparent. LCD computer monitors and television sets alone account for 50% of indium consumption.
Indium is one of the least abundant minerals on Earth (roughly as common as silver) and is typically found associated with zinc ores. A portion of yearly usage comes from the existing reclaim/recycling loop. The remaining new material comes from tailings, which are refined based on supply/demand in the market.
I'm watching two development stage projects that have the potential for significant indium byproduct production: Tinka Resources' (OTCPK:TKRFF) Ayawilca Project in Peru and InZinc Mining's (OTC:LTHIF) West Desert Project in Utah. At current prices, indium comprises only 5-10% of the gross metal value at each of these projects. However, a spike in the price of indium would dramatically transform the economics of each operation.
Antimony - China accounts for roughly 88% of global antimony supply. The United States' only producing antimony mine was mothballed in 2015. We now import 100% of our antimony needs.
Antimony is best known for its flame-retardant properties and is used for this purpose in children's clothing, toys, aircraft and automobile seat covers. It is also used in the electronics industry to make some semiconductor devices, such as infrared detectors and diodes. Additionally, antimony is alloyed with lead or other metals to improve their hardness and strength. A lead-antimony alloy is used in batteries. Other uses of antimony alloys include type metal (in printing presses), bullets and cable sheathing.
There is one late stage antimony project in the United States: Midas Gold's (OTCQX:MDRPF) Stibnite Project in Idaho. Due to permitting, this project is roughly three years from first production. The majority of Stibnite's cash flow will come from gold, however antimony will be an important byproduct. Antimony currently accounts for 8% of the project's gross metal value; I suspect this percentage will be higher by the time Midas reaches first production.
In conclusion, thanks to Trump's bellicosity, the supply of heavy rare earths, tungsten, indium and antimony to the United States is likely to be disrupted in the coming months and years. Investors who position themselves for this possibility BEFORE US/China tensions ratchet up have the opportunity to make some serious money. Those who remember the exponential share price moves during the rare earth crisis of 2010 know exactly what I mean.
Disclosure: I/we have no positions in any stocks mentioned, and no plans to initiate any positions within the next 72 hours.
I wrote this article myself, and it expresses my own opinions. I am not receiving compensation for it (other than from Seeking Alpha). I have no business relationship with any company whose stock is mentioned in this article.
Editor's Note: This article covers one or more stocks trading at less than $1 per share and/or with less than a $100 million market cap. Please be aware of the risks associated with these stocks.