Hopefully, this article will help you grow your assets.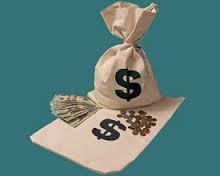 CoreSite Realty Corp. (NYSE:COR) is a top data center REIT. It has shown top growth, and it should continue to do so as technology and cloud applications, etc., continue to grow. Research and Markets forecast at the beginning of 2015 that datacenter construction would grow from $14.59B in 2014 to $22.73B by 2019. This translates into a CAGR of 9.3%. The leading datacenter companies such as CoreSite should do even better. In Q3 2016, CoreSite had 17.2% year-over-year revenue growth.
In Q4 2016, CoreSite beat handily on revenue growth by $3.13 million for revenue growth of +21.5% year over year (revenue of $110.5 million). Q4 2016 FFO came in at $1.06/share - a beat of $0.08/share. This represented +32.5% year-over-year growth. Net Income was $0.44/diluted share (+37.5% year-over-year growth). Great industry demographics and great earnings news would seem to give CoreSite a basis for a move higher.
The FFO/share for FY2016 was $3.71. The closing stock price on February 13, 2017 was $86.15/share. This yields a Price/FFOPS of about 23.2x. This seems high. However, the FFOPS guidance for FY2017 is $4.25-$4.35 (or a midpoint of $4.30/share). This yields a Price/FFOPS of about 20.0x. COR's FFOPS guidance for FY2017 implies an FFO growth rate of 16%.
When investors remember that COR has been beating on earnings (for example in Q4 2016), then growth will likely be higher than 16%. The high end of FY2017 FFOPS Growth Guidance ($4.35/share) is about 17.3%. FFOPS Growth was +32.5% for FY2016. If I "guesstimate" 20% FFO growth in FY2017, then a Price to FFOPS ratio of 20.0x is a reasonable price for CoreSite. COR can be bought on a growth basis.
Other Guidance for FY2017:
Total Operating Revenue is expected to be $470-$480 million. The $475 million midpoint implies 18.6% year-over-year revenue growth.
Interconnection growth is expected to be 13%-16%.
General and administrative expenses are expected to be $37-$39 million (about 8% of total operating revenue). This would be about a 7% increase in G&A expenses over FY2016.
Adjusted EBITDA is expected to be $253-$258 million (or midpoint growth of about 20% year over year).

CoreSite expects Adjusted EBITDA margin of about 53.8% and revenue flow through to Adjusted EBITDA of about 58%.

CoreSite expects incremental interest expense due to the expected conversion of variable debt into higher priced fixed rate debt.

The Churn Rate is expected to be 6%-8% for FY2017.
Cash Rent Growth on datacenter renewals is expected to be 2%-4%.
Total Capital Expenditures are expected to be $243 million to $271 million.
All of the above seem quite reasonable. One important point for investors is that the growth in FFO will be negatively affected by the incremental interest as CoreSite converts sizable loans from lower interest variable rate loans to higher interest fixed rate loans in 1H 2017. Of course, longer term it may prove an excellent strategy to lock in today's historically low long-term interest rates.
Aside from the generally good results and good guidance above, CoreSite has had good results for many years in the past (see charts below).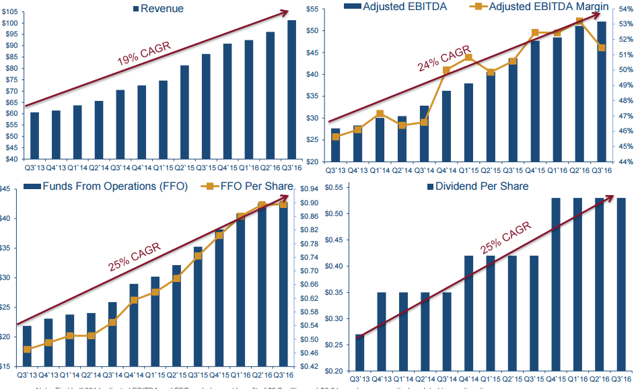 The above are fantastic numbers. For longer-term investors, the 25% CAGR for dividend growth is highly attractive. The dividend is only 3.7% annually at this time, but two years could bring that to 5.8% assuming a 25% CAGR as seen in the dividend growth chart above.
The charts below show some of the demographics of the expected great growth in datacenter demand, especially the cloud industry.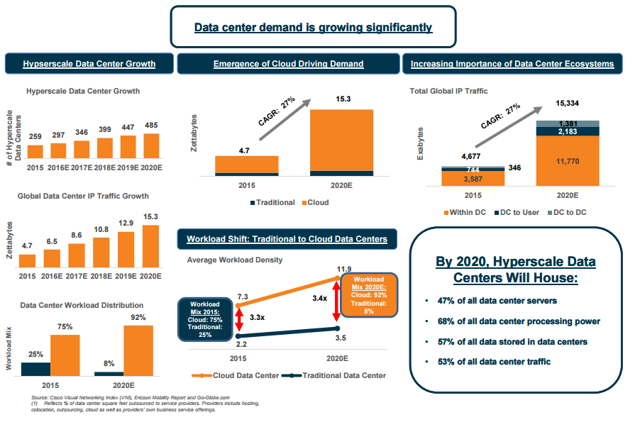 A number of important metrics are expected to triple by 2020E. This should translate into good growth for the companies in the datacenter industry. For the top performers, it should mean even better growth. CoreSite is one of the top performers in the industry.
The charts below show the wide variety of applications and customers that CoreSite serves.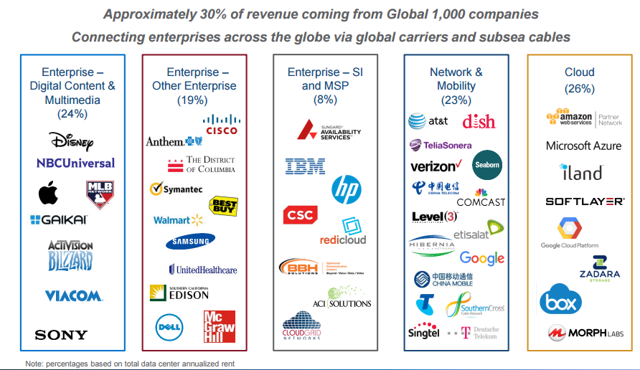 Readers should note the title line for the charts above of "30% of revenue is coming from Global 1,000 companies." This is very stable revenue. CoreSite utilizes global carriers and undersea cables to achieve quick global connectivity. CoreSite brags that it is able to cover 75% of US businesses within 5 milliseconds. It connects quickly with secure and reliable on-premises access to all of the largest US Cloud players such as Amazon's (NASDAQ:AMZN) AWS, Microsoft's (NASDAQ:MSFT) Azure ExpressRoute, the Google (NASDAQ:GOOG) (NASDAQ:GOOGL) Cloud Platform, and IBM's (NYSE:IBM) SoftLayer Direct Link from all eight of its US markets. These things should make CoreSite attractive to both investors and customers.
The two-year chart of CoreSite should provide some technical direction for a trade/investment.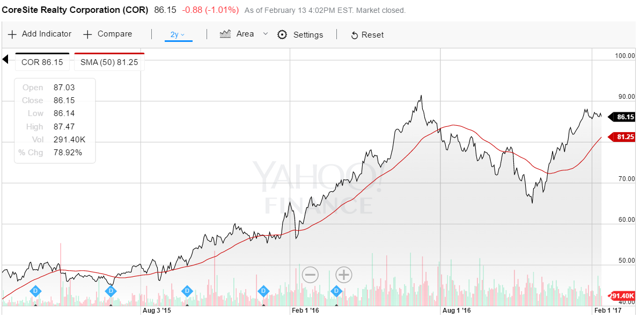 It would appear that the uptrend has resumed after a dip in November 2016. One would suppose that Trump's election played a part. Datacenter demand is higher in a more quickly-expanding economy. While Trump's election magic has been wearing thin, it is not entirely gone yet. This should enable CoreSite and other datacenter REITs to grow nicely in 2017. The FFOPS growth and the Price/FFOPS metric seemingly allow for CoreSite's stock to continue to rise. CoreSite is a fast grower. The industry does have great demographics. Trump is still providing optimism about the economy.
The main negative seems to be the technical possibility of a double top. That could happen. The S&P 500 is overpriced on a historical basis. As of the close on February 9, 2017, the forward 12-month P/E ratio for the S&P 500 was 17.3. This is above the five-year average of 15.2 and the 10-year average of 14.4. The S&P 500 would have to drop -12.1% to get to the five-year average FPE level.
It would have to drop -16.8% to get to the 10-year average FPE level. A drop to the five-year average level is the more likely. This is a headwind to a further upward movement of CoreSite. Still the earnings were great. The outlook is good to great. The fundamentals are good for a quickly growing stock. I would have to rate CoreSite a low buy at this time. It does have a Beta of 0.31.
NOTE: Some of the fundamental fiscal data above is from Yahoo Finance.
Good Luck Trading/Investing.
Disclosure: I/we have no positions in any stocks mentioned, but may initiate a long position in COR over the next 72 hours.
I wrote this article myself, and it expresses my own opinions. I am not receiving compensation for it (other than from Seeking Alpha). I have no business relationship with any company whose stock is mentioned in this article.