I was prompted to write this article by a February 9 press release from EnteroMedics (NASDAQ:ETRM) that indicated the results from the 3-year study of the vBloc implant, which is the company's main product. I already had my eye on them due to the large amount of dilution and reverse splits, but I believe these study results really put the nail in the coffin for ETRM.
The results
Reading through the press release, among other things, they reported the Percentage of Excess Weight Loss (%EWL) to be 21% after 3 years. Now, that may not seem all that bad, unless you compare it against the two other similar surgeries for assisted weight loss; gastric bypass, and the gastric sleeve. The gastric sleeve has greater than 50%EWL (most other numbers I saw said around 60%) loss after 2 years, while bypass surgery has around 70%EWL after 2 years. (Source: American Society for Metabolic and Bariatric Surgery website)
I was confused, so I thought maybe vBloc was less expensive, to make up for the poor %EWL. Nope, from the numbers I found, it seems that they are all pretty close to the same price. The sleeve is about $18K, as is vBloc, while bypass surgery comes in slightly higher at around $23K.
All that being said, why would anyone want to have vBloc? Besides previous problems that artificial stimuli to the Vagus nerve have had, there are also a number of other downsides to this form of weight loss. One major downside is the fact that you have an electronic piece inside of you that has to be recharged on a regular basis, which many could view as annoying, while the sleeve and bypass surgery have no such complications. Another thing to consider is the fact is that all three require surgery, in and around the same area, so that wouldn't be an upside either.
Sales
It would appear that the consumers also agree with this, because vBloc has been around quite some time, and still failed to generate any significant revenue. The first commercial implantation was in 2012, in Kuwait. Since then, it has been approved for use in numerous significant countries, including being approved by the FDA in 2015. Since then, it has barely been able to get any large amounts of sales revenue, although it has slightly improved each quarter, topping at 150K gross in Q3 of 2016. (All financial and share count numbers can be found on the SEC website)
Some investors have taken this slight growth as a good sign of things to come, but it is my belief that this number will never grow a substantial amount, and even if it does grow slowly, it still has a very long way to go before they can cover the operating loss of around $5 million per quarter.
Why it won't grow
I don't believe it will ever grow to a substantial amount for a couple reasons. The first is how many downsides there are compared to the other major surgeries, with no significant upside. Secondly, it has already been approved for some time now, and if it was really such a groundbreaking product, it would be much more popular. There are a large number of doctors and clinics certified to distribute the service, but a miniscule number of sales relatively.
Also, you'd think a company like Entero would want to keep developing and refining their product, right? Especially if it produced such lackluster results when compared with similar products. However, it seems that the management team would rather develop their pocketbooks, as opposed to their products: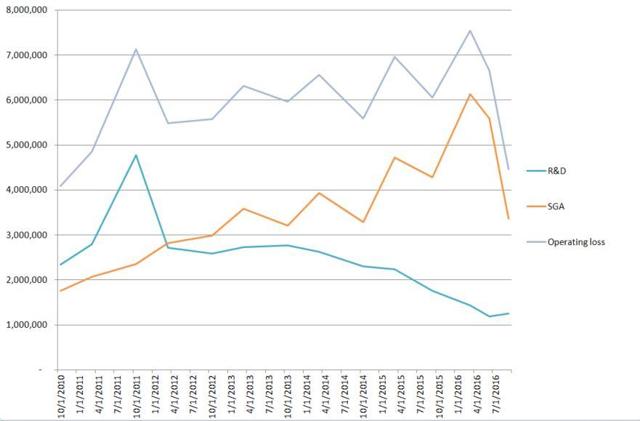 Here's a graph of the Selling, General, and Administrative expenses compared to R&D and Operating Loss. I think it is pretty self explanatory, but you can see that after they finished the development stage, R&D had some major budget cuts, and SG&A had some nice bonuses. They did trim it back pretty good in Q3 of 2016, but I would expect this trend of high SG&A, low profits, and low R&D to continue.
Stock Price
This leads to my final point, which is why I think the stock price will go down. Even though the stock price is relatively low, I still believe that there is still significant downside to the stock price. The first and most obvious reason is look at the past history of the stock. In the last year, the stock price has declined 99.3%! Also, since one year ago, shares are have been split on total of a 1 for 1050 basis (yes, you read that right).
Another interesting stat is that from Q3 of 2015, to Q3 of 2016, the number of shares outstanding increased from 7 million to roughly 113 million shares. (adjusted for a 1:15 R/S) Now this dilution was necessary because of the limited income and high expenses, as explained earlier. They also recently did a 1:70 reverse split, which has already been massively diluted after the big run in early January. Here's a chart to help visualize the dilution: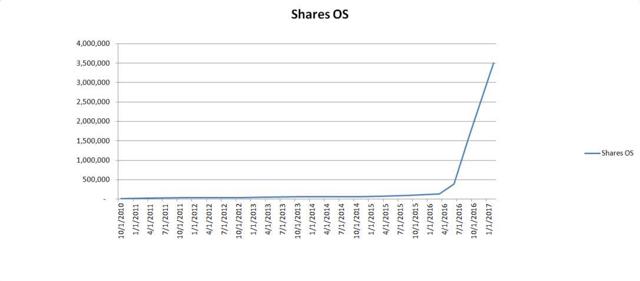 This is a rough estimate of the current share count, based off of the 424B from the offering in January. The interesting thing about this if I go back and take off the most recent large leg up (from Q3 to now) the chart still looks the same. (Numbers adjusted for 1:70 and 1:15 RS)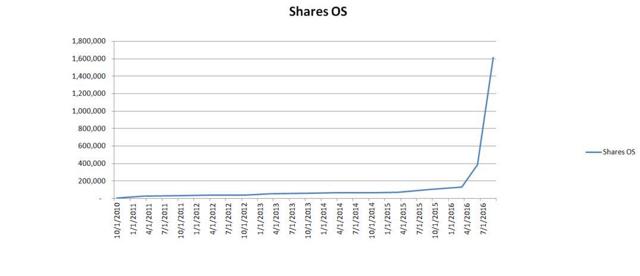 They just keep reverse-splitting and diluting it to death.
Upside potential
The only way that I see this stock having a sustained upside potential (aside from unsustainable pops every now and then) would be if they could successfully market their product to the point where they were able to produce enough revenue to cover the operating loss. This could not only generate revenue so they could discontinue with the dilution, but it would also create positive interest in the company, which would most likely reflect in the stock price.
Conclusion
EnteroMedics is a company with almost no income, paired with high expenses. They have never had any significant income, and due to the lackluster performance of their vBloc device, I believe they should not expect to see any in the near future. This, coupled with their past history of dilution, will cause them to keep having to dilute and use toxic financing to make ends meet.
I believe that in the next 6 months to a year, the share price will fall by at least 80%. There may be some spikes along the way, but ultimately the price will continue to fall, unless they can find a way to generate revenue some other way.
Disclosure: I am/we are short ETRM.
I wrote this article myself, and it expresses my own opinions. I am not receiving compensation for it (other than from Seeking Alpha). I have no business relationship with any company whose stock is mentioned in this article.
Additional disclosure: This article is based off of my own research, and I use public information to come to my conclusion, which should be used in concordance with your own research on the matter. Use advice at your own risk
Editor's Note: This article covers one or more stocks trading at less than $1 per share and/or with less than a $100 million market cap. Please be aware of the risks associated with these stocks.