Today we all saw much excitement about Tesla (NASDAQ:TSLA) entering the supercar-loving United Arab Emirates (U.A.E.). Bloomberg even produced a video claiming how Mr. Musk, Chairman and CEO of Tesla, is dreaming big on world dominance with his less than 1% car company. The stock rose over 4% to end the day over $280, a huge run up from its base at $190 just a couple of months ago. There is much excitement in the air. Mr. Musk becoming buddy-buddy with the Present and rumors of a few hand-built Model 3 prototypes to distract the upcoming earnings call can only help.
Note that Tesla has already officially expanded into 80% of the world car market by sales numbers. In the table below, I show the major car markets. Italicized rows are the markets Tesla has not launched yet. Last year, worldwide car sales reached 88 million units, with Tesla's share being a miniscule 76,000. Notice that there is no big market in the Middle East. The fact that Tesla is going to the U.A.E. after 3 years of entering other foreign markets is clear evidence that Tesla itself, rightfully so, doesn't see much potential in these tier 3 markets.
| | |
| --- | --- |
| Market | Total Car sales (millions) |
| China | 28.03 |
| USA | 17.5 |
| Europe | 15.13 |
| Japan | 4.97 |
| India | 2.96 |
| Canada | 1.953 |
| Mexico | 1.8 |
| South Korea | 1.81 |
| Australia | 1.18 |
| South Africa | 0.64 |
| Rest | 13.23 |
| Total | 88 |
Global car sales extracted from bestsellingcarsblog
I thought this is a good time for investors to recap how Tesla's entry into other major car markets played out. The Middle Eastern countries are going through very difficult times due to a sustained plunge in oil prices. Their biggest car market, Saudi Arabia, saw new car sales drop by 21% in 2016 to 691 thousand units. Its neighbor UAE didn't fare well either, dropping 23% to 320 thousand. Contrary to these markets, China's car market is still burgeoning due to its rapid economic growth. I believe, the China market is a good case study to understand how Tesla's other expansions will pan out.
Tesla enters China in Nov 2013
In 2016, China was the largest car market in the world. Last year, it saw 28 million car sales out of a worldwide total of 88.1 million units. I couldn't help but recall the excitement Tesla created back in 2014 when it entered China. Today I look back to see how it fared after the initial excitement subsided.
Tesla first started selling its cars in China way back in August 2013, and followed up by opening its first store in Beijing in Nov 2013. In April 2014, it started first deliveries in China. There was a lot of hope and hype, as Mr. Musk said at that time that China will be the biggest market, even bigger than the U.S. and he plans to build a factory in China in the next 3-4 years.
Some of you may recall my June 2014 article disputing such absurd claims back in those days. Tesla followed up by opening more stores and a massive expansion of supercharger networks and over 400 destination chargers. Mr. Musk enjoyed rock star status in China in those days. Today Tesla has over 10 stores and galleries operating in China. So how did it fare in China in the last 3 years? Do we now have a factory there?
In 2016, China's luxury car sales stood at roughly 1.9 million units, with each of Mercedes (DDAIY), BMW (OTCPK:BMWYY) and Audi (OTCPK:AUDVF) selling in hundreds of thousands. How did Tesla do? It closed 2016 China sales with about 9,000 sales. That's a whopping 0.5% of China's luxury market segment. It is a miniscule 0.035% of the overall China market. It is notable that Tesla achieved these meager sales numbers after it had to resort to massive discounts and promotions, and after over-playing the capabilities of its semi-autonomous car that led to a few crashes. Tesla later removed all references to the words 'self-driving" from its Chinese website.
| | |
| --- | --- |
| Brand | Sales |
| Audi | 591554 |
| BMW | 516355 |
| Mercedes Benz | 472844 |
| Porsche | 65246 |
| Others (estimate) | 244000 |
| | 9000 |
Top luxury car brands in China (Source: best-selling-cars.com)
Here is a visual depiction of the same data for those who like charts more than absolute numbers.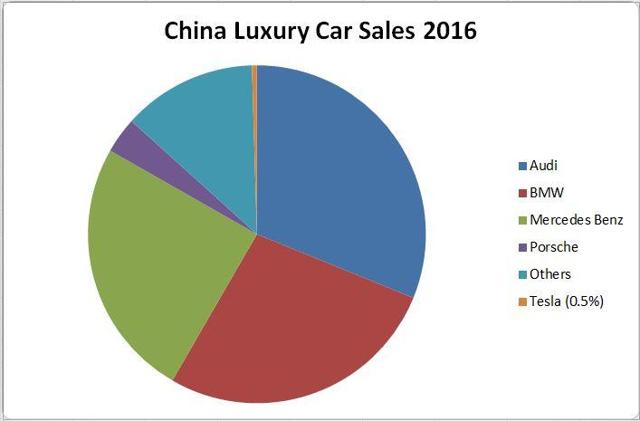 It is also interesting to note that Tesla is already in all the top 10 luxury car markets in the world except Russia, where Tesla is not officially present, but Model S & X are frequently bought from abroad. The data below is slightly old (2013 data + estimate), but I do not expect significant changes from this. So, it seems to be clear that Tesla has chosen to enter these fringe markets as it has run out of customers in its existing markets. This is also evident from the huge number of inventory cars listed in Tesla's online inventory and the large discounts it is now openly displaying to attract buyers.
| | |
| --- | --- |
| Market | Annual sales (millions) |
| China | 1.9 |
| USA | 1.8 |
| Germany | 1 |
| U.K. | 0.5 |
| Italy | 0.4 |
| Russia | 0.3 |
| France | 0.3 |
| Japan | 0.2 |
| Canada | 0.2 |
| Spain | 0.2 |
Global top 10 luxury car markets (estimated from 2013 data here)
What can we expect in the Middle East?
Now that we have a better idea of how it panned out in China, we can estimate the sales in the U.A.E. very accurately. After 3 years, Tesla's share in the Chinese market is 0.035%, and its share of the luxury car market in China is 0.47%. But let's be generous and double our estimate to 0.07% of total and 1.0% of luxury car sales. The generosity is also to account for some of the sales that may go to neighboring countries outside of the UAE.
With 0.7% of total sales, we can estimate 225 annual sales. According to this, luxury car sales in the UAE were 57,000 ending March 2015. So, 1% of that number leads to a figure of 570. Since I have been generous on the estimate, I now lower the minimum to 200. Approximating it further, I think we can expect to see anywhere from 200 to 600 additional sales from this expansion into the Middle East. Are these 200-600 sales a year worth a market cap increase of $1.75 B? I will let you be the judge.
Conclusion
Investors should be careful getting overexcited when Tesla goes to the far flung corners of the world looking for the next elusive customer. These expansions can become increasingly expensive in terms of opening super chargers, stores and service centers and supporting a widely scattered customer base. Towing the car alone to faraway service centers can cost hundreds of dollars. We know that Tesla needs that quite a lot. As Tesla's sales in its existing markets stagnate, it is now forced to undertake these costly expansions to keep the growth story alive.
Disclosure: I am/we are short TSLA.
I wrote this article myself, and it expresses my own opinions. I am not receiving compensation for it (other than from Seeking Alpha). I have no business relationship with any company whose stock is mentioned in this article.
Additional disclosure: Please use your own judgment for your investments, and check any suggestions implied here independently. The author is not responsible or liable for your financial decisions. This article is only here to put some facts in the right perspective.