In a recent article I offered my version of what might be the perfect portfolio for risk-adjusted returns using a large-cap index and bonds. The simple two-ETF portfolio is 80% equal weight S&P 500 (NYSEARCA:RSP) with 20% long-term treasuries (NYSEARCA:TLT). The concept is to combine an index with known alpha over the cap-weighted version of the S&P 500 (NYSEARCA:SPY) with the a bond component that typically offers risk-reducing super power: the hated long-term treasuries. The result is a recent ability to beat the S&P 500 straight up - and do so with much lower volatility. Heck, it even beat the market-beater RSP. Courtesy of portfoliovisualizer.com, here's the Perfect Portfolio 1 vs Portfolio 2 RSP from January of 2007 to end of 2016. We might call that alpha-beta power.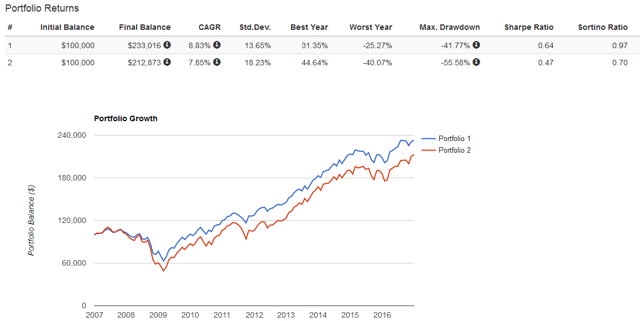 Now I like the idea of taking the alpha-beta power a step further by using dividend growth companies in place of the large-cap broad-based indices. As you may know, at the core of dividend growth investing is lower volatility that also has a habit of beating the broad market indices. If we combine the super alpha-beta approach of dividend growth investing with a modest amount of bonds, we might be able to boost those risk-adjusted returns.
My research has led me to some simple observations or conclusions. Number one is that a longer history of dividend growth leads to lower volatility. We see that represented and demonstrated by the Dividend Aristocrats (BATS:NOBL) and the Dividend Achievers (NYSEARCA:VIG). Aristocrats have a minimum 25-year history of dividend growth; Achievers have a minimum 10-year history of dividend growth. Now, we also know that mid-cap companies and small-cap companies have a history of delivering greater total returns than their larger-cap cousins. There's nothing like finding the next Apple (NASDAQ:AAPL), Google (NASDAQ:GOOG) or Microsoft (NASDAQ:MSFT). Executed with skill, we know that value investing can also deliver greater risk-adjusted returns. And once again, those who study balanced portfolios know that we can typically lower portfolio volatility and boost returns through market corrections by way of bonds, and typically longer dated bonds and treasuries.
For the Perfect Portfolio Dividend Growth Edition, I was looking for a combination of stability (lower volatility) but with a growth kicker. The stability will come by way of the Dividend Achievers and the safety-score based First Trust Value Line Dividend Fund (NYSEARCA:FVD), which also offers a "value tilt," according to Morningstar, while the growth kicker will come by way of the Wisdom Tree Mid Cap Dividend Fund (NYSEARCA:DON) and the Wisdom Tree Small Cap Funds (NYSEARCA:DES). I would once again add a bond component by way of the longer term treasuries. Investors will of course have to assess their own risk tolerance levels to determine the level of bond participation that they may require. Like Mr. Benjamin Graham, I see no need or benefit to the all-equity portfolio for most investors. There is no benefit to returns through market corrections, and investors take on more risks. All equity portfolios typically give up their advantage over balanced portfolios when we move through those market corrections (article to follow on that subject and event).
Courtesy of portfoliovisualizer.com, here are the returns for those assets, moving through a market correction from January 2007 to December 31, 2016.

We can see the outperformance of FVD, DON and DES over VIG. VIG and FVD deliver on the lower volatility by way of a lesser drawdown (worst year) and the standard deviation reading. Here's the portfolio construction and returns, again from January of 2007 to end of 2016. The portfolio is rebalanced on an annual basis. Portfolio 2 as a benchmark is the venerable managed Vanguard Dividend Growth Fund (MUTF:VDIGX).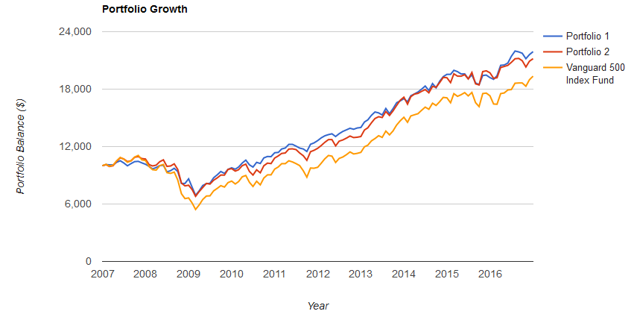 The goal of course, was to create greater risk-adjusted returns through a market correction or cycle. And of course one cycle does not tell it all, but it can send some very strong signals. It was neck and neck for the Dividend Perfect Portfolio vs the Vanguard Fund, but we see the Perfect Portfolio starting to pull away thanks to the growth engine of the mid- and small-caps. Last year, in 2016, the small-cap fund delivered 31.39%, while the mid-cap fund offered 20.35%. So while there is reasonable stability in the Perfect Portfolio, there is that growth kicker that may allow the portfolio to participate in a meaningful way when we have extended bull market runs.
There are certainly many ways to skin a dividend cat. I like this approach for risk-adjusted total returns. Personal situations can change based on how many years one has to invest and how much skin they already have in the game. Investors in the early stages may certainly be better off going light on the bonds, or eliminating the bond component altogether (until reasonable assets and portfolio value risk takes form). Young investors may be wise to ignore the dividend route altogether. (Here's my article "Skip The Dividends If You're Young And Brave.") They may adopt a hyper growth strategy if they have the risk tolerance level. As always, do your own research and develop the portfolio that will help you best reach your goals while investing within your risk tolerance level.
Thanks for reading. I welcome your comments and ideas on what might be your Perfect Portfolio.
Dale
Disclosure: I am/we are long AAPL, NKE, BCE, TU, ENB, TRP, CVS, WBA, MSFT, MMM, CL, JNJ, QCOM, MDT, BRK.B, ABT, PEP, TXN, WMT, UTX, LOW, BNS, TD, RY, BLK.
I wrote this article myself, and it expresses my own opinions. I am not receiving compensation for it (other than from Seeking Alpha). I have no business relationship with any company whose stock is mentioned in this article.
Additional disclosure: Dale Roberts is an Investment Funds Advisor at Tangerine Investment Funds Limited a subsidiary of Tangerine Bank, wholly owned by Scotia Bank; he is not licensed to provide professional advice on stocks. The opinions expressed herein are Dale Roberts' personal opinions relating to his experience as an investor and are not those of Tangerine Bank or its subsidiaries and/or affiliates. This article is for information purposes only and does not constitute investment advice or an offer or the solicitation of an offer to buy or sell any securities. Past performance is not a guarantee and may not be repeated. Investment strategies are not suitable for everyone and you should always conduct your own research or speak to a financial advisor.