Take-Two Interactive (NASDAQ:TTWO), owner of the Grand Theft Auto franchise, has been on an 18-month run, culminating in an 18% melt-up since January 1. Some stockholders and analysts say it's time to stash the profits in the trunk and hightail it out of Los Santos, but I think there's still loot there for the taking.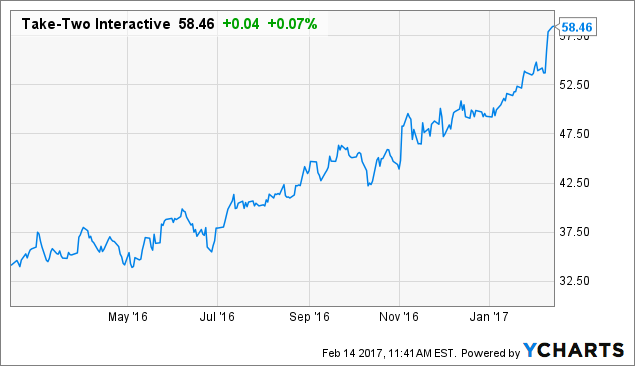 Last week, Wedbush put out a neutral rating and a $47 target, saying it saw few catalysts. That didn't deter the stock. which jumped Friday, up 3.3%, after the company announced it was starting an NBA 2K e-sports league in conjunction with the NBA. This is the first time a league has joined with a game maker to sponsor the exploding business of video-game tournaments.
One of the prior holders that missed the recent rally is David Einhorn's Greenlight Capital. In its most recent quarterly report, the partnership had a witty way of announcing it had taken a profit.
Perhaps they should have only taken one and let the other one ride.
Let's take a look at some ratios compared to two of its big-fish competitors, Activision Blizzard (NASDAQ:ATVI) and Electronic Arts (NASDAQ:EA):
| | | | | | | |
| --- | --- | --- | --- | --- | --- | --- |
| | P/S | P/TB | P/E trailing | P/E fwd. | Gross profit margin | Enterprise value |
| EA | 5.7 | 14 | 21 | 19 | 71% | $23.3B |
| ATVI | 5.3 | N.M. | 37 | 24 | 63% | $36.7B |
| TTWO | 3.7 | 21 | 339 | 31 | 42% | $4.7B |
Source: Charles Schwab
TTWO looks overvalued on a P/E basis. Earnings have historically looked like a mouse going through a python because the company has been so dependent on the GTA cycle. For the third quarter, the company reported a loss of $0.33 a share on revenue of $476.5 million, a 15 percent revenue increase.
Earnings may not be the best measure - considerable revenue has to be marked as deferred because of accounting rules. Its price/sales ratio is less than either competitor and its price to tangible book is better than Call of Duty maker ATVI (which has negative tangible book).
Take-Two's lower gross margin isn't necessarily a worry because it reflects the company's philosophy of not sparing expense in producing high-quality games.
Cash flow from operations offers a better view of what's going on. This used to be negative in pre-GTA-release years when development expenses were heavy. The payoff came with the monster release of GTA V in 2014 - cash flow was plus $700 million.
Unlike previous cycles, operating cash flow remained positive at $214M in 2015 and $261M in 2016. For the nine months ended in December, it is $240M, up 27% from $189M last year.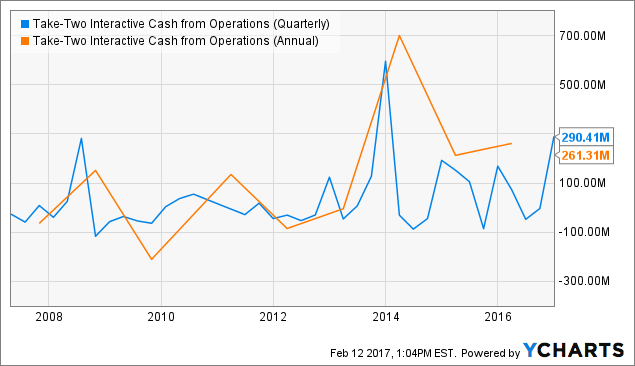 TTWO Cash from Operations (Quarterly) data by YCharts
As the chart shows, operating cash flow in the most recent quarter even equaled the gold-mine quarter from the major GTA 4 release in 2008.
The success of the company in converting GTA disc buyers into online customers with microtransactions from GTA Online is a major factor in improving results in years without huge releases.
TTWO subsidiary Rockstar Games promises release of the Western game Red Dead Redemption 2 in time for the 2017 holiday season. Clues indicate an attractive 1890-ish setting, perhaps a prequel to RDR 1.
Sales of at least 15 million copies are expected, about half the size of GTA V's introduction.
Source: Rockstar Games trailer
There is one huge short-term risk - an RDR 2 product delay, similar to what happened with GTA V, which caused a major stock price hit. While painful for stockholders, a delay also could offer a great buying opportunity, as it did in 2012. (I missed that one, first buying the stock in 2013).
Conclusion: Take-Two is no longer a steal, but I plan to hold all my shares into the RDR 2 release and the anticipation of a shoot-'em-up performance at the end of 2017.
Disclosure: I am/we are long TTWO.
I wrote this article myself, and it expresses my own opinions. I am not receiving compensation for it (other than from Seeking Alpha). I have no business relationship with any company whose stock is mentioned in this article.