Over the last month I've been writing about the "big oil" companies as they've given full-year results and preliminary 2017 guidance. As I looked at each company individually, I applied a "litmus test" as to whether the respective company would break even in cash flow this year. In addition, I looked at other factors, such as whether the company was acquiring or selling assets this year.
In this article I'd like to sum up my research and 'rank' the four big oil companies: Exxon Mobil (NYSE:XOM), Royal Dutch Shell (NYSE:RDS.A), BP Plc (NYSE:BP) and Chevron Corporation (NYSE:CVX). This will be based on my own cash flow expectations for 2017 and beyond, and it will also be based off of what each company will be doing as a whole.
Bringing up the rear
Of the 'big four,' the one on the bottom this year in my opinion is Chevron. Last year was a very difficult one for Chevron; the company's operating cash flow fell short of dividends and capex by a whopping $13 billion. Chevron managed to sell $2.8 billion worth of 'non strategic assets,' but the rest had to be taken out with a combination of cash on hand and additional debt.
Next year will be better, but I don't suspect it will be quite enough. GAAP capex will be around $16 billion, plus another $8 billion in dividends. While I do believe that operating cash flow will increase significantly, both from realized price improvements and from 4%-9% production growth next year (several big projects are in the midst of wrapping up).
Even so, Chevron would have to almost double 2016 OCF to break even in 2017, and I do not see that happening. Chevron will have to continue selling 'non strategic assets,' which it is going to do in 2017, and I strongly suspect the company will have to take out a few more billion in debt to get through the year. At this oil price paradigm, I am not a big fan of companies that have to sell assets. Looking at Chevron's project momentum, I believe that Chevron will be able to break even in 2018, but that is a ways off.
A slightly better place
Ranked #3 is Royal Dutch Shell. Shell also had a tough year, but the second half went quite well. In all, the company generated almost $20 billion in operating cash flow. Capital expenditure was $23 billion and the dividend was another $10 billion, leaving a gap of $13 billion.
Despite that, I think Shell is in a bit better shape than Chevron is. Capex is expected to be $25 billion, but the company is also expected to finish 8 big projects in both this year and next, and management expects that to all generate $10 billion in cash flow, even at today's Brent prices. Given how well the company has done over the last half year, I estimate Shell will generate at least enough money to cover capex, but probably not the dividend.
Shell's situation sounds a lot like Chevron's. The one thing that makes Shell different is that it has a lot of excess assets that it needs to sell off in the wake of the massive BG Group acquisition in 2015. In fact, this year I suspect Shell will be able to sell enough assets to more-or-less plug the cash flow gap until 2018. While I don't like selling in this environment, the company needs to do this to high-grade its assets; with the BG acquisition in 2015, the company has too many assets as it is. These divestitures will very likely keep the company's balance sheet afloat through this transitional year.
Staying afloat
London-based BP Plc is in a considerably better position than the other two. Britain's largest oil company is really slimming down its capital budget for 2017, and 2016 wasn't all that bad to begin with: Operating cash flow was $17.8 billion, capital expenditure was $16 billion and dividends were $4.6 billion. That left an organic cash flow gap of $2.8 billion, which was made wider by the Deepwater Horizon payout.
Next year will be different. Instead of working on big, multi-billion dollar long-term projects (that are prone to go over budget), BP is focused instead on brownfield projects, many of which are in shallow water off the coast of the North Sea, Gulf of Mexico and West Africa. BP expects another $16 billion in capex for next year, and enough OCF to pay for both capex and the dividend assuming $60 Brent Crude. We're not far from that at all right now. BP should also be able to match it's Deepwater Horizon scheduled payout with asset divestitures. Asset divestitures are not great, but it's safe to say that BP is in a better position than the other two are.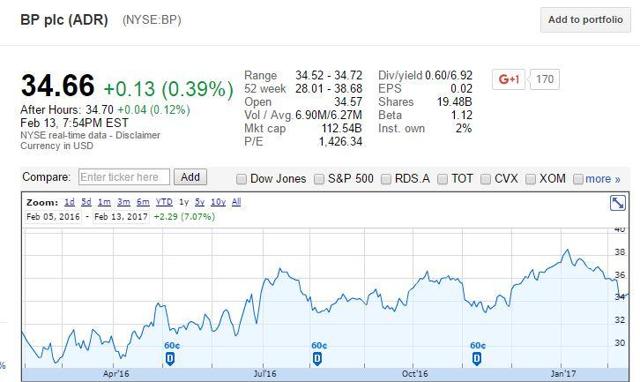 Courtesy of Google Finance.
BP also happens to be a strong buy, partially because the British Pound is at historical lows, and partially because the market has yet to buy into the company's very real turnaround since the Deepwater Horizon spill some six years ago. That yield of 6.9% is secure.
Exxon on top
Despite all that BP has going for it, it's hard to compete with Exxon Mobil. In 2016 Exxon paid out a total of $29.2 billion in capital expenditure, acquisitions and 'shareholder distributions' (which means dividends and share buybacks). Over the same period, the company generated $22.1 billion in cash flow from operations. Exxon, the biggest of the aforementioned companies, easily plugged that gap from $4.3 billion of asset sales (small in relative size compared to others), and $2.8 billion of additional debt.
Management hasn't yet given cash flow guidance for 2017, but I do expect dividends and capex to exceed OCF by at least a couple billion. I say this because Exxon does need to keep spending to finish its new projects, five of which will be completed over the next two years. Considering that Exxon has a AA+ and the fact that Moody's hasn't put that credit rating on a watch list, I'm not too worried about the slight gap in cash flow.
What is exciting is that Exxon is actually acquiring during these times. In 2016 Exxon made a $2.5 billion acquisition of InterOil, a company focused exclusively on offshore Papua New Guinea, a place where Exxon is already operating. Exxon also recently announced the private acquisition of another 250,000 acres in the Delaware Basin, acquired in the private market. Much of that acreage is contiguous with Exxon's existing Delaware Basin position.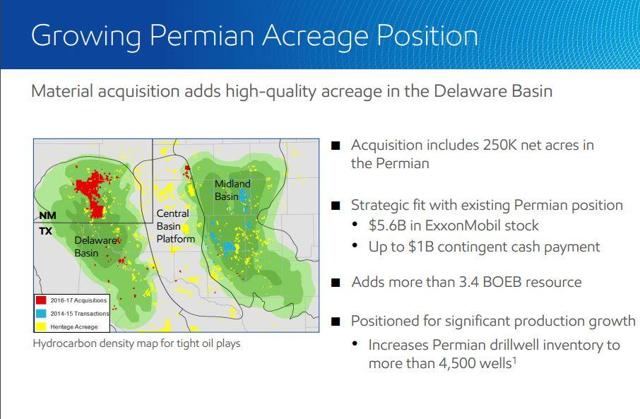 Courtesy of Google Finance.
With all that in mind, I believe that Exxon Mobil is the one big oil company best suited for 2017 and beyond, especially if crude oil ends up being "lower forever." BP is definitely cheaper, and might even be the better 'buy' at this moment, but I think that Exxon is best positioned for the next year at least. Exxon's solid cash flow, excellent credit rating and ability to continue acquiring when prices are low is what makes me think it is best suited at this time.
If you're interested in any of these four companies, feel free to follow me on Seeking Alpha. I am personally long both Exxon and BP, and I will continue to provide updates on all four when doing so is both material and relevant.
Disclosure: I am/we are long BP, XOM.
I wrote this article myself, and it expresses my own opinions. I am not receiving compensation for it (other than from Seeking Alpha). I have no business relationship with any company whose stock is mentioned in this article.